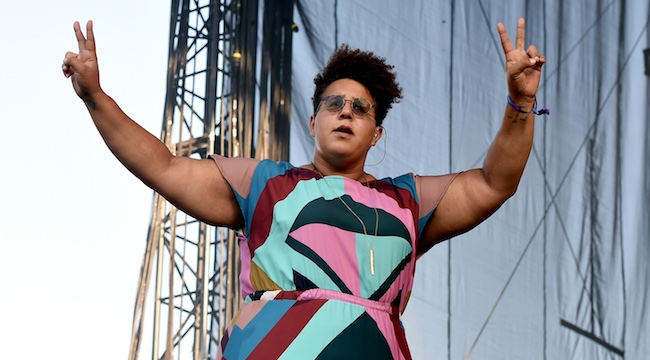 Brittany Howard is a busy woman: Aside from her duties leading Alabama Shakes, she's also involved with the side projects Thunderbitch, which released a self-titled album in 2015, and Bermuda Triangle, which formed last year and has released a pair of recordings so far, "Rosey" and "Suzanne." The group also played a string of live dates towards the end of last year, and now they've announced that they're heading back out on the road for a handful of shows in February and April.
The band also includes Jesse Lafser and Becca Mancari, and their sound could be described as soulful folk with a drum machine. Mancari previously described the band's dynamic as pretty relaxed: "We just sit on each other's porches and play music. It's the music that I remember that I used to play before I even came to Nashville, when people just played for fun. That's my side of the story at least."
Listen to the group's two recorded songs and check out their just-announced tour dates below.


2/3 — West Hollywood, CA @ The Troubadour
2/5 — San Diego, CA @ Music Box
2/6 — San Francisco, CA @ The Independent
2/8 — Seattle, WA @ The Crocodile
2/9 — Portland, OR @ Aladdin Theater
2/10 — Eugene, OR @ WOW Hall
4/4 — Houston, TX @ The Heights Theater
4/5 — Austin, TX @ Antone's
4/6 — Dallas, TX @ The Kessler Theater