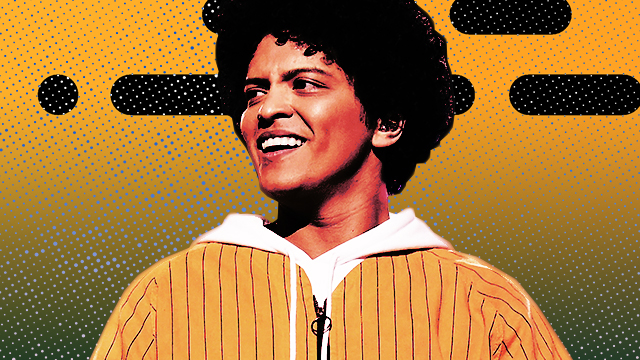 Where were you when Bruno Mars' 24K Magic won Album of the Year at last year's Grammys? There's a good chance you were probably online, and mad as hell to boot. Only seconds after the 33-year-old singer/songwriter/producer born Peter Gene Hernandez took the stage at Madison Square Garden to accept his sixth and final award of the night, social media was practically ablaze with anger and incredulousness directed his way.
The reaction was, on a level, unsurprising; Mars' fellow nominees in the top category — the emotive pop of Lorde's Melodrama, Kendrick Lamar's brainy blockbuster DAMN., Jay-Z's confessional comeback 4:44, and the canny genre-pivot of Childish Gambino's Awaken, My Love! — represented what was perceived to be a hipper, more explicitly with-it grouping than in years past. Even Bruno himself seemed to understand that his win could be considered something of an upset, taking the opportunity to toast the other nominees' considerable achievements immediately upon taking the stage.
But this simple act of courtesy did little to change the narrative that was forming with lightning-quick speed. "Bruno Mars Ends Hip-Hop's Grammy Dreams" read the CNN headline atop a perfunctory news item that nonetheless pointed out that, if anyone else save Lorde had won the prize, it would've marked the third time in Grammy history that a hip-hop album took home the night's biggest win. (It's interesting to imagine what the social media reaction would've been if Lorde won instead — and perhaps we'll find out this Sunday, if AOTY nominees Kacey Musgraves or Brandi Carlile win over fellow noms ranging from Drake and H.E.R. to Cardi B, Janelle Monae, and the Black Panther soundtrack.)
"Giving Album of the Year to Bruno instead of Kendrick will go down in history as one of their all-time most hilarious gaffes," Rolling Stone's Rob Sheffield wrote in his own Grammys postmortem, elsewhere referring to 24K Magic as "damn good" and "excellent." On first glance, those tangled qualifications might seem like a bit of ideological lede-burying, but they instead represent the essential truth that, when it comes to last year's night-closing moment, it was entirely possible to have it both ways.
Yes, it was bizarre and disappointing to watch Kendrick Lamar — undoubtedly one of the decade's most essential artists in any medium — lose the top prize for the third time. (One would believe that the Pulitzer's made up for it since.) But the emotionally charged insta-reactions also elided over the simple fact that Bruno Mars happened to win Album of the Year for what stands as his most accomplished work to date, a playful and retro-drenched pop record that stood out in the category due to its sheer comparative frivolousness. Of the other nominees, Awaken My Love! represented 24K Magic's closest artistic kin in its own commitment to luxuriating in sounds of the past—loose-limbed and saucer-eyed 1970s funk for the former, shiny and sproingy 1990s R&B for the latter.
Whereas Donald Glover's third proper LP as Childish Gambino worked in murky purples and languid sonic moods, however, 24K Magic was positively clear-eyed in its expressiveness. It is, explicitly, music for polite company; its release came two years after Bruno Mars' massively successful Mark Ronson collaboration "Uptown Funk," an eternal wedding-band staple so instantly indelible that it'd be crazy not to replicate its success. And that's more or less what Bruno Mars and his production team — Shampoo Press & Curl, comprised of Mars, former Smeezingtons collaborator Philip Lawrence, and sometimes Adele songwriter Christopher "Brody" Brown — does throughout 24K Magic. The synths are slick, the drum machines crackle with appealing dryness, and the melodies are instantly catchy.
It's music that sounds like it's been around forever, largely because it's so indebted to music that's been around forever, and if 24K Magic evokes the timelessness of past pop sounds, its roots in Mars' own history are nearly non-existent. There's very little in his past discography suggesting he was capable or even halfway interested in making the type of sonically-focused auteur gesture that 24K Magic represented; indeed, prior to the album he could be categorized as a singles artist and not much more, with a collection of No. 1 singles that ranged from inoffensive to flat-out grating. His songs seemed to play best in a live setting, evidence of what his hammy and strangely endearing sense of showmanship could do to elevate his own material; when he performed Unorthodox Jukebox single "Gorilla" at the 2013 MTV Video Music Awards, the literally laser-guided rendition was a mindblowing spectacle in its own right.
And 24K Magic showcases Mars' ability to effortlessly tap into that people-pleasing ability. The record sounds fun in a way that Unorthodox Jukebox and his 2010 debut Doo-Wops & Hooligans simply didn't; the punchy "Perm" literally opens with laughter, while the "Motownphilly"-evoking "Finesse" seems to generously pour out of speakers like champagne on both its original form and on the excellent Cardi B-featuring remix. Mars' abilities as a songwriter are well-tested by way of his ubiquity and success, but the electric current of energy that runs through 24K Magic is proof of greater ambitions beyond turning out a decent tune. After its release, he felt like more of a real deal star than ever, and said stardom fit him as comfortably as a gold-embossed Snuggie.
Like the person at the party leading the conga line, such a willingness to be boldly present — to anoint oneself the Prime Minister of Party Pop — risks lapsing into corniness. And perhaps that's why 24K Magic's AOTY win faced backlash to begin with; it's music that is, at its essence, defiantly uncool, especially when compared to the au courant contenders it was grouped together with. Even the category's legacy-act nod represented in 4:44 possessed an irresistible allure due to Jay-Z's at-times revelatory admissions paired with No I.D.'s past-meets-present production fusion.
24K Magic contains no such depth; it's kiddie-pool pop so clean-sounding that you can smell the chlorine, and Mars' willingness to embrace shallowness as a virtue undoubtedly resulted in a critical appeal disadvantage from the withering ears of social media. But there's something humorously ironic, too, in that such timelessly ephemeral pop music faced an intense wave of backlash that, too, dissipated as quickly as the album's economical runtime (nine songs, 33 minutes—as quick-and-not-so-dirty as it gets).
The act of listening to music itself is intensely personal, and even if our collective disagreements when it comes to award-show wins — the wins themselves ephemeral in their regular occurrences — feel intense, the time we spend litigating such minor injustices typically fades by the time the needle's run off the figurative groove. We'll likely and collectively find a new grievance to express by the time this year's Grammys have concluded — and if the target of our vexation is half as purely pleasurable as 24K Magic, perhaps we should consider ourselves so lucky.