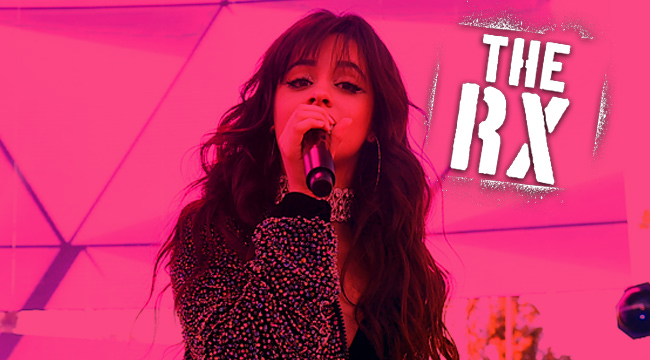 The RX is Uproxx Music's stamp of approval for the best albums, songs, and music stories throughout the year. Inclusion in this category is the highest distinction we can bestow, and signals the most important music being released throughout the year. The RX is the music you need, right now.
If you haven't been paying attention, Camila Cabello's rise to pop stardom all started with a little bop called "Havana," a Latin-infused, Young Thug-featuring banger that currently sits No. 1 on the Billboard Hot 100. More specifically, it began with betrayal, which is a just as viable a foundation to build a budding pop career as anything else, especially if you can summon a little grace.
Out of nowhere in December 2016, at just 19, Cabello, so far known as one of the five members of the record-shattering, wildly-successful multicultural millennial girl group Fifth Harmony, was striking out on her own. Of course, the group's die-hard fans, the Harmonizers (5H), and business executives like Simon Cowell and LA Reid — who had been instrumental in their success since forming on The X Factor — urged the girls to stay together for the potential money to be made, the fervor of their fans, and the ability to build a legacy. And, according to reports, the other four members were furious that Cabello was eager to pursue her own interests instead of stick with them. But to hear her debut solo album, Camila, is to hear an artist so fully formed, even a bruised 5H fan can understand why she had to leave when she did — and why she wanted her name on this thing.
Because of all the tension, the atmosphere she began to release singles into was contentious at best. Her debut solo track, "Crying In The Club," peaked at No. 47 on the charts, a far cry behind two previous solo collabs, the Shawn Mendes duet" I Know What You Did Last Summer" that hit No. 20 and went platinum and a feature on Machine Gun Kelly's "Bad Things" that shot to No. 4. Was her star dimmed by the drama with her former friends? Eventually, no, but it took a couple more features for Cabello to find her footing.
This happened most pointedly when she leaned into her heritage, and the core of herself. This clicked the most obviously on Pitbull and J. Balvin's "Hey Ma," which featured on the The Fate Of The Furious and included a Spanish language version. Working with producers Cashmere Cat and a song with Major Lazer, Travis Scott and Quavo also helped establish her sound — a mix of synthpop, reggaeton, and dark, simmering hip-hop. In some ways, it couldn't have been farther from the direction Fifth Harmony had been headed, another factor that probably played into her decision to leave.
Last summer she released a pair of promotional singles to pave the way for Camila, an album that promised to be emotional given its working title was The Hurting. The Healing. The Loving.. "OMG" featuring Quavo and "Havana" featuring Young Thug both hit the airwaves, but when "Havana" quickly pulled ahead, "OMG" was eventually scrapped from the album, even though it's got a murderous girl-gang swag bounce that would make it the perfect soundtrack to a dark teen movie. Here's hoping some aspiring young female filmmaker rescues it from obscurity with a killer script in the near future.
[protected-iframe id="6a424e9d8067c309757582496db68f25-60970621-76566046″ info="https://open.spotify.com/embed/track/4xBjsLUSjcx2h7PcRikpQp" width="650″ height="380″ frameborder="0″]
Meanwhile, "Havana" rose so quickly to the top, that it catapulted Camila out of the realm of 5H stans, and into an upper echelon of pop stars that includes names like Beyonce and Britney Spears, the only other two women to have the No. 1 song on the Billboard chart while their album debuts at No. 1, too. Yes, seeing Fifth Harmony onstage together was electrifying; pop music is yours, they beamed to the girls it's always belonged to, a dazzling array of nationalities, ages, heights, and body types, unified in presenting a sleek, impossibly fun, and empowering pop dreamworld. There's no doubt their girl group legacy will live on over the course of the next decade, and probably still continue successfully with the four remaining members. But, on her own, Cabello is the pop star that we've been waiting for to fill the void left by Katy Perry's last, disappointing turn, Lady Gaga's dip into Joanne balladry, and even Taylor Swift's clear step down on reputation.
Plus, as editor Alex Alvarez pointed out on Twitter, it was nice to see a song called "Havana" do so well when it was written by someone from Cuba — Cabello's success is a win for a country that has long been wrongly stigmatized, taken advantage of, and brushed to the side. While Latin and Caribbean sounds have been reduced to a massive trend that (white) pop artists like Justin Bieber have jumped on, when Cabello employs those rhythms and sounds, it's because they are part of her heritage and identity — and the songs on Camila hit in a different way than Bieber aping Spanglish. (Cabello even released a Spanish remix of "Havana" with a Daddy Yankee verse.)
Her hit single is basically a distillation of her early childhood, hopping back and forth between Cuba and the American South, struggling to balance both sides of her identity and feel at home in either place — a situation that a good chunk of Americans can relate to, but rarely hear expressed in a pop song. Cabello told fans back in November that "people kept saying to us that this song was never gonna work at radio because they didn't think people would 'get it'," but in fact, the song has now spent so much time in the No. 2 position it broke Lady Gaga's previous "Bad Romance" record. Who knows what other records it will break now that it's sitting pretty in the No. 1 slot.
Truthfully, though, "Havana" is just one of the many tracks on Camila, which came out at the top of the month, that sounds like a No. 1. The whole album is cohesive, clear, and catchy, striking as the most emotionally sound pop album I've heard since Lorde's Melodrama. It clocks in at a short and sweet eleven tracks, full of deliberate and well-thought songwriting and production. On a guitar-driven heartbreaker, she longs for "Real Friends" who won't sell her out, a song barbed enough to hit back at her former bandmates while making the listener feel how the betrayal hit her hardest. Echoes of heartbreak propel the soul-searching ballad "Consequences," a clear-eyed look at the way a toxic relationship can have a deeper impact than it seems it will during the highs. Plenty of songs praise the quick-hit adulation of dead-end love, but few get into the dark moments that ensue when that falls apart, and Cabello gets gloomy without losing any of her spark.
But, it's the first track on the album, "Never Be The Same," that has been on repeat for me; it sounds like it could've slotted in on reputation, with a drug-name, mathematically precise pop chorus that features Cabello's pitch-perfect head voice comparing her latest love to pills and substances. The song has all that heady Max Martin slickness and a shimmering upper chorus, except Cabello pulls off sultry desire in a way Swift has long tried and never succeeded. The song currently sits at No. 30, up from No. 65 last week — I'd expect another huge jump very soon. Later on the record, her scratchy vocal delivery on "Something's Gotta Give" reminds me of early Metric, and in some ways Emily Haines is a good touchstone to invoke when it comes to her songwriting, which is sticky pop with a ramrod backbone of direct, dense lyrics.
Mid-album, "Inside Out" is chipper enough to soundtrack the kid's movie of the same name, offering something PG for her younger fans. It sounds like peppy Bieber Believe-era earnestness retrofitted for a Cuban immigrant growing up in Miami — and tied to the modern prevalence of hip-hop and her international fanbase with a sly "worldwide worldwide" shout out. Then, she balances that out with the sexy, bubbling pop of "Into It," a dancefloor-ready anthem for consensual adults. There are a lot of sounds on the record that may sound a bit left field, or unfamiliar for the standard pop listener, but Cabello has already established herself as the kind of artist who will reshape the genre in her own image. Then, there's the strength of her voice, which flits easily from the ballads and the album's moody emotional core into bright-sound celebrations like "She Loves Control."
After a couple listens through Camila, any trace of ill will a former 5H fan may have felt will melt away into a simple realization: Camila Cabello is a star who is going to change the pop genre as we know it. If her former bandmates were real friends, they would support this thriving solo star and put the tumult of the past behind them. Quite obviously, Camila already has — and that grace has carried her all the way to the top.
Camila is out now via Epic Records. Get it here or listen below.
[protected-iframe id="201d670e0778b88678456e74888fe582-60970621-76566046″ info="https://open.spotify.com/embed?uri=spotify:album:2vD3zSQr8hNlg0obNel4TE" width="650″ height="380″ frameborder="0″]