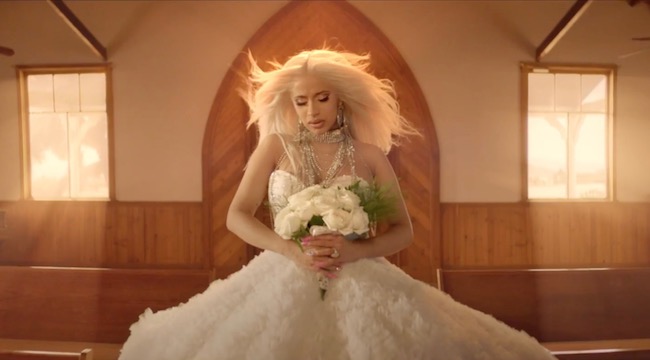 Cardi B is having a banner year in 2018. From the release of her critically-acclaimed, commercially successful debut album Invasion Of Privacy, her scene-stealing appearances at Coachella and Saturday Night Live, and the biggest news of all, the impending birth of her first child, things are going pretty damn well for the Bronx-native. Today, she keeps the winning streak moving along with the release of the compelling new music video for the single "Be Careful.
Directed by Jora Frantzis, the video appears to draw major inspiration from Quentin Tarantino's Kill Bill films, with Cardi positioned as the bride, decked out all in white with hundreds of diamonds dangling around her neck. Sweeping, cinematic shots of the desert are intermingled with scenes inside of an old-west style church where Cardi is waiting to marry a man dressed out in all-black.
Needless to say, the marriage doesn't end in happily ever after, and at the end of the video, Cardi is seen showing up to his open casket funeral and later personally plants his crucifix into the desert sand. "I hope y'all enjoy it," Cardi said on Instagram. "It was one of the hardest videos I ever did because it was in the desert, like the middle of nowhere, and b*tch I was so hot. I never sweat and I was sweating that day."
You can watch Cardi B's "Be Careful" video above.