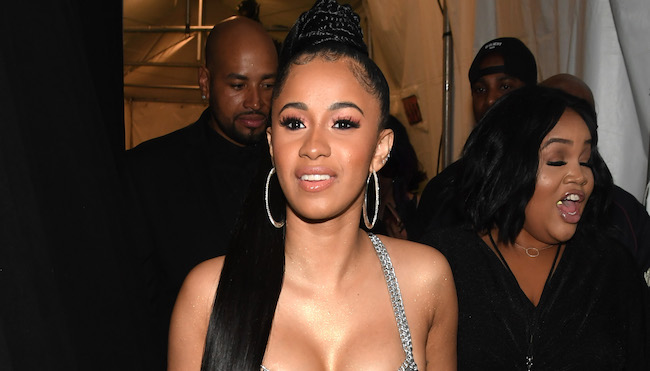 While some may have written Cardi B off as a one-hit wonder after her astronomical rise up the Billboard charts with her smash hit "Bodak Yellow," she's proven time and time again since then that she's so much more. The Grammy-nominated Bronx rapper has maintained her relevance with a slew of guest appearances since "Bodak" took off and now, two Top 10 hits. By locking in her third Top 10 hit with just her third official single in "Motorsport" with Migos and Nicki Minaj, Cardi makes history again, becoming the first female rapper to ever string together three Top 10s to start her career.
Even with Nicki in tow — who tallies her 15th Top 10 hit with "Motorsport," the most ever for a female rapper — Cardi's chart dominance signals a changing of the guard in rap. Cardi is a veritable hit-maker now, with a chart history that resembles a pop star, not a random mixtape rapper. "Bodak" peaked at No. 1, but "No Limit" with G-Eazy and "Motorsport," are both huge hits in their own right. For comparison's sake, it took Ariana Grande ten singles before she tallied three Top 10 tracks and it took Taylor Swift nine. Basically, Cardi is a superstar, and she appears to be here to stay, and with a new single on the way, she still has more history to make.
The question now is whether her debut album can match the hype her humongous singles have created, but with as much history as she's set this year, it might not even matter.