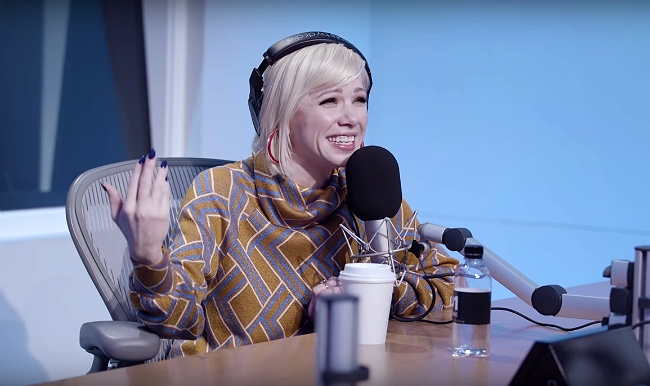 Carly Rae Jepsen is having herself a pretty great week, and unleashing one of the funniest music stories ever is a pretty excellent way to cap it off. The Canadian pop star dropped a pair of bops this week — "Now That I Found You" and "No Drug Like Me" — the first new music since last year's single "Party For One."
New music almost always means new press, and Jepsen appeared on Beats 1 Radio to talk with Zane Lowe about new music and one of the best private plane stories ever. It's a lovely interview, and Jepsen is hilarious and charming the whole way through. But one story she let slip near the 4:00 mark of the show involves a private plane ride with Michael Bolton and Seal.
The trio were on their way to an event along with Jepsen's manager, and she causally let slip that Seal ate an entire loaf of bread — just bread — during the flight. The story starts with Jepsen morbidly imagining the headlines that would come if their plane were to crash in The Day The Music Died fashion. Instead, she told a story that resulted in a much better and far funnier headline.
"Fun fact, Seal ate an entire loaf of bread one slice at a time," Jepsen said before laughing as Zane Lowe briefly loses his mind.
"I'm sorry," Jepsen said, realizing a man's secret has been revealed to the world. "I shouldn't say that."
Jepsen said there wasn't much time for small talk with Seal ("his mouth was rather full") but that he was very nice. And to be clear: this was just a man and a loaf of gluten-free bread and nothing in between. And she has video proof. Asked how she got it, well, she just pretended that she was texting.
"It's really easy," she said. "You can take a secret video and pretend you're texting and you just have the phone up. Everyone's done that before."
That's true, I suppose, though few people have had the opportunity to take secret videos of Seal calmly plowing through a bread bag with no condiments or lunchmeat involved. And she confirmed that the video is still on her phone, making it one of the more precious smartphones of our time.

Jepsen apologized to Seal while she was retelling the story, noting that she probably shouldn't be calling Seal out on his eating habits. But we're all the richer for her speaking her truth.
"I shouldn't talk on television or radio," said Jepsen, who is absolutely incorrect.
Jepsen also said it's "safe to say" a new album is coming later this year, which is great news, and she revealed she recorded around 200 songs for the new album, including a duet with an unnamed male artist.
All of this is important news, but not nearly as incredible — and newsworthy — as the thought of Seal slowly eating a loaf of bread, slice by slice.
[via Billboard]