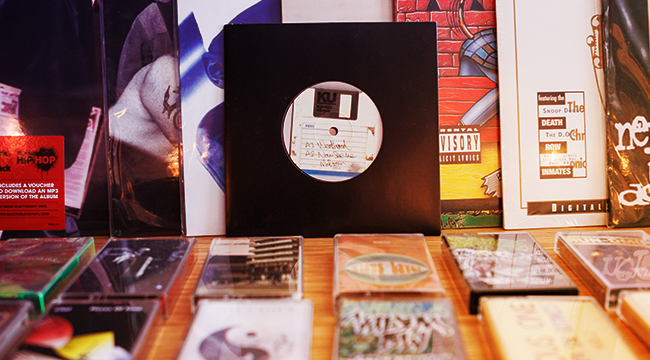 Here's something you might not believe: According to Bandcamp's annual statistics, cassette sales increased almost as much as vinyl sales did in 2017 (41% and 54%, respectively). Especially considering the banner year vinyl had, that's a pretty wild stat.
Regardless, in an age where the pervasiveness of streaming services is being spelled as a death sentence for music's "99%", and digital and CD sales continue to plummet, or at best remain financially insufficient, independent record labels are still standing on shakier ground than ever before. The music industry's continued monetary struggle isn't news at this point, but when the online pirating culture that services like Napster spurred back in the early 2000's appeared to threaten the existence of a music industry altogether, the playing field between indies and majors was at least (somewhat) leveled.
There was a brief period in the mid-2000's, when the billionaire record execs had just had the gatekeeping rug pulled out from under them, that making exorbitant amounts of money by exploiting artists and music consumers seemed like it would no longer be feasible. This incited the hope that perhaps a new industry model, benefitting both artists and fans, could become a new reality.
To some extent it did. Bandcamp, a website that provides artists and labels with a fair and sustainable portion of the profits from their music and merch, has become the go-to medium for practically any artist outside of the mainstream—and they just announced that their site saw "double digit growth" in both digital and physical sales in 2017. That's good news, but it doesn't discount that streaming is by far the most popular method of music consumption (together, Spotify and Apple Music boast roughly 100 million paid subscribers) and that Spotify (which holds 70 of those 100 million) unfairly stacks their highly influential playlists, and appears to value profits over artistic exposure.
To compensate for the mere pennies that they earn from these streaming giants, most indie labels have, throughout the last six or seven years, relied on the niche format of vinyl records as a primary source of revenue. However, although vinyl was widely reported to have had its twelfth straight year of growth in 2017, the best-selling records of the year were reissues from legacy acts like The Beatles, Bob Marley, Michael Jackson and Pink Floyd, as well as movie soundtracks for La La Land and Guardians Of The Galaxy. The only 2017 release to crack the top ten was, dishearteningly, the new Ed Sheeran album.
None of those artists (and movie companies) are relying on vinyl sales to avoid economic danger, but for young artists on indie labels like Tiny Engines Records, Exploding In Sound Records and Topshelf Records, physical sales are crucial to their survival, and according to some of those labels, vinyl isn't faring quite as well for them as the sweeping reports imply.
"I do think maybe [vinyl has] slipped a little in the past year, just as people seem to be buying less in general," says Dan Goldin, owner of the Brooklyn-based punk label Exploding In Sound. His label has been releasing forward-thinking indie rock records from artists like Palehound, Pile, LVL Up and Big Ups since 2011.
Topshelf Records, which played an important role in the emo revival of the early 2010's, has experienced a similar draught.
"Nothing sells as well for us as it did 3-4 years ago," says Kevin Duquette, owner of the San Diego-based label, whose discography includes seminal albums from Sorority Noise, The World Is A Beautiful Place & I Am No Longer Afraid To Die, and Ratboys.
For Tiny Engines, a South Carolina label with a stack of signees mostly from the Northeast, a distribution deal with Redeye has helped, but pre-orders have declined. This makes judging the success of a release tricky.
"From a direct mailorder standpoint, we sell less vinyl than we did a few years ago," says Tiny Engines owner Will Miller, whose roster boasts The Hotelier, Adult Mom and Mannequin Pussy. "A few years ago we could put up a pre-order for a record and make our money back on a release fairly quickly. . . there's definitely less people participating in pre-orders, for whatever reason."
Despite its slight decline, each of those label heads, as well as Father/Daughter Records (Diet Cig, Vagabon, Shamir) co-owner Jessi Frick, say that vinyl is still their dominant format, but that they've found unexpected success in another medium as of late.
After what initially seemed like a charming gimmick or an ironic fad a few years back, cassette tapes have not only remained a commonplace find at merch booths and Bandcamp pages, but have been re-established as a legitimate format with a specific purpose at many, if not most, indie labels today. Although aesthetic preference is one reason for their resurgence, as demonstrated by the wave of cassette-only labels like Z Tapes, Forged Artifacts, Citrus City, Disposable America and Bee Side that have emerged in recent years, cost is ultimately the chief factor.
"If you explain to anyone who's not at least tangentially aware of the DIY/indie music scene today that you're releasing music on cassette tape, you're bound to get scoffs, side-eyes and even belligerent tirades against the medium," says Forged Artifacts owner Matt Linden. His off-kilter pop and indie rock label originated in 2012 with the intent to just press vinyl, but quickly transitioned to just tapes. "I think part of this mindset is a general misunderstanding or ignorance in how much physical media costs, and what goes into production — which is really no fault of the consumer."
Although vinyl, which indies typically price at $14-$18 per record, obviously has more profit potential than a $5-$8 cassette, the upfront cost for a vinyl run is thousands more. Since many of these labels are putting out music by artists with either tiny cult followings or no followings at all, as it's often their first release, the low risk of a cassette run in the $100-$200 range versus a $2000-3000 vinyl run is simply a smarter move.
"I don't think we really worry about how a cassette run will do, though, cause it's such a minor investment," says Miller. "We certainly do spend many hours worrying about and trying to gauge how vinyl runs will do."
"In order to not be paying a fortune per record, you basically have to make 500 at a time," says Goldin. "With tapes, you can make 100 copies or 50 copies. If things go well then you can easily make more, cause it takes two weeks compared to six months."
Manufacturing is a key element here. With so much vinyl being pressed today, and so few pressing plants in operation, delivery dates are difficult to predict and often susceptible to delays—which can be detrimental to labels with small budgets.
"I had a record that got delayed at nearly every step of the process and that wasn't actually retail ready until six months after the release date," says Blake Hickman, owner of the Portland DIY label Good Cheer Records (Mo Troper, Cool American, Turtlenecked). "If you're a small label without a big distribution company behind you, these sorts of problems happen more often and can really damage you. With cassettes, there's just fewer steps with manufacturing, lower upfront costs, and faster turnaround times."
Especially for pressing EPs, which don't usually have the extensive roll-out of a full-length record and are often an artist's introduction to the world, cassettes are a more reasonable medium than a 7-inch record—which most of these labels have phased out at this point.
"For us, [cassettes were] initially a replacement for 7-inches, which we felt just weren't smart investments anymore," says Miller.
For Father/Daughter, 7-inches were just delaying the time it took for their artists to earn something from their music, whereas cassettes speed up the process.
"7-inches cost just as much to manufacture as a 12-inch yet you can't charge as much for them at retail," says Frick. "When we're talking about a brand new artist, or maybe an artist who can't/doesn't want to tour, we'll look at releasing it on formats that have lower overhead so the release can recoup faster and the artist can start getting paid for their music."
Good Cheer realizes the potential benefits of vinyl, but recommends that artists plan strategically for all of their physical releases.
"For bands touring nationally, vinyl is almost a financial necessity," says Hickman. "For bands who are looking to have their music be secondary to their other pursuits and don't have ambitions to tour regularly, it might not make sense [to] have to recoup thousands of dollars just so they can have a vinyl record."
Although having vinyl on the road might seem like a more profitable guarantee than cassettes, Goldin says that Exploding in Sound bands actually sling as many tapes as they do records when they're out gigging.
"A band that plays a lot of shows, in our experience, sells a lot of tapes," he says. "It's little commitment to buy a $5 tape that you can fit in your pocket versus a $15 record."
In addition to their affordable price tags, the portable size and colorful packaging of cassettes seem to have the same allure to indie audiences that vinyl's elaborate designs do.
"I'm going to venture to say most people buy a physical format and likely don't listen to it (more of a collectable item) and download or stream instead," says Frick. "So for us, we put as much thought and planning into the packaging and shell colors of cassettes as we do vinyl."
Hickman also thinks that the tangibility of cassettes plays a big role in the medium's popularity.
"Just anecdotally, I have a lot of examples of fans of ours who have bought cassettes even though they don't own a tape player," Hickman further explained. "They're just looking for a way of financially supporting a band directly, or wanting some sort of physical artifact of an album that means something to them."
For Z Tapes owner Filip Zemčík, who operates out of his home in Slovakia, the beauty of cassettes was the very impetus for his bedroom-pop label's inception.
"I found cassettes very attractive and a cheap means to make digital music physical," says Zemčík. "I love how cassettes can be artistic objects, where you can play with the artwork, the color of the tape, the whole packaging."
Cassettes, pretty and trendy as they may be now, aren't the answer to the industry's increasingly complex financial dilemmas, and from a music listener's standpoint, qualms with the audio quality of a tiny plastic box that makes whatever's pressed to it sound hissy and muddy are valid. However, they are a way to provide artists with a physical representation of their music, a relatively safe financial investment with predictable returns, and most importantly, a reason for indie labels to give underground artists the opportunity to be heard.
"Having that option has allowed us to work with artists we may not have," Linden said. "And it's allowed us to say 'yes' more often—something I know labels of our size wish they could do more of."
Goldin broke down the figures.
"If it lets us release music that we love that we can't commit $3000 to, but we can commit $200 to, then i'm all for it," says Goldin.
For Topshelf, and similarly for Exploding In Sound, the affordability of cassettes inspired them to create a tape series, where they dropped a plethora of criminally obscure releases over the course of a year.
"We started a cassette subscription series in 2016 which was spun up out of equal parts frustration and inspiration," says Duquette. "I was frustrated there were so many great artists that I felt weren't getting recognition, but we didn't have the money or bandwidth to get behind their music as much as I wish we could."
And as much as vinyl is having a moment, cassettes possess the ability to help young artist's careers grow, which is one of the most important things for a creative industry, period.
"If you're unconcerned with commercial success and just want to elevate things you deem to be great, then Bandcamp and cassettes are a great way to reach and grow audiences without the huge financial barrier to entry of formats like vinyl,"Duquette adds.
Regardless of how long they stick around, the popularity of cassettes is proof that there's still a market out there that cares about supporting underground music, and according to those promising Bandcamp stats, it's one that's growing.