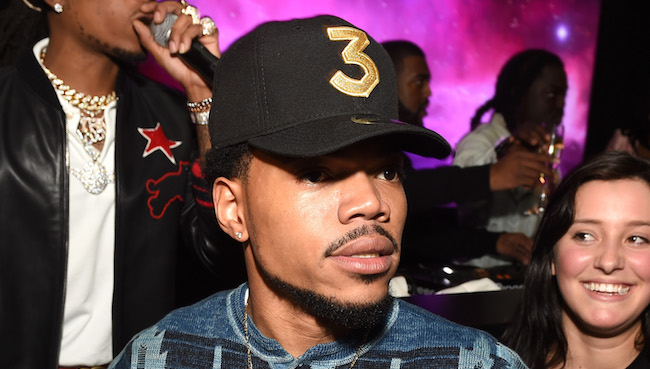 Before 2017, Chance The Rapper was already an industry darling, but now that the 23-year-old is the proud winner of three Grammy awards he's really made his mark as a bonafide superstar. With that new leap in prominence Chance is setting off on a nationwide arena tour and doing all sorts of new media, including a sit-down with Katie Couric for Yahoo News.
During the interview Chance took Katie to Harold's Chicken, a Chicago landmark, to open up about everything from fatherhood to Donald Trump, Beyonce and Adele at the Grammys, and playdates with his daughter Kinsley and Kanye West's son Saint. For diehard, long-time fans, much of the interview is a retread, with Chance simply retelling his story to a wider audience, but there's also new morsels of information divulged by Chano during the conversation that are intriguing.
Once such bit of information is the origin of Chance's now trademark — literally — "3" hat, especially considering that he called merchandise his "main revenue." Chance is hardly ever seen without his 3 hat these days, a fact not lost on him as he quipped "I sleep in this hat … take showers and baths in this hat."
As for its origin story, we have Chance's hometown White Sox to thank for the trendy $45 hat. Apparently the team failed to give him a deal to be the "official spokesman" of the White Sox hat even though he wore that piece of merch nearly everywhere before the 3 hat came into existence.
I had a band called social experiment, and our short form of it spelled SOX. So I went to the white sox and said 'Yo I wanna do a deal with you guys where I wear this hat, and I become the official spokesman of the White Sox' and they said 'No.' So, then I came back the next year and they're like 'No, but you can do some commercials for us.' I wore a Sox hat everywhere. When I was making my cover for Coloring Book, I had a Sox hat on and I was like 'Man these Sox dudes never finished that deal for me, take off the Sox cap.' Then I was like 'Oh, this is my third project,' and I had them put a three on it. Then I had them alter the three a little bit, you see there's like a little dash (Katie: Yeah, a little slant). Trademarked three, in the bag, so now I have my own three.
Chance revealed that the 3 has increased significance in his life now beyond just being on the hat he wears at all times. "The three pronged family of me, my daughter and her mother is something that permeated throughout the music," he said. Adding "And then, none of this would be possible without the Holy Trinity."
The 3 gained even more meaning after his victorious night at the Grammys. "Now, I'm a three-time Grammy winner," he said. Then, without missing a beat he added "Until next year."
Check out Chance's entire interview with Katie below, including his thoughts on being an independent artist, his new life as a father, and his plan to save Chicago from the violence that has plagued the city. Additional clips including his thoughts on Donald Trump, Beyonce, Dave Chappelle and more are available at Yahoo here.