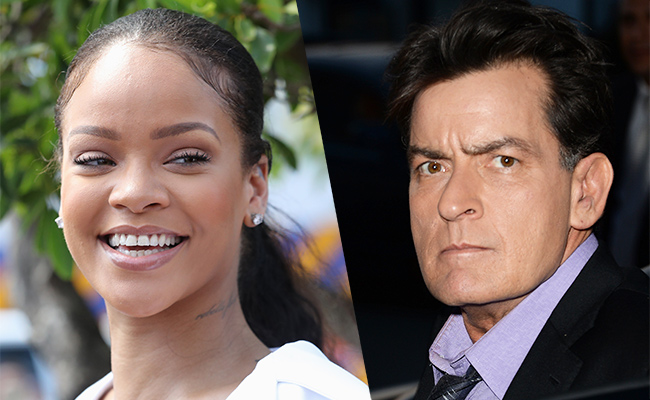 That Charlie Sheen is still hung up on Rihanna while the pop star remains clueless about their one-sided beef. Last week Sheen called Rih a common sense-lacking "b*tch" on Watch What Happens Live when he was asked whether or not they made up following that Twitter feud in 2013. The Two and A Half Men blasted the singer on social media back then and appeared to still be mad that Rihanna gave him and his pornstar ex-fiancee a rain check on a meet and greet even though they were at the same restaurant. But Charlie Sheen has seen the error of his ways.
The attention starved actor extended a hand to Rihanna on the very same platform he used to blast her several years ago. Wrought with remorse, Sheen asked the Anti entertainer to excuse his "self-indulgence" and offered up free drinks, tweeting out, "Dear Rihanna, pardon my inane self-indulgence. Let's have a drink someday (on me)."
Rihanna has yet to respond to Sheen's apology or his invite for free drinks. It could be because Rihanna is busy working on numerous projects. Her new fragrance, an upcoming movie, possibly a new album, her new collection with Puma. But maybe, if she's feeling charitable, Rihanna can entertain Sheen for a minute or two. Though I'm more partial to the "go f*ck yourself" option.