Spotify was just a baby when it launched in October 2008. Bitcoin was merely an idea when Satoshi Nakamoto published a paper titled Bitcoin: A Peer-To-Peer Electronic Cash System the next month. A decade ago, the world was pretty different. 2008 was also the last time that Christina Aguilera went on a world tour, with her global trek in support of her 2006 album Back To Basics concluding with a performance in Abu Dhabi.
She's kept busy since then, with a pair of albums (2010's Bionic and 2012's Lotus, neither of which she toured behind), television work, movie appearances, and even a big performance here and there. Playing an occasional few songs on stage at an award show is radically different than the rigors of an extensive tour, though.
Soon, Aguilera will head back out on the road. Very soon, actually: She just dropped her eighth album, Liberation, in June, and announced that her first tour in ten years will kick off in Florida tomorrow. She's actually played a handful of shows already this year, and after seeing her performance at the Curaçao North Sea Jazz festival firsthand, I can confirm that she's ready for her return.
Aguilera isn't the only one making a comeback this year. The Curaçao North Sea Jazz Festival — a Caribbean spin-off of the flagship event in the Netherlands, which itself has been held annually since 1976 — was canceled in 2017 after it was unable to secure high-quality headliners (which they themselves admitted). This year, however, the fest did just fine on that front, with Aguilera closing out the final day of the event, which ran from August 30 to September 1. While there was the potential that she might need to kick off some rust after a period of relative dormancy, instead, she came across rested and eager.
Aguilera hit all the right notes (as this fan-made video of the performance's highlights quite literally demonstrates) and never once took it easy during her 14-song set. She stuck to the classics (only playing one Liberation song, "Fall In Line") and sounded powerful belting them out. She wasn't about to let the world forget that she remains one of the most talented and technically sound singers in the history of recorded music, even after an extended break.
Speaking of history, she also took time during her set to honor Aretha Franklin. Aguilera previously performed Franklin's "Ain't No Way" as part of a tribute to her during the 2011 Grammys, and at the time, Franklin was enthusiastic with her praise, writing on Facebook, "I LOVED it!" At North Sea Jazz, Aguilera again performed the song, as well as "At Last," which was most famously recorded by Etta James in 1960, but which Franklin covered on her final album, 2014's Aretha Franklin Sings The Great Diva Classics.
If this was a preview of what Aguilera's upcoming tour will be like, then it ought to be one of the year's finest. Her Curaçao performance showcased a legend as confident and entertaining as she's ever been, and there's no reason her Liberation shows shouldn't offer a similarly breathtaking experience. It's been a while, but it's 2018, and Christina Aguilera has returned.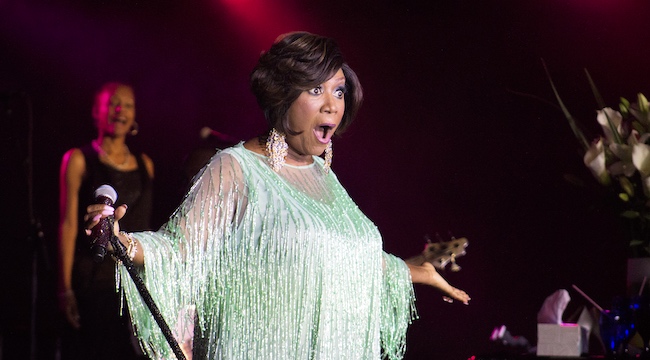 The event's bill was plenty stacked aside from her, too, with an eclectic group of performers taking the stage over the three days. Patti LaBelle proved that she hasn't lost a step after 74 years on this earth by giving one of the festival's strongest performances, and songwriting legend Burt Bacharach, who is an astounding 90 years old, peppered his set with fascinating stories about the extraordinary talents with whom he's worked over the years. Sting and Shaggy also continued to justify their unexpected partnership with a fun performance, Grace Jones was as enigmatic as ever, and Daddy Yankee was an energetic last-minute replacement for Sean Paul, who was unable to make it for his scheduled set due to injury.
What really makes Curaçao North Sea Jazz a solid destination festival is that it places equal emphasis on destination and festival. Performances started no earlier than 7 PM on all three nights, so instead of spending all day on the festival grounds and not actually seeing much of what's going on outside of that non-representative area, attendees had all morning and afternoon to check out the local attractions and get a real feel for the destination.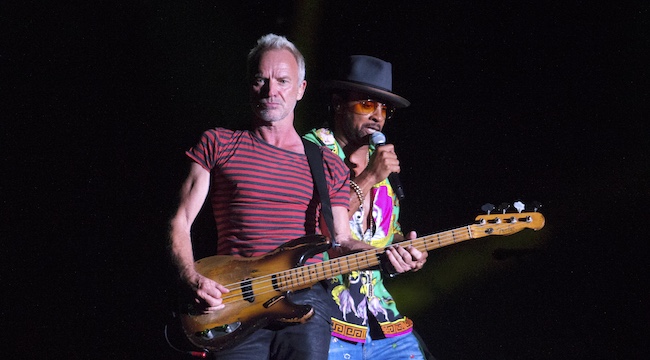 During those free afternoons, I made the most of my time in the Caribean. One afternoon, I had lunch at Jaanchie's, a local staple where hoards of small birds get hopped up on sugar from the feeders outside, where the charming namesake owner recites the menu from memory to each customer instead of offering a printed list, and where I tried iguana. I swam at local beaches. I toured an aloe farm. I got a hickey on my elbow after letting an ostrich peck me repeatedly. I visited Landhuis Chobolobo, where the world-famous Curaçao liqueur is made. I took in other sights in and around the capital city of Willemstad, the heart of an island that I got to know well (or as well as a tourist can during a long weekend) thanks to a festival that maximizes the appeal of both its lineup and its environment.
The disastrous Fyre Festival may have left a bad taste in mouths the world over at the mention of the words "destination festival," but when they're done right, they're not a disingenuous money-grabbing crock at all. As long as events like these can deliver what they promise and don't prioritize the music over the destination too much (or the other way around), it ought to work out fantastically.
This is a balance that Curaçao North Sea Jazz was able to achieve this year. There was a legitimate opportunity to explore a non-trivial portion of Curaçao (the island is only about a ninth the size of Rhode Island) during the day. At night, music fans enjoyed half of the duo behind the historically significant global monolith that is "Despacito" (Daddy Yankee), aging legends we're fortunate to still be able to watch perform (Burt Bacharach, Patti LaBelle), and the beginning of Aguilera's long-awaited reemergence, which itself would have been reason enough to make the trip.
As the internet makes the world more and more global, opportunities to explore our planet should be readily embraced, especially when you can plan your international travel around destination festivals as worth it as this one was. In a contentious time for destination festivals, Curaçao North Sea Jazz serves as a model of what they could and should offer: Music that's worth traveling for, and travel that's worth an afternoon away from music.
Uproxx was hosted for this story via accommodations provided by the Curaçao Tourism Board. You can find out more about the Uproxx Press Trip policy here.