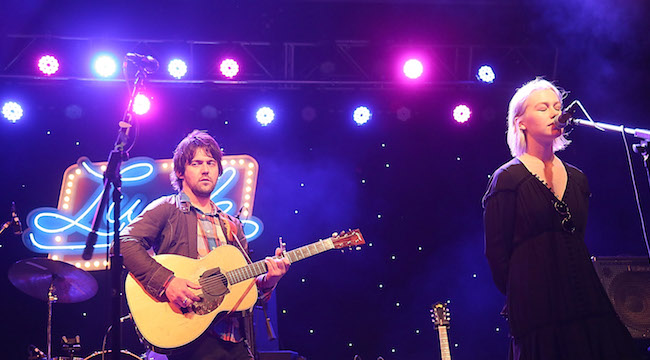 Conor Oberst and Phoebe Bridgers sound great together, but we already know this. The indie rock legend lent his vocals to "Would You Rather" on Bridgers' impressive breakout album Stranger In The Alps, and the two (plus Soccer Mommy) covered Sheryl Crow's "If It Makes You Happy" at a show in Brooklyn earlier this year. Oberst and Bridgers have reunited for a re-recording of Oberst's song "LAX," available exclusively on Amazon Music.
"LAX" was first released for the soundtrack of Juliet, Naked earlier this year. In the film, the song was actually sung by Ethan Hawke's character, a singer-songwriter and Oberst-esque musical icon. Both Hawke's and Oberst's versions of the song were included on the soundtrack. But the new recording with Bridgers is the song fully realized. Oberst and Bridgers' voices complement each other perfectly, soft but full of longing. The song is more poignant as a duet, with both asking "why'd you make me fall in love with you?" singing to one another but sounding alone and far away. Hawke's version of the song in the movie was a guitar-driven banger, but this new version is spare, only Oberst and Bridgers' voices over a simple piano melody.
The new version of "LAX" comes to Amazon Music via Simon Felice's new series "Produced By," which pairs top producers and top artists to create exclusive new recordings.
Listen to Conor Oberst and Phoebe Bridgers' recording of "LAX" above.