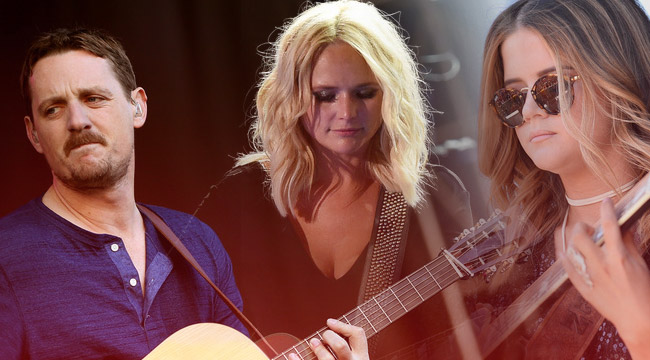 Well, 2016 is almost over, and if you're still living in the "everything but rap and country" mindset, it's time for you to educate yourself. That is no longer the world we live in folks, and there are plenty of country songs out there that would please even the city slicker in your life. Country is a state of mind more than it is a place. Let this playlist take you to where the green grass grows.
20. Cole Swindell – "Middle of a Memory"
If you're still unfamiliar with Cole Swindell, it's time to climb aboard this train. Swindell is a Georgia boy made good who has written songs for well-established stars like Luke Bryan and Florida Georgia Line — actually he spent three years on the road doing merch for Bryan before he got his own tour. Now, Swindell is well on his way to a headlining slot after his 2014 debut self-titled album went platinum. His follow-up, You Should Be Here, came out this May and "Middle Of A Memory" is the second single. It's a song about a guy getting sentimental when a girl he's just met leaves him mid-flirt on the dancefloor to hang out with her friends. Mournful misandry that's climbing country radio like wildfire? I'm in.
19. Haley & Michaels – "Drinking About You"
If there's a single facet that absolutely guarantees a good country song, I'd have to say it's wordplay. "Drinking About You" hits that hard and early, riffing on the endless thoughts of an ex and swapping it out for endless drinks to drown the heartache. Haley & Michaels are the married country duo, Shannon Haley and Ryan Michaels, who met in Nashville only to discover they'd grown up three miles apart in northern California. "Drinking About You" is the first single off their second EP Taking Off, which will be out later this year as the follow up to their 2014 debut self-titled EP.. It's a sad song devoted to drinking the pain away, linking it to a long lineage of songs in the genre about the same thing, but that clever wordplay and sweeping strings give it an updated twist, without sacrificing a slinky country guitar melody.
18. Jerrod Niemann – "A Little More Love"
This is the kind of song that makes you break out in a grin as soon as it comes on. It also adheres to a them that's prevalent in a long line of country songs — the idea that love is better than money. The track is co-written by Shane McAnally, one of the best songwriters in the business, and is the lead single off Jerrod Niemann's upcoming album, which sounds like it will be the one that helps him break out from the pack. Niemann and Lee Brice have great vocal chemistry here, completely channeling a sun-soaked vibes and golden day-off feeling. If I already wanted an El Camino to drive around California real bad before this, I do even more now.
17. Brieanna James – "Hot"
Country music has had a woman problem for the past couple years, but that hasn't stopped Brieanna James from strutting all over the genre with "Hot." This woman is a 17-year-old who is more than happy to objectify the man of her dreams, flipping the script on plenty of songs that cite the girl-in-cutoffs as the sex object. Instead, James offers a litany of things she finds "hot" about this guy with a wink and a smile, it's a sort of anti-bro-country anthem without the bite of something like Maddie & Tae's "Girl In A Country Song." For all that women are taught about looking for stability and monogamy, it's a breathe of fresh air to hear someone sing about wanting to hook up. Her debut single came out this summer, and I expect to hear her name everywhere by next year at this time.
16. Olivia Lane – "Quarter Life Crisis"
On the other side of the spectrum, Olivia Lane offers a mid-twenties look at how exhausting trying to grow up can be. "Quarter Life Crisis" is a twangy reflection on how arrogant and self-assured your teenage self was, and how confusing it can be to really come into your own once the dust settles on the party-happy years of your early twenties. "Quarter Life Crisis" is off Lane's self-titled EP that came out earlier this year, and her smoky alto is reminiscent of singers like Jennifer Nettles or Sara Evans. From the sounds of it, she's managing her own mid-twenties slump just fine.

15. Clayton Anderson – "In The Dark"
Clayton Anderson is a Midwest boy whose battle of the bands win led to an opening slot for Kenny Chesney. He took it from there, releasing a debut album called Torn Jeans And Tailgates independently in 2011 and following that up with 2014's Right Where I Belong. Now, he's ready to release his third album and released the sizzling "In The Dark" late in September. The track addresses his partner's proclivity for hooking up in complete darkness — which might be a euphemism for other things, but I choose to take it on the surface level. Reminds me of another great country song about getting naked with specific parameters, Gary Allan's "Nothing On But The Radio."
14. Luke Bryan – "Move"
I can't imagine having a life so boring that hating Luke Bryan was a source of entertainment, but hey, that's what happens when an artist gets as big and successful as Luke Bryan has. In just a few short years he has become one of the dominating forces in country music, and "Move" reminds us why. It's off his latest album, this summer's Kill The Lights, and features his rubbery tenor tackling the Yankee-goes-southern timeline. And hey, "I can't move when you move," is a pretty romantic line for a song that's about watching a girl dance.
13. Aaron Parker – "I Took A Pill In Ibiza"
Oh, are you shocked that country stars can do the crossover thing in the age of our Lord Taylor Swift's 1989? I, for one, welcomed the sad Ibiza pill jam when it arrived earlier this summer, and I love the country version too. The song actually works pretty well as a duet, with Shanna Henderson as a welcome foil, and has the same kind of tragic feeling that a lot of great country songs do, plus the acoustic melody is warm and welcoming, even if the lyrics are cold and distraught.
12. Boo Ray – "Sea of Lights"
This one is for you "real country" folks, no matter how much I might disagree with you I still know how to please you. Boo Ray has been around for a minute, his debut Bad News Travels Fast came out in 2010, followed up by Six Weeks In A Motel in 2013 — can you tell from the album titles that his brand of bluesy outlaw county is a bit twisted? Well, Sea Of Lights is a bit, uh, lighter, and the title track is a song of devotion to the city of angels as balm from a breakup. As a recent transplant I've had it on day and night, soaking up the electric guitar solos and Ray's gritty, grinning vocal phrasing. Who cares what ghosts haunt your past when you've got the open stretch of this city as your future?
11. Nestor Andress – "Drunk At A Bar"
Pretty straightforward track here about getting lost in someone the way you would a day-long drinking binge. Luckily, most of it takes place in private. Personally, I love songs that compare love and sex to addictive substances, because it's the most apt comparison! Nestor Andress has one of those perfect country voices that rolls on and on over soft, simple melodies, but can handle little intricacies, too, imbuing them with a tiny bit of twang. This is a song about casual hooking up that invokes wedding bells in the lyrics, ideal in every way.

10. Josh Taerk – "Anywhere Love Took Us"
A funny thing about American country music is that some of the biggest stars are… Canadian! Shania Twain, looking at you. Makes sense, the only place there's more rural North American wilderness than America itself is Canada. Anyway, Josh Taerk is a Canadian country singer who weaves heartland rock into his take on country. "Anywhere Love Took Us" is a song about high school love turned into a longer journey, converting the idea of travel into falling in love. It's sweet and kind, which fits the Canadian stereotype quite nicely.
9. James Barker Band – "Lawn Chair Lazy"
James Barker Band are the kind of guys who like to poke fun. Case in point is the accompanying photo for the song "Lawn Chair Lazy" that recreates the Beatles iconic Abbey Road cover with each band member carrying a lawn chair. Yup. I think this song perfectly sums up why I love bro-country — it purposefully aims to be low brow art, reveling in its own working class bullsh*t. This is a song about sitting in lawn chairs and drinking beer, one of the simplest things on earth, yet also one of the most enjoyable! Why shouldn't these small moments have anthems, too? That's basically the thrust of half of country music's entire storytelling bent. I love it. Someone pass me a beer. (Oh by the way, these guys are Canadian, too.)
8. Miranda Lambert – "Vice"
It's pretty f*cking impressive that Miranda Lambert ended her high-profile marriage to Blake Shelton and immediately converted the pain into searing, achy-breaky country songs. "Vice" is one of the early singles off her forthcoming post-divorce album The Weight Of These Wings, which comes out 11/18. It's one of the most anticipated albums of the year, and "Vice" explains why; Lambert is not glorifying her mistakes but sharing the pain that drives those choices and providing an acceptance of her own coping mechanisms. Combine that with her firecracker voice and some dark, roiling blues and "Vice" guarantees this album will hold a candle to her fantastic 2014 release Platinum. The "standing at the sink" line here is a great allusion to Platinum's best track "Bathroom Sink," too.
7. Luke Bell – "Glory And The Grace"
If you're new to Luke Bell, yesterday we posted a mini-intro on him along with his cover of John Lennon's "Jealous Guy," so you can get familiar. Or, you can stick around here and check out "Glory And The Grace," Bell's tribute to the American country, an unsurprising thing from him to praise since he hails from Wyoming originally. At the heart of it, it's a song about the joy of being alive, which is timeless no matter what style you adopt. The song sticks to his honky-tonk sensibility, kicking up a ragtime piano melody to accompany his throwback phrasing. Instead of sounding reactionary, Bell is outfitting the tropes of the past to create his own unique sound in 2016.
6. Maren Morris – "Sugar"
Fresh off a win as New Artist Of The Year let me please introduce you to the woman I have been calling country music's new hero since well before June, when her breakout album dropped. It's important to note with artists like Morris, or even Kacey Musgraves, that they didn't just appear, but have been grinding away at this thing for ages. It's so difficult for women to get a chance, that Morris had released three albums before this one — Kacey had put out four. Hero kicks off with "Sugar," a delicious example of how Maren can blend pop sensibilities with steely, sparking lyrics. Every single song on Hero is solid though, so I wholeheartedly recommend you listen past the album's stunning lead single "My Church" all the way through "Second Wind" and the burning closing ballad "Once."

5. Brothers Osborne – "Loving Me Back" Feat. LeeAnn Womack
Another big winner last night at the CMAs, Brothers Osborne took home the honor of Vocal Duo Of The Year — and they completely deserved it. Their debut record Pawn Shop came out this past January, and is another record that affirms the experience of small town middle America instead of belittling it. The fact that it's done in John and T.J. Osborne's grizzled, perfect harmonies just makes it all the better. On one of the album's standout deep cuts, "Loving Me Back," the two praise replacing substances with love, and enlist LeeAnn Womack to help drive the point home. A stunning, rock-solid song of devotion that moves like a roller coaster, building to a peak and dropping you right down in the best way. Check out all of Pawn Shop if you like what you hear.
4. Sturgill Simpson – "In Bloom"
Sturgill Simpson loves to zig when people want him to zag, and God bless him for that. It's the kind of core orneriness that every iconic country star possesses. On the follow-up to his critically acclaimed breakout Metamodern Sounds In Country Music, Sturgill decided to cover Nirvana. Normally, I would say it is a terrible idea to try to outsing Kurt Cobain, but instead, Simpson transported the song to a country barroom in the middle of nowhere, making it a sweeping, elegiac track buoyed by sumptuous orchestral backing. Dang. Ain't nothin more country than doing the exact opposite of what people expected. Long live A Sailor's Guide To Earth, one of the best albums to come out this year, even if the critics didn't like it this time.
3. Vince Gill – "Down To My Last Bad Habit"
Vince Gill is a classic country star. I had the pleasure of seeing him perform at the Grand Ole Opry earlier this year, and he dedicated a new song to Merle Haggard, who had recently passed. Well, that was heartbreaking in the best way, but it wasn't quite as stunning as the title track off his 2016 album Down To My Last Bad Habit. A lot of country songs equate addiction, sex, and love, as we've run through before on this list, but only Gill can turn the idea of someone as a "bad habit" into a mournful track about missing someone. Gill has a voice that could melt steel beams, and his Spanish-influenced fingerpicking is just as elegant these days as it was back in his prime. Don't write off the old guys — if you thought the only men making music in country right now were bro-country bros, Gill's grace proves you wrong in four minutes flat.
2. Charles Kelley – "Lonely Girl"
Most of the incredible women I know are lonely. I can't explain it, they are loving, warm, graceful, and brilliant, but men still constantly abandon and mistreat them. It's puzzling to me in every way, but there's little I can do to curb the behavior of bad men except berate them online. So while this post does a little of that, I'm going to pivot here to the Charles Kelley song that I send to my friends when they get their hearts broken again and again. You might recognize that steely uptempo, backbone as a Chris Stapleton trademark — he wrote the track — and Kelley lends his gorgeous tenor to make it feel warm and welcoming even at the most boisterous parts. The idea behind the song that when a sh*tty guy breaks your heart, this song will be a balm. It breaks the fourth wall in the best way, and has surely soundtracked a couple hundred dance party comebacks in the bedrooms of women across the country. Yet another example of men in this genre making music that's crafted to uplift and inspire others. Check out the entirety of Kelley's solo album The Driver, it has nine tracks and every single one of them is perfectly-trimmed, emotional, golden hit.
1. Loretta Lynn – "Lay Me Down" Feat. Willie Nelson
Did you know we got a new Loretta Lynn album this year? Sadly, it has been wildly overlooked by most of the music writing community, so I'm making her number one on this list to make sure she gets the proper shine. Loretta Lynn is a living legend, ya'll. The entirety of Full Circle is stocked with classic country mountain tunes, but the closing track is a duet with Willie Nelson and a cut above the rest. It's about feeling peaceful confronting the prospect of eternity, and only two legendary singers could make such a simple topic feel completely fresh and stunning in 2016. Careful though, this bluegrass number will probably bring a tear to your eye — or a torrent of them. I always say the sign of a great song is if it makes the listener cry from sadness or joy — this one makes me cry from both.
You can find a playlist of all 20 songs here and below.