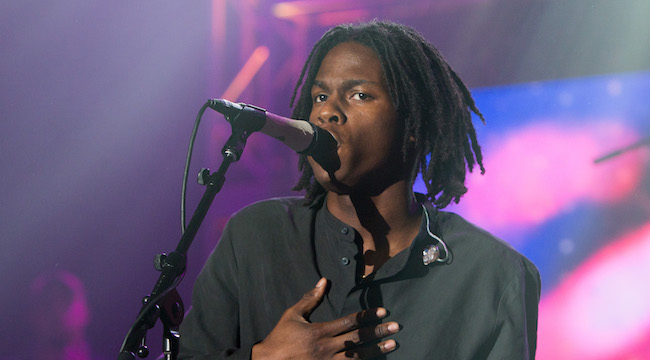 Daniel Caesar's Freudian is nominated for two Grammy Awards — Best R&B Album and Best R&B Performance for the album's lead track "Get You" with Kali Uchis — but it's also notable for featuring only women as guest artists. Uchis, Syd, H.E.R., and Charlotte Day Wilson all make appearances on an album where Caesar's voice is the only male presence.
In an insightful new profile of the Toronto-born, throwback soul singer in Billboard, Caesar revealed the reasoning behind the absence of male guest vocalists.
"We didn't set out to only have female vocalists," he says. "For every song, we thought, 'This person would be great for it,' and it was a female every time. You only get one side of the story if it's too much masculine energy. It's just logical to me to try and balance myself out."
While he may not have planned on the coincidence, it's served him well. When Freudian released in August of 2017, the album earned 353 million on-demand streams in the United States and accrued 234,000 equivalent album units, peaked at No. 25 on the Billboard 200 chart, spent 18 weeks there, and skyrocketed the 22-year-old to national prominence. Since then, he's featured on songs with hitmakers like Chance The Rapper, performed on late night shows for audiences of millions, and even appeared on former President Barack Obama's personal playlist of favorite songs of the year.
He did all this without a label, yet Freudian became so popular that people started getting engaged at Caesar's shows. His explanation for all this success: "People want to feel like they're being heard. So all the feelings and thoughts that we go through that are socially unacceptable, less than ideal — if they can see someone else going through it, someone that they respect, then it makes them feel different about their own situation." By including female voices, Caesar ensures that both sides of the story are told, increasing both his audience and his appeal.