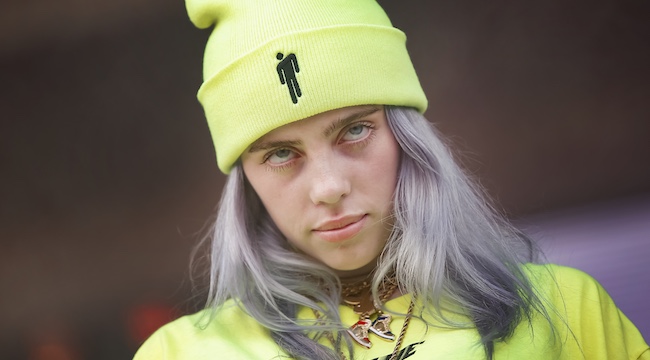 Update: Dave Grohl said that his statement about Billie Eilish, as reported by Variety, wasn't completely accurate. In a post on Foo Fighters' Twitter account, Grohl called the original quote "lazy paraphrasing that completely misses the point." The tweet reads:
"For a VARIETY of reasons, and out of respect for Billie Eilish, I'd like to share the transcript of what I actually said at the Pollstar convention the other day, rather than some lazy paraphrasing that completely misses the point…. ahem….

'….I went to go see Billie Eilish not too long ago. Oh my god man. Unbelievable. My daughters are obsessed with Billie Eilish. And what I'm seeing happening with my daughters is the same revolution that happened to me at their age. My daughters are listening to Billie Eilish and they're becoming themselves through her music. She totally connects to them. So we went to go see her play at the Wiltern, and the connection that she has with her audience is the same thing that was happening with Nirvana in 1991. The people in the audience knew every word. And it was like out little secret. So I don't know…. and her music is hard to define! I don't know what you call it! I try to describe her to people and I don't know…… I don't even know what to call it. But it's authentic. And I would call that rock n roll. So…. I don't care what sort of instruments you use to do it. When I look at someone like Billie Eilish, I'm like… sh*t man…. rock n roll is not even close to being dead…'"
—
Today is the final day of the Pollstar Live conference, which features panels and discussions for people in the live entertainment industry, and one of yesterday's events was notable: Dave Grohl sat down with Live Nation CEO Michael Rapino for a one-on-one conversation. Variety has shared some highlights from their chat, and during it, the Foo Fighters frontman compared Billie Eilish to Nirvana and said that artists like her prove that rock is alive and well:
"My daughters are obsessed with Billie Eilish. The same thing is happening with her that happened with Nirvana in 1991. People say, 'Is rock dead?' When I look at someone like Billie Eilish, rock and roll is not close to dead!"
Elsewhere in the conversation, he talked about his first run-ins with Nirvana, saying, "I saw them at a show and I thought, 'That's Nirvana. Oh my god.' It was like Children Of The Corn. […] With Scream, we never had anything successful. Nirvana had great songs. 'About A Girl' was like a Beatles song. It was clear that dude [Cobain] could write songs."
He also revealed that he's not exactly an expert when it comes to modern technology — "I don't know the difference between Pandora and Spotify. I don't get it. I don't have the app. Sorry." — and shared what it's like being him: "It doesn't suck."
Revisit our previous interview with Grohl here.