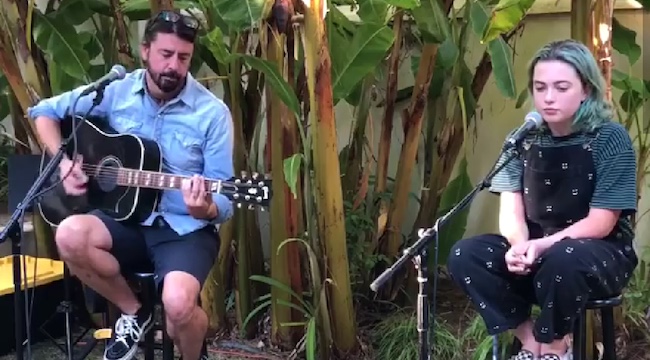 Dave Grohl is one of the finest rock frontmen the world has ever seen, and his daughter Violet has proven that her father's singing genes were passed along to her. The elder Grohl backed up Violet earlier this year when the two appeared at a benefit concert and performed a cover of Adele's "When We Were Young." Recently, the pair teamed up again for a similar rendition of the same song, this time for a fundraiser in support of Stella's Socks, an organization that gives socks to 100,000 homeless people in Los Angeles.
The performance was an intimate one, taking place in a backyard to an audience of what looks like fewer than a hundred people. Only a short clip of the Grohls' performance has been posted, but it looks like it went about as well as the last time the two played the song publicly, meaning that Violet proved herself to be a very capable vocalist. It appears that the fundraiser was put on by one of Violet's friends, and that she was able to get her pal's famous father to stop by and help make the event a success.
Watch a brief clip from Violet and Dave Grohl's performance above, and read our interview with the Foo Fighters' leader here.