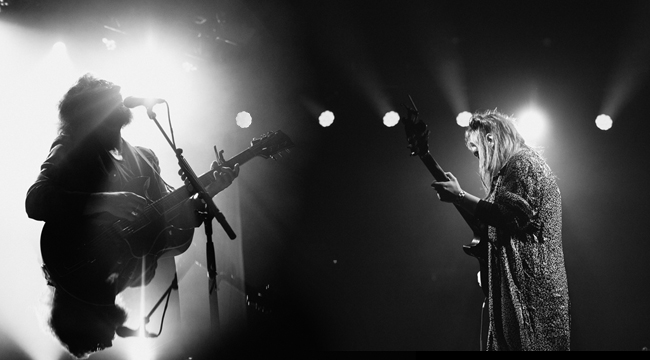 For the second time this year, I happily deposited my iPhone into a Yondr pouch and walked into a show with the relief of not having access to the entire internet. Yes, I said relief. Though I surrendered my phone with some trepidation the first time, to see Jack White on his new phone-free tour, I did so yesterday in Brooklyn with an overwhelming sense of peacefulness. That Jack White show was one of the most fun experiences I've had in years, and since I apparently lack the self-control to not look at the device on my own, having it decided for me was a blessing in disguise.
Anyone attending David Lynch's third Festival Of Disruption for this particular event was also relinquishing their phone, though that wouldn't be the case for shows later in the evening. After two runs in LA, the festival had finally made its way to New York, where it was being held in inside the cavernous, and yes quite metallic, new venue called Brooklyn Steel.
I slowly took my place in an already-darkened room with hundreds of other attendees, all eager to watch David Lynch give what was tipped as a "lecture" — though, knowing Lynch, it seemed likely to include its own set of quirky, surreal elements. We weren't disappointed when the event kicked off with an airing of a short film project dubbed Psychogenic Fugue, and a couple other clips, before interviewer Paul Holdengraber and Lynch himself took the stage.
Though he's spoken with Lynch twice before, Holdengraber struggled to stop quoting at Lynch long enough to let him talk, which he did most passionately and at most length about Transcendental Meditation, the healing, meditative practice that he's touted for nearly 50 years, and one of the primary tenets of the Lynch Foundation, which puts on the entire festival. In Lynch's view, most of the pain, disassociation, and distraction that plagues creators — particularly in an era like 2018 — could be remedied with the practice of TM, looking inward and exploring the infinite consciousness we all possess. (It sure sounded good, though whether or not it will reveal Lynchian genius in me as I strive to begin this week remains to be seen).
In a festival circuit that is more concerned with gourmet chicken tenders than healing post-traumatic stress disorder, the Festival Of Disruption lived up to its name quite easily. Combining lectures like the one its founder participated in with offsite art exhibits, onsite meditation centers, and plenty of other film and music-oriented events, the two-day affair was a haven for oddball interests and cult-like fandom without being too esoteric or inaccessible.
For instance, later in the evening Jim James — of the psych-melody outfit My Morning Jacket — and the folk-gone-electric music of Angel Olsen filled out a bill of other eclectic, inventive musicians harnessing the power of genre in intricate and immersive ways; Nancy Whang of LCD Soundsystem played a DJ set before the two aforementioned artists, the previous evening Jon Hopkins, Animal Collective, and Flying Lotus delivered performances that transcended in their own way.
https://www.instagram.com/p/BjBhHvyF_Zh/?taken-by=harmonicait
Though I felt it nearly my duty to capture Olsen's shimmering and visceral set on Sunday evening (which, despite some sound issues, was unlike anything I'd ever seen before), after the initial fast from my phone earlier in the day, it seemed easier than ever to tuck if away and be in the moment. That meant analyzing and mooning over the performance in real time with a friend, instead of on Twitter, and letting her final, raging closer exist only in my memory, and not on my Instagram story.
While we collectively grapple with the ramifications of technology on our consciousness, and how to parse the work of geniuses like Lynch, who have been with us so long it's almost easy to forget the impact they've had, it's nice to remember how easy it is to create the kind of festival that echoes the values of its founder in both programming and intention. Or, to put it even more bluntly, one that has a goal other than capitalistic gains, that manages to evoke a real aesthetic in its musical booking, and, as the great philosopher Erykah Badu would say, that can make you put your phone down.