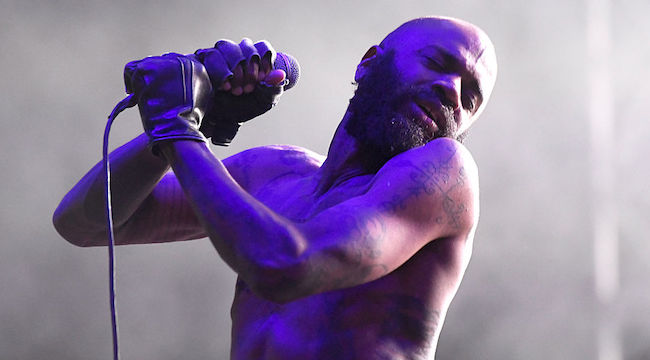 You wouldn't expect Death Grips to do anything conventionally, would you? The experimental hip-hop group has been cryptically teasing the release of a new album for a few weeks now. We found out via Twitter that Justin Chancellor from Tool would be playing bass and it would be produced by Shrek director Andrew Adamson. Then we finally got a name: The Year Of The Snitch. Now, via a cryptic Andy Warhol style assemblage of dadaist footage, instant messenger sounds, and tortured screaming, we have the full tracklist.
The video features a succession of texts from someone named "Snitch" who first says "Let us remember Death The Snitch, the child yet to be born." It then launches into an assemblage of various vertical clips which are cryptic and kind of creepy. Overlaid on each clip is a different text from Snitch with the name of a song from the track list. In some cases, there is an obvious connection between the image and name but mostly the connection is obscured. For example, we see a clip of glowing-eyed raccoons with the track "Streaky", disembodied lips and a tongue poking through a styrofoam hole under the track "Ha Ha Ha," a woman's thumbnails painted black with white pentagrams for "Black Paint," and so on.
The entirety of the video is soundtracked by the looped, anguished howl of MC Ride screaming into plate reverb and various direct message or instant message alert sounds from different apps over the years. It's a low-fi psychedelic masterpiece of multimedia collage that is perfectly on brand for a group that has made a career out of not having a brand. The complete track list for Year Of The Snitch is below.
1. "Death Grips Is Online"
2. "Flies"
3. "Black Paint"
4. "Linda's In Custody"
5. "The Horn Section"
6. "Ha Ha Ha"
7. "Shitshow"
8. "Streaky"
9. "Dilemma"
10. "Little Richard"
11. "The Fear"
12. "Outro"
13. "Disappointed"