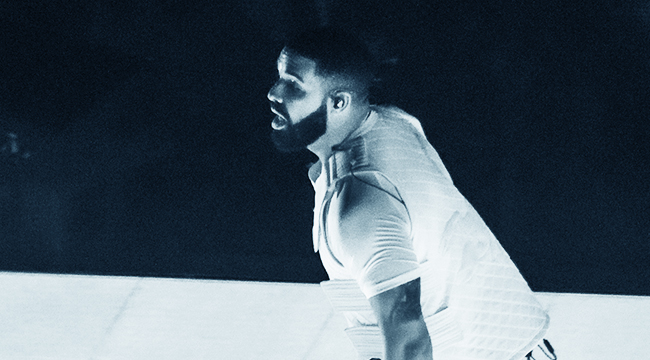 By every conceivable metric, Drake is the biggest music star in the world in 2018. Complain all you'd like about the super-sized length of his latest album Scorpion, you can't argue with the accolades its racked up these last few weeks. Drake's already scored three different No. 1 hits from that project — "God's Plan," "Nice For What," and "In My Feelings" — while the rest of the tracks have accounted for billions of streams, netting it platinum certification literally the day it was released. People just can't get enough of Toronto's most famous export.
All that's to say, Drake has probably reached a point in his career where he could conceivably start rocking some of the larger baseball and football stadiums across North America, but he's apparently not interested in that. Not yet anyway. This year, he's hitting the arena circuit once again for his Aubrey And The Three Migos tour, bringing a brand new, eye-popping stage show to the masses. This is probably the most innovate arena-sized concert set-up any one has debuted since Kanye's Saint Pablo tour in 2016.
Due to some technical difficulties with the production, Drizzy was forced to cancel or postpone some of the initially-scheduled shows for this particular run, and pare down three planned performances in Chicago, where I caught the tour, down to two. The United Center was absolutely packed to the gills with fans of every age group and every demographic imaginable, all hyped out of their minds to see what Drake had in store for us.
Following a 45-minute long opening set from Migos, Drake levitated from under a catwalk wearing an OVO branded bulletproof vest and strode out into the middle of a large rectangular stage set up in the middle of the arena to a sonic boom of enthusiastic shrieking. The phrase "Side A" flashed across one of the screens, and as Drizzy took his place in the middle of the arena, a large, mosquito-net looking screen descended from above and engulfed the stage. Images of purple and red storm clouds were projected onto the net. The beat to "8 Out Of 10" dropped, and Drake began running back and forth from one end of the stage to the other, rapping furiously, but seen only as a dark silhouette.
After a couple more songs, the net lifted. Drake revealed himself to the 20,000 adoring and frenzied fans who'd spent the last 10 minutes screaming his words back at him. "Oh, I like that energy," He said. "It's gonna be f*cking fun tonight!" Then the true innovation revealed itself. The stage Drake had been sprinting back and forth across was actually a giant LED screen. As he came into view, the screen came to life in a gorgeous, red hue. Over the course of the night, it would change multiple times, depending on whatever song he happened to be playing at the moment. During a break in the middle, it actually became a laser-created basketball court, and he gave a fan named Kyle a chance at $25,000 if he could nail a half-court shot. Kyle, sadly, did not succeed.
On past tours, Drake has had a tendency to kill a lot of the momentum in his shows by taking flight in some kind of cherry-picker and shouting out different members of the crowd who happened to catch his eye. In 2018, he's far more confident onstage, and thankfully, far-more focused on giving the people what they actually paid their hard-earned money to see. Hit after hit, after hit, delivered with massive amounts of energy and technical precision.
Over the course of the hour and 40-minute show, Drake managed to play at least pieces of more than 40 different songs. He actually has one of the most enviable problems a performer can face, in that there's almost more material that even casual fans would love to hear than he could ever hope to feasibly play in a single performance. Naturally, there were a lot of Scorpion cuts thrown into the mix, and if I were to quibble about anything, I certainly wouldn't have minded if he'd tacked a few extra More Life tracks onto the setlist, especially seeing as how he didn't tour the States behind that particular project. Sadly, "Passionfruit," "Blem," and "Portland," remained un-played.
In order to properly throw out his glut of fan-favorites, Drake dedicated a solid 20-minute block near the end of the first half of the night running through the most recognizable parts of some of his most beloved earlier work, songs like "Headlines," "Over," "All Me," "HYFR," "Gyalchester," (a More Life cut that made its way in) "All Me," and "Trophies." Then he took his leave and came back with Migos for a portion of the show dubbed "Culture Side," and together the foursome tackled their collaborations "Walk It Talk It," and "Versace," which was enthusiastically received by the crowd.
The last time Drake played the United Center on the Summer Sixteen tour, his special guest that night was Chicago's most famous rapp, Kanye West, but a lot has changed in a year. During "Know Yourself," he notably changed the line in the song to, "Then Kanye flopped, it was polos and backpacks." I guess the OVO/G.O.O.D. Music beef is still alive, but simmering just under the surface. After all, copies of self-described peacemaker Jas Prince's memoir The Art & Science of Respect, were available for purchase at many of the merch booths dotting the venue.
Through it all, the flourishes of technological spectacle remained awe-inspiring. A couple times through the show, Drake performed while a tiny air force of illuminated drones hovered just above his head. During "Hotline Bling," the stage transformed into a giant pool, with extremely realistic looking swimmers doing underwater laps. While playing, "Energy" Drake was stalked by a spotlight that looked like a crosshair, while a pyramid of red lasers danced all around him.
For "Don't Matter To Me" and then a cover of Michael Jackson's "Rock With You," the net came back up and down again and the arena resembled a scene out of the futuristic film Tron. And at different points of the night, through a multitude of different songs, loud explosions of pyro were set off to punctuate a specific line, like after the first chorus to "Started From The Bottom," and most vigorously after the set-ender "God's Plan." The pièce de résistance however, was the flying, yellow Lamborghini that floated over our heads while he ran through "Free Smoke."
The back half of the show was where the crowd really came alive, as Drake stacked the end of his performance with some of the biggest hits of his career. "Controlla," gave way to the Rihanna collab "Work," then he hit us with "One Dance," "Hotline Bling," "Nice For What," "In My Feelings," — at this point the stage morphed into an iPhone scrolling through @Champagnepapi's Instagram feed, filled with videos of people dancing their asses off — and most surprising of all, Travis Scott's "Sicko Mode." More often than not, he was willing to let the crowd handle the most recognizable lines, and they came through with deafening aplomb. The man at the center of it all was thoroughly appreciative of the effort. "Everybody make some motherf*cking noise for yourself," Drake said near the end of the night. "I'm f*cking proud of ya'll!"
Drake has never been the kind of artist who thinks or acts small. "More life, more everything," as the song goes. Someday, I would imagine in the not too distant future, he will join the likes of Beyoncé and Paul McCartney as one of the few performers capable of selling out and lighting up major league ballparks with relative ease. Drake been packing in arenas for years now, but Aubrey And The Three Migos might be the last chance we get to see him in an environment that may seem downright intimate five years from now. If that's the case, he's certainly created one helluva way to go out.