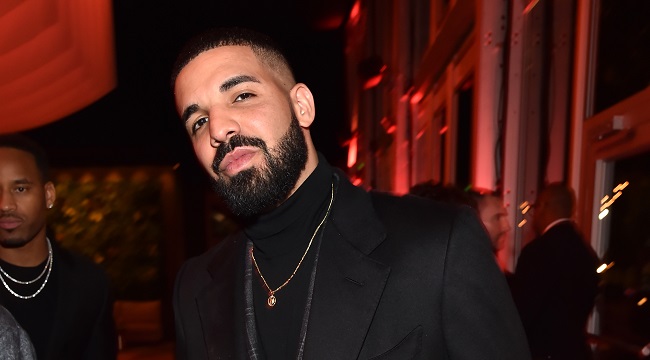 Nine years ago in 2009 when Jay-Z rapped "Drakes up next, we'll see what he does with it" in his song "A Star Is Born" no one would have guessed exactly what Drake would do with it. From the beginning, Drake has defied all odds. Even Jay-Z couldn't have predicted that a child actor from Toronto would one day wind up an international rap phenomenom who's star burns so bright that the only real competition for him… is him.
See, right now Drake's song "God's Plan" has been sitting atop the Billboard Top 100 Songs chart for eleven weeks. And it's starting to look like the only artist who will usurp Drake is Drizzy himself with his new single "Nice For What." The early projections are in and the speculators over at Billboard are starting to hint that "Nice For What" will debut at number 1 when finally it charts for the week April 6-12.
In theory, "Nice For What" will launch with a projected 50 million U.S. streams and 75,000 downloads. These numbers will then be added to the 25 million "all-format" radio plays the song is expected to receive. Compare that to "Gods Plan" with a projected 40 million U.S. streams, and 30,000 units sold added to over 110 million in all-format radio play and the winner is clear: "Nice For What" demolishes "Gods Plan."
If all goes as predicted, Drake won't be the first artist to achieve such a feat –although it's only been done 13 times in Billboards history. The last artist to have accomplished such a feat was fellow Torontonian and former child: Justin Bieber, with his feature on Luis Fonsi and Daddy Yankee's "Despacito."
Whatever ends up happening it's starting to look like the answer to "Nice For What" is becoming pretty clear.