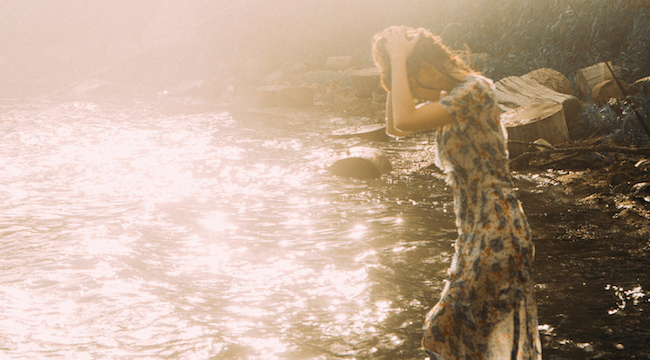 Singer-songwriter Ella Vos has made a career out of being honest. Her 2017 LP Words I Never Said took inspiration from the 2016 political climate, with Vos writing clearly and beautifully about what it was like being a woman and raising a child in such turbulent times. The songs obviously strike a chord — her song "White Noise," with its remixed and original versions, has racked up a combined 63 million streams on Spotify.
Vos' new EP, Watch And Wait, takes the same thoughtful consideration she demonstrated on her 2017 project to a more individual struggle. Vos was diagnosed with lymphoma after the release of Words I Never Said, and the singer spent much of the next year writing from waiting rooms and hospitals as she received treatment. (She's healthy now.) Watch And Wait gives a voice to this liminal period, between the worst of it and waiting for things to get better.
"[The EP is] very in the moment," Vos said. "I even still kind of feel like that now. It's weird. It's kind of scary to talk about the songs because I still kind of feel like I'm in the middle of it."
Like Words I Never Said, the new EP is colored by the experience of being a woman in today's world. Last year, "wellness" took a huge leap into the mainstream, as the popularity of skincare products skyrocketed due to Instagram promotion and beauty blogs. Like Vos said, it's hard to talk about it because we're still in that moment, but varying definitions of "self-care" were a huge buzzword in 2018. But self-care takes a different meaning when it's not just a luxurious face lotion, and you're taking care of your body and health to try and stay alive. Body positivity and self-love look different when your body is not functioning as you wish it would. When you're sick and feeling badly, loving and accepting yourself as you are can be a hard sell.
"It's easy to practice self-acceptance when you feel like what you're accepting isn't something that's actually holding you back in life," Vos said. "Self-acceptance is multifaceted, it's not just a simple mindset. It takes a lot of effort and time and studying and research to know how to do that. I thought about that a lot, looking back at my lyrics now. I really hear myself searching, and trying to do this thing that it feels like it's a norm in society to practice. But it just feels so different than I thought it would."
Vos' song "Ocean," one of the EP's lead tracks, is an excellent demonstration of that self-healing practice. On the song, Vos uses the metaphor of ocean waves to describe both strength and a lack of control — you think they'd be polar opposites, but the natural chaos of a giant, erupting ocean wave proves that strength and wildness can exist simultaneously. The song isn't cathartic musically — it's too soft and gentle to be a fire-starter. But when you listen to the expressive exhale of the lyrics, you can hear Vos putting herself back together, and start to feel yourself healing, too.
"It's funny, because when I was writing that chorus, when I write about feeling broken, I didn't realize at the time that part of that growing and learning from hardships is you kind of do have to be broken a little bit, so you can be put together anew," Vos said. "That brokenness that I was feeling at the time was kind of a gift, because I knew where bottom was, and I knew where I wanted to go next."
Vos' music is full of water imagery — apart from "Ocean," many of the other songs on Watch And Wait feature lyrics with metaphors of drowning, swimming, or trying to keep your head above water. Vos describes herself as a "pretty visual person," and you can tell listening to the EP. Every song is rich with description and metaphor. Vos keeps her instrumentals minimalist — a synth-y beat here and there, but mostly atmospheric to match her soft vocals and the intimate nature of her storytelling.
Vos often writes her music with visuals in mind. "When I hear certain chord progressions or tones or certain instruments, I start seeing a movie in my head, or some kind of story," she said. "I definitely felt like that with 'Cast Away.' Writing that, I felt like I was just rolling around on a beach."
That eye for visual components draws Vos to take an active role in creating videos for her songs. She usually comes up with the initial concepts and draws the storyboards the videos for her songs herself, working with collaborators who can help realize her vision of what the songs should look like. Vos has also recently directed a few videos for her songs herself — she recently helmed the visuals for "Cast Away" and "Temporary."
"[Directing] is as satisfying to me as writing a song," Vos said. She especially likes coming up with concepts that tell different aspects of the stories in her videos — similar themes, but pulling out different meanings and interpretations of the lyrics.
The lyrics on Watch And Wait are strikingly personal, despite being open to interpretation and rich with metaphor. "Deeply personal" is a bit of a buzzword in music writing right now — you can't read a review anywhere without hearing praise for a "deeply personal" slice-of-life track on a hip-hop record, or for guitar-driven indie song about feeling incapable of accepting love. Watch And Wait isn't concerned with relationships or the rest of the world as much as it is with the frustration and beauty of living in and surviving in a human body in 2019, about as "deeply personal" as it gets. I joked to Vos that I wish I could use those words to describe her work without sounding like a cliche.
But putting yourself and your life out there like that, being "deeply personal" when it comes to you and you alone, is an incredible act of vulnerability. I asked Vos whether sharing that intimate part of herself felt more scary or empowering, and it turns out that sharing the art about it isn't as scary as being asked to elaborate and getting poked and prodded about the feelings she reflects in her music.
"I'm okay writing about what I'm going through in song form, in video form, in story form. The scary part is once people know it's about something personal, they want to know even more. It's hard when my mom, for example, will be like, 'What else is this song about? What else? Tell me the rest of the story!,'" Vos said. "I hate words. Lyrics are different from me than words. They're kind of like images to me. But just to talk openly about, like, 'I don't know what my future looks like' is a very scary thing to say out loud in a normal conversation."
But Vos is looking forward to touring this album, letting her incredible voice and poignant storytelling do all the talking. As a former tour keyboardist, Vos has played many of the venues she's visiting on the Watch And Wait Tour, but this will be the first time playing some of them solo. She's especially excited for a gig at Washington, DC's 9:30 Club, and for the newly built but already iconic Brooklyn Steel. And, of course, for people to hear the rest of the songs on the EP — "Ocean," "Cast Away," and "Temporary" were released over the past couple of months, but "Lonely Road" and the EP closer "Empty Hands" are can't-miss additions to Vos' discography. 2019 has incredible things in store for Ella Vos. Now it's time to watch (and wait).
Listen to Ella Vos' Watch And Wait here, and check out her upcoming tour dates here.