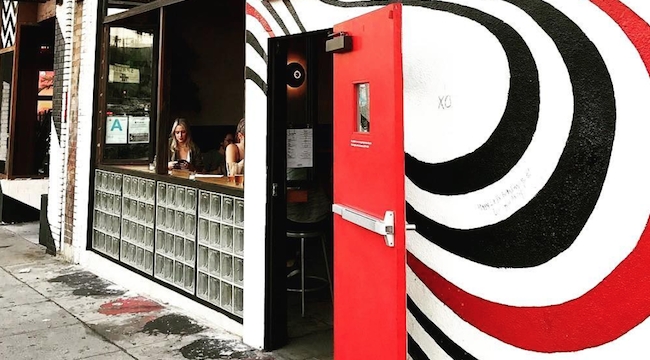 In 2016, the word spread that the space behind the famed Silver Lake wall mural that was featured on Elliott Smith's beloved Figure 8 album was turning into a bar. This would have been fine if the bar didn't need to remove a portion of the mural to install a window. Still, Bar Angeles embraced a concept that attempted to pay tribute to the songwriting great who used to live in the neighborhood, and the removed wall became part of the internal decor.
The bar opened last year and turned out to be a restaurant, too, serving expensive personal pizzas along with expensive wine and cocktails, never quite earning the favor of the locals. Soon brunch was added in an attempt to boost business, and later live music. Now, a little more than a year after opening, Bar Angeles is throwing in the title. Eater Los Angeles is reporting that the space will be quickly flipped to become a Filipino restaurant called Ma'am Sir, with Bar Angeles' last day of operation coming on March 31.
There is no word about whether the internal (or external, for that matter) wall mural will remain, though it is hard to imagine that a new tenant would simply remove such a revered part of the neighborhood's history. What we do know is that many are excited to try the new cuisine from the same creators of Downtown LA's highly regarded Rice Bar. For those that actually did frequent Bar Angeles (I don't know anyone who falls into this category), let's hope it's a fond farewell to a friend.