The internet loves to rank things, and it seems Kanye West's album discography has been ranked, re-ranked, and analyzed more times than any of us can count. But like clockwork, every time these rankings pop up, factions rise up to defend every single album that Yeezy ever touched as his best.
So, it occurred to us that those arguments are preferable to putting these records in any sort of arbitrary order. Instead, here is a fan of each record, defending their beloved choice as the one that should rank above all the rest; an argument for every single one of Kanye West's albums as his best. Enjoy.
The College Dropout, (2004)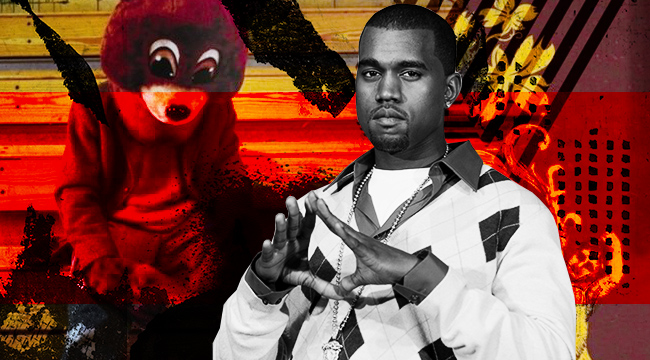 A famous adage tells us that you have your entire life to write your first album. But even if Kanye West's audience for The College Dropout was unfamiliar with that idea, they'd certainly learn it by the end of the album. 'Ye had waited his entire life to finally get put on with a major-label rap project and — given that sense of always deserving better that's colored his entire career — he wouldn't let us forget it.
What other artist in history has closed their debut album with a thirteen-minute track talking about everything they have already done. Who else has the audacity to close something as uncertain as a rap album from a nerdy studio rat with a heaping plate of shit to eat for anyone who dares to stand between them and the fame they feel they are owed?
But put yourself in Kanye's shoes and "Last Call" begins to make quite a bit of sense. West nearly died at the tail end of 2002, falling asleep at the wheel of a rented Lexus and waking up in "the same hospital where Biggie Smalls died" with his jaw run through with wiring. West can be forgiven for self-mythologizing on the track because the accident forced him to take stock of his own life.
If he'd died right then, he'd go down as a footnote for his fellow rap nerds. He'd be the guy responsible for most of the sounds on one of the greatest rap albums ever released, but how many people would actually know his name outside of forums for the trivia and gear-obsessed? The crash put the fear of God into Kanye West, a vengeful and all-powerful one that he still saw as separate from himself. So, he littered his debut with gospel songs and rapped like his hair was alight (but would not burn up).
The College Dropout might sound tame or innocent when viewed through the lens of 2017. Rap has gone through at least three major stylistic shifts since then — mostly fronted by Kanye West, but we'll get to that — and the success of a single like "Jesus Walks" or "All Falls Down" can lead us to forget how strange all of this was in 2004. Sampling a choir to rap about the devil and God battling for your soul would be a gamble. Wagering most of your debut album on your own production style of sped-up R&B samples is a risk. But to do all that and nod toward backpacker-y and Polo shirts while the rap mainstream was still infatuated with badman tales and menacing cuts full of knuckleheadery is the sort of pig in a poke purchase that only someone who's completely uncertain of their future can make. We were years out from "The Glory" but Kanye West had no idea if he'd ever get the chance to talk his sh*t again, so he threw every idea he had up to that point into Dropout.
Kanye covered a huge swath of topics over the course of the album's 15 songs and six skits. God was a frequent subject, of course. But the album also featured tracks that took on low-wage labor ("Spaceship"), college and the job market ("All Falls Down" and "School Spirit"), the backpack and luxury rap dichotomy ("Breathe In, Breathe Out") and female body image ("The New Workout Plan"). Taken together, they make Kanye West's most complete album, with his greatest ratio of incredible songs to misses.
Kanye West faced down the idea of never getting to make an artistic statement of his own, so he came back with the single most solid work he's ever produced. It can be hard to remember this Yeezy, given that he doesn't even finish albums before releasing them nowadays. But The College Dropout is the album that gives us the patience to let him go ahead and fix "Wolves." Kanye's debut is the reminder we need of the greatness that West is capable of when he has the drive to see a project all the way through.–Alex Galbraith
Late Registration, (2005)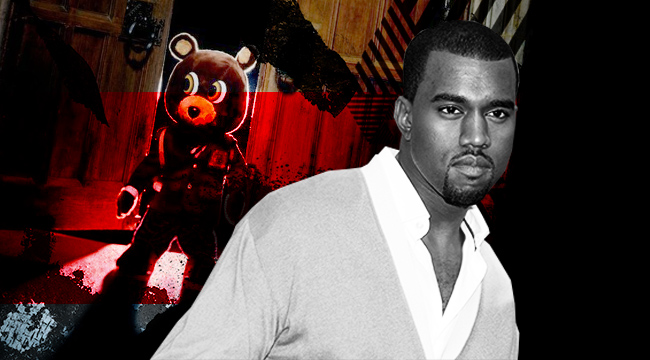 It's the great conundrum that plagues the greats that are fortunate enough and talented enough to craft a body of work that is instantly considered a classic: Now what? For Kanye West, the answer apparently was make something even better.
That's exactly what Mr. West did in 2005 with Late Registration, just 16 months after he released his revered, game-changing debut The College Dropout. Spitting in the face of the concept of a sophomore slump, Ye took everything that made his debut great and amplified it. The soulful loops that made his previous work were now triumphant, the relatable Kanye was now famous but somehow even more humanized on his second LP and he even stepped it up on the mic as Late Registration offers the finest rapping of his career.
Kanye was aided in his efforts by film composer Jon Brion, then famed for his work on The Eternal Sunshine Of The Spotless Mind and Magnolia, who added a thematic, orchestral feel to the album, elevating Kanye's sound from that of an indie star to a polished blockbuster. While elements of Kanye's trademark looped up soul are evident, there was now a heavy reliance on boisterous and sometimes haunting horns as well as elongated and vivacious outros to most tracks, giving them extra time to breathe and settle into listener's ears.
This versatility makes for a exhilarating ride, so when the album opens up with the somber and painstakingly thoughtful "Heard 'Em Say" and immediately launches into the dynamic "Touch The Sky" it's just a preview of what is to come. The shift from the drab and sullen piano keys of the former to the glorious and celebratory horns of the latter may feel mismatched, but the juxtaposition makes for a stirring listen, and begins a 70-minute all-encompassing journey that never feels dull and keeps finding new ways to feel exultant and fresh even within, even when dealing with darker thematic content.
Throughout the 21 tracks Kanye shifts subject-matter often, touching on everything from grief and loss to socio-political commentary, the struggles of fame, gold digging, the celebration of opulence and more. Kanye's spastic, lengthy second verse on "Diamonds From Sierra Leone" still stands as the best of his career as he laments on award show snubs, pep talks from Alicia Keys, a cathartic baptism and even the schism within Roc-A-Fella Records. It was then that Kanye was in that sweet spot between fame and normalcy that he was able to be in tune with real world goings on and normal people problems and properly regurgitate those emotions for listeners to enjoy and relate to.
Maybe the most important development between albums is that 'Ye learned from the mistakes he made on The College Dropout. Yes, there are still a few misplaced skits, but they're fewer, shorter and less invasive. There is a star-studded list of guest appearances, but now as he's developed more as an artist the features from the likes of Nas, Cam'ron, T.I., The Game and Lupe Fiasco are all complimentary instead of enveloping. Paul Wall and Jay Z are scene stealers in their moments, but those are after Kanye has already tossed in his own awe-inspiring offering.
The album was ambitious, gigantic and micro all in one polished up, pristinely shaped diamond sitting atop a gorgeous ring and presented by Kanye at his most lively and poignant. Late Registration is the best offering of Kanye's career because it's the combination of all of the ambition and innovation that have made him legendary without all of the brashness and aloofness that have made him scathing in recent times. Simply put, it's epic, both sonically and in terms of quality. Kanye West picked up where he left off on The College Dropout — and Jay-Z's The Blueprint — and compounded all of it and his greatest qualities, and mashed them together without any filler or blemishes to make the greatest artistic achievement of his life.–Bansky Gonzalez
Graduation, (2007)
When we all first met Kanye West, he was just an awkward, loudmouth kid from the South Side of Chicago who'd let a few production credits go to his head and make him just a tad bit arrogant (maybe this is why I related to him so much). His debut album was all about trying the safe, school route, thinking "maybe this isn't for me," and determining to strike out on his own to pursue his real dreams. The follow-up featured a Kanye dazzled by starlight; the bright beams of fame cut through the facade of manufactured braggadocio, and allowed us to see glimpses of the emotional, profoundly affected individual within as he waxed introspective about the trappings of fame and its effect on his family and surroundings.
Through it all, the Dropout Bear was our avatar for Kanye's journey of musical, self-discovery, half mascot, half mask to protect 'Ye from the potential disappointments and pitfalls of the music industry. On The College Dropout, Kanye wears the Bear as a suit, sitting on the sidelines of an empty gym. We see him for the outcast he feels like, a part of the game, but not in the game, separated from spectators and athletes alike, unique in his proximity, but unable to truly participate in the festivities from either side. The theme of loneliness takes center stage again as the Bear stands at the threshold to a grand hall, impressive wooden doors framing the entry half-open, or maybe half-closed. The Bear's eyes are angled to suggest apprehension; he is taking in whatever is in front of him, maybe overwhelmed at the possibility. We don't know what he sees, but we know there's no turning back.
And then, there's Graduation, the culmination, the moment it all came together for Mr. West, Mr. Fresh, Mr. "By Himself He's So Impressed." He has transformed himself, and his mascot, into a fully realized representation of his concept of self. Partnering with Japanese designer Takashi Murakami, he reimagined the bear into a cooler, confident version of itself, and redesigned himself to match. Instead of mimicking the fashion of his idols, he becomes the leader of his own new school, crafting his own unique style that is a blend of what's come before, the dreams of what could be, and the future that he is now crafting with his own hands. Fittingly, the Bear is again separated from the crowd, but no longer occupies the cover alone; this time the crowd is cheering him on as he blasts off, now boldly, into the unknown.
So it's also fitting that Graduation is absolutely Kanye's best album, and it isn't even close.
He perfectly synthesizes his old, soul-infused sound with something more futuristic, creating his new signature, stadium-status style out of booming 808s, triumphantly blaring synths, and techy, robotic dance music courtesy of co-producers DJ Toomp and Daft Punk. Where his rhymes were previously tentative, sometimes overreaching experiments in expressing his interior thoughts, here he boldly proclaims, "you can't tell me nothing," boasting that he "had dreams I could buy my way to heaven / when I awoke, I spent that on a necklace." He cuts off all the fat, leaving only incisive, blunt observations that evoke visceral reactions and pull your heart right out of your chest: "I know people wouldn't usually rap this / … just last year, Chicago had over 600 caskets / Man, killin's some wack sh*t."
This is a Kanye who no longer fears rejection; that which won't kill him will only make him stronger. Where sample-clearances were once the albatross around his neck, now he is no longer apprehensive about where declined interpolations leave him. Block "Bittersweet," and he'll just smirk and give you back "Drunk And Hot Girls," as if to say "No, f*ck you." The woozy, obnoxious filler track pulls so far away from the celebratory formula of the first half, but still fits perfectly in transition, playing the perfect bridge from the endless success and swagger of "Champion" and "I'm Good" into the other side of the "Flashing Lights." Detailing the dark side of fame, the damage that it causes to relationships, and the addiction to it that persists through it all, "Lights" stands as one of the highlights not just of this album, but of Yeezy's whole career.
He praises his hometown on "Homecoming" — a reworking of a track that once graced a bootleg off The College Dropout, further cementing his newfound willingness to cut loose his crippling perfectionism and just do it — then finishes with one of the most personal tracks of his career. "Big Brother" is the song where Kanye West comes into his own as a hip-hop superstar, laying it all out on Toomp's whirling, gilded horns: The little brother complex that pushes him to be as big as "big brother" Jay, the pangs from being overlooked, ignored, and having to "buy two tickets" to one of Jay's concerts, the growing realization of his trendsetter status as Jay "got a song with Coldplay" after he gave him the idea. The narrative doesn't so much end as it crescendos, refusing to finish, leaving the denouement unwritten, unclaimed. Ironically, it's here that West steps out of his big brother's shadow to become a hero in his own right. He's standing on the stage, grasping his newly received diploma, looking out into the assembled crowd to see his mom's smiling face beaming with pride. And then, he blasts off boldly into the unknown.–Aaron Williams
808s & Heartbreak, (2008)
808s & Heartbreak is Kanye West's most f*cked up album, and clearly, by miles and miles of streetlights, his best. I feel the plume of the beat break inside my gloom, the only thing that cuts through. The iconic bear is gone, and a crumpled heart, deflated and useless, remains. Yes, this is a record ends with a live monologue that's closer to a cry for help than a song. But it remains his most compelling achievement, a distillation of agony that I almost feel sick to love as much I do, until I remember grief forges the strongest kinship.
Are you drawn to Kanye to gawk at his pain, or because your own hurt glints in the mirror of his? That's the best litmus test to determine how people will feel about this record. Do you think you're Kanye, or do you use him as an avatar for a life you've never really felt?
I think I'm Kanye, so 808s is my pick for the best Kanye album; the one where he uses a mocked form of technology in a totally foreign way to distance himself from the difficulty of grappling with trauma, loss, arrogance, and a raging undercurrent of distrust and anger for those who left. The one where he rewrites the DNA of popular music while getting clowned the entire time. People think public opinion will always be the biggest challenge Yeezy faces, but that raging beast is no match for himself. You can't tell him nothing, no. But what of the stories he tells himself?
Hidden away from the self in a slick of AutoTune, 808s is almost solely about abandonment, and Kanye uses a beat as a false shield against being left. I'm in love with you, but the vibe is wrong. There's everything and nothing in that space, the beat between the lines. I got something to lose / So I got to move. If leaving is all love has taught you, there is no other Kanye album.
808s is a masterful example of Ye's ability to both predict and literally produce new echelons of sound, but even more than that, it's a soliloquy of sadness that surpasses any other musicians' previous attempts (Except, perhaps, Fiona Apple.) The creeping jealousy of "Bad News" never reaches the fever-pitch, screaming-on-the-phone rage it hints at, but "Coldest Winter" burns white-hot heartache that stretches miles outside of Chicago's snowy city limits, and then there's the glittering self-loathing of "Amazing," where he exudes dead-eyed excellence, a pretense of solace before Jeezy hacks in like a buzzsaw, rapping about the moon in robotic werewolf cadence. 808s argues that the monster living under our skin is always there, just after the click, ready to molt destruction. When I hear his voice, razored to a synthesized point, it's my voice too: I admit that I / still fantasize about you.
Nearly a decade out, Yeezy's soul-baring experiment is one of the cleanest, sharpest distillation of the naked ego and agonizing buzz of trauma that we have for reference. If someone were to teach a college course on pain, this album should be on the syllabus. Few people have managed to get these feelings out as anything more than a crying jag, and "Pinocchio's Story" lets us know what that would've sounded like. That's the only song here I'd ever cut, the rest are as precise as pain itself.
Plenty of people have trauma, and plenty of people have even created art about or around it, but few have done it with the icy precision of this record. I can't imagine what kind of person I would be if I hadn't spent half of college driving the canyons of Los Angeles, screaming the lyrics to "Heartless" out the window, living inside the sick suck of a toxic relationship, the kind that drains and fills agony and ecstasy like a pool in the summer. The kind that breathes your skin golden, then rubs it into useless dust days later. Inside a drum machine beat, Ye heard his own damaged mind racing, inside a bassline, his anger pulsed. The two became linked, and somehow, he forged them into a single entity. But restraint is what made this album excellent, it's a short record for a Yeezy production, the twelve choppy tracks fly by, and this time, he easily resists the pitfalls of skits or epics. Pared down, his pain was even more relatable than ever before.
The need for AutoTune's detachment is fierce when I recognize my own insecurity on "Robocop" and "Paranoid," the anxiety and disgust kept at bay only by ambient studio chatter and Kanye's blunted, empathetic humor. Even on the album that most definitively lays his flaws bare, we still hear the good in Yeezy barreling through. His laugh, shared with friends, and his easy forgiveness is what makes this all bearable. Those who live with grief carved into their hearts know that at the bottom of the darkness, laughter is a rope snaking back up to the light.
Still, this album isn't about the light. It's about the dark in between those glints, it's a thick midnight to spread out in. But no matter how dark it gets, this isn't quite desperation, the beat is twinned with the heartbreak, you can't have one without the other.
You can usually separate out the people who have never been through real trauma with this album. They're the ones who still claim they don't "get" it. God, what I would give to not get it. To hear "Street Lights," and not feel the unspooling of my life like a flickering, random ordinariness of injustice and burnt out dreams; to not feel ever on the path toward something that could, but won't, fully materialize; to not recognize hunger, anxiety and abandonment as the building blocks for what has become my heart.
Then again, who would I be without the knowledge of grief's electric crackle? Who would Kanye be? "Street Lights" answers that question in part, flickering like a faulty fuse between hope and terror: Maybe the next block holds the answer. It's a late night power ballad cruise through the afterglow of loss, it may be a slow, aimless crawl, but it's still forward motion. Do I still got time to grow? As long as there's a beat, there is possibility.–Caitlin White
My Beautiful Dark Twisted Fantasy, (2010)
I remember where I was the first time I read a review of My Beautiful Dark Twisted Fantasy. Not when I listened to the album for the first time, though I also remember that, but a review of Kanye West's masterpiece. It was in Brooklyn (I'm sorry), and a friend excitedly texted me about the album getting the rare 10.0 from Pitchfork (again, sorry), and I immediately stopped and read the whole thing on my phone before hopping on the subway and, considering it was 2010, listening to Cults or something on my iPod. I wasn't able to download the album until that night, but for the next two weeks, it was the only thing I listened to. It's still my go-to Kanye album.
The College Dropout, Late Registration, and Graduation are charmingly puckish and Kanye still has his baby-fat eagerness, but they tend to sag in the middle; 808s & Heartbreak is emotionally raw, but it invented Drake, and that's not a compliment; Yeezus is punk-like in its abrasiveness and The Life Of Pablo is fascinatingly messy, but the bombasticity on both can be off-putting. My Beautiful Dark Twisted Fantasy takes the best parts of all those albums, and leaves out the "but's." It's fresh, and mature; it's focused, and not afraid to take chances; it's intensely private, and public enough that the songs sound great at the gym, where you can hear the grandiose "All Of The Lights" every day for six months, and still not be sick of it (believe me).
For Kanye, My Beautiful Dark Twisted Fantasy needed to be a success; he had something to prove to the public, after the infamous incident with Taylor Swift at the 2009 VMAs, and himself, following his breakup with Alexis Phifer. So, like hundreds of tortured, heartbroken artists before him, he retreated to a metaphorical cabin (a recording studio in Hawaii) and made something dark, twisted, beautiful, and personal. "Runaway," with its spine-tingling piano and confessional lyrics ("I don't know what it is with females / But I'm not too good with that sh*t"), is a conflicted apology letter meant for an entire stadium, while on the genre-smashing "Power," Kanye is both boastful and anxious, all while he's "killing this sh*t" over a monstrous King Crimson sample.
It's a therapy session shouted through a megaphone, a studio blockbuster with a vision.
But despite the melancholy vibes floating around, it should be noted that My Beautiful Dark Twisted Fantasy is also fantastically funny, in that so-bad-it's-good (or so-good-it's-great?) way that only Kanye can pull off. These one-liners are instant retweets on Twitter: "So much head, I woke up to Sleepy Hollow," "Too many Urkels on your team, that's why your wins low," "Got caught with 30 rocks, the cop look like Alec Baldwin" — and that's just the first two songs. Then there's "Monster." "Monster" is the "Thriller" of My Beautiful Dark Twisted Fantasy — it's obviously meant to be a hit, and it doesn't really fit in with the rest of the album, but it's also so damn fun that it doesn't matter. Not even Jay Z's career-worst verse can take away from Nicki Minaj's tongue-twisting rhymes or Kanye's proud assertion that he's a "motherf*cking monster."
That's My Beautiful Dark Twisted Fantasy in a nutshell, isn't it? It's Kanye recognizing his faults and shortcomings as a man, but not as a rapper — he's in complete control of his abilities, and so far ahead of where he was before and his so-called contemporaries; the responsibility is on them (and us, and Taylor Swift) to not get left behind. "Can we get much higher?" Teyana Taylor asks in "Dark Fantasy." No, because My Beautiful Dark Twisted Fantasy is as good as it gets.–Josh Kurp
Watch The Throne (2011)
From its ostentatious album cover to its core conceit, Watch The Throneis an outrageous exercise in obnoxious excess — excess that sounds so, so good. Imagine creating an album that features mega hits like "N**** in Paris," "Otis," "No Church In The Wild" and "The Joy," and then imagine someone telling you that same album is just… average. Crazy, right? Not if you're Kanye West. Ye's joint album with Jay-Z, Watch the Throne, is not a simple collaborative album featuring two rappers from the same label. It's a boastful, yet thoughtful presentation of the lives of two hip-hop giants right before they transform from audacious musical icons into the world's biggest rap dads. This music is Kanye at his most misogynistic; little North West wasn't around to soften up her daddy's disrespectful attitudes towards women, and he wasn't married to Kim yet. Rather than Jay Z weighing him down, 'Ye buoys his former mentor's sinking motivation to levels unheard since Kingdom Come. There was nobody to slow him down, and Ye is arguably at his most carefree; because of this, Watch the Throne is Kanye West's best album.
First of all, let's address "Paris." If you escaped what I've escaped, you'd be in Paris getting fucked up too. "N***** in Paris" is one of the biggest songs ever! It's a celebration of some of the most unlikely, unparalleled Black excellence in the world. The song's producer, Hit-boy, must have created this beat in a room filled with steak knives, marching drums, and bottle of Ace of Spades. Yeezus and Hova are complete assholes on the song, and it gets the people going! as the Will Ferrell sample states. What did Beyonce think when Jay said "I got the hot b*tch in my home?" Nothing. She was probably too busy boppin' in the studio. How many hot b*tches does Kanye own? Doesn't matter. The song is the definition overwhelmingly grandiose; why not perform it multiple times nightly on tour? At the Staples Center in Los Angeles, they topped out at seven encores in a row. Through sheer self indulgence, they turned a typical joint about popping bottles into a hip-hop event.
By this point in his career, Kanye West was larger than life, and nowhere is this more evident than the production on this album. The producer in Kanye has always favored old soul music as a platform for his rapping, and he includes much of it on Throne — but this album just has more than just R&B samples. The horns on "Lift off" propel Kanye — and Beyonce (!) — so high that it can only really be summed up by the fact that the song closes with an actual countdown to shoot up into space. Too much is never enough; more is more. Grab that kitchen sink, it's gonna sound so dope on this one.
We get everything on this album. From the futuristic trap production of "H.A.M" to the heavy drums and organs of "That's My B*tch," this music is hard. Riffs from Curtis Mayfield on "The Joy" are sidled right up next to dubstep bangers from Flux Pavilion on "Who Gon Stop Me." The soundscape on "Illest Motherf*cker Alive" really does have the listener feeling as if they are in a slow-motion video. Sampling "Try A Little Tenderness" is a no brainer, but on the song "Otis" the idea grows into something bigger; it becomes a multi-dimensional, time-altering wormhole that connects 1966 to the present. My 69-year old father dances to the song as if he's a teenager again. My dad's not touching anything off Yeezus.
Now, there will be those that argue that Throne can't be Kanye's best album because it is a joint album with Jay-Z, but the reality is that all of Kanye's albums are collaborations. Consequence and Rhymefest shaped College Dropout, Late Registration had a feature on almost every song — Common even had a solo track on there. To put it into perspective, the song "All Of The Lights" off My Beautiful Dark Twisted Fantasy features nine different artists. So make no mistake, Throne this is a Kanye album. The stylistic preferences of the music all favor Kanye's penchant for the weird and extravagant, and Jay Z's contributions to Throne are mostly there to provide a balance to Kanye's ostentatiousness. That's not to say that Jay isn't feeling himself on this album, it's just that throughout the album Kanye spits lines like "Coke on her black skin made it stripe like a zebra / I call that jungle fever," whereas Jay's boasts have a little more remorse behind them. On the song "Welcome To The Jungle" Jay says "Champagne for the pain / Weed for the low / G*ddam I'm so high / Where the f*ck did I go?" Jay is tired of the party life, and he's letting Kanye know that the feeling of being lost and empty hits hard, and it's coming after Yeezy.
On this album, Jay and 'Ye boast about their opulent lifestyles, but there's clearly a longing for more. On the Pete Rock-produced "The Joy," Kanye sadly reminisces about the "ghosts of the kids (he) never had," and on "New Day" Jay makes a vow: "Promise to never leave him / Even if his mama tweakin' / Cause my dad left me / And I promise to never repeat him." This album was released one year before Blue Ivy was born and two years before North West arrived. Parenting means trading late nights filled with bottles of champagne, to late nights filled with bottles of warm milk. They can only stay high for so long, and becoming a father is a joyful, yet sobering experience that no party can live up to.
What makes Watch the Throne Kanye's best album is that it encapsulates the grand lifestyle that should be awarded to those at the top of their fields, while also dissecting the past, and how it is surely going to impact the future. Kanye and Jay know that their lives are going to slow down, and Watch The Throne is the last battle before that. Midlife crisis? Maybe. But then again, they weren't supposed to make it past 25. If you're going to exceed expectations, you may as well exceed with your celebrations.–Drew Brown
Yeezus, (2013)
I honestly don't know why we're bothering to participate in this exercise when it's so clearly obvious that Yeezus is the greatest piece of art that Kanye West has ever produced. The sounds are stunning — icy, brutal and stark — the ideas are huge – "I Am A God" — the angst is palpable. More than that however, the swerve from what he'd been doing, to what he ultimately produced in 2013 was earth-shattering. Yeezus is what you get when an artist finally figures it all out, then decides to do something completely and totally different out of sheer compulsion.
In addition to being Kanye's greatest album, Yeezus might have the best origin story too. It didn't come from a place of trying to match the arena rock bombast of Coldplay or U2 like Graduation. It wasn't sparked by a tremendous personal loss like 808s & Heartbreak. It wasn't fueled by a need to prove that he was still the greatest music-maker of his generation after being spurned by the entire world like My Beautiful Dark Twisted Fantasy. No, Yeezus was inspired by a lamp. Actually, Yeezus was inspired by this lamp:
That is a $110,000 Corbusier lamp that Kanye first saw while living in Paris. The simplicity of the design, it's utilitarian nature inspired him to peel back the sound of his next musical project from the maximalist aesthetic he'd been working with on his last three releases Dark Fantasy, the Jay Z collaboration Watch The Throne and the G.O.O.D. Music compilation Cruel Summer. This was an album that showed a side of Kanye that many people didn't think existed. It showed his restraint. "I'm a minimalist in a rapper's body," he told The New York Times critic Jon Caramanica just after the album dropped. "It's cool to bring those vibes and then eventually come back to Rick [Rubin]."
Ah yes, Rick Rubin. Another central character to the plot of Yeezus. For as large as his own belief in himself remains, one of Kanye's greatest talents as a producer is his ability to listen to the advice of those around him and adjust his art accordingly. As he was putting this record together, he knew where he wanted to go, but he just wasn't getting there. He had hours of tape. Tons of passages of music. It was a mess, so he brought it all to the master to be "reduced."
"The raw material was very strong but hadn't yet come into focus. Many of the vocals hadn't been recorded yet, and many of those still didn't have lyrics." Rubin told The Wall Street Journal. With the clock winding down, and with only two days before Kanye had to take a trip to Milan, the two men began hacking away, stripping back every unnecessary element, while also throwing in newly written vocals to five of the album's 10 songs. The result is a stunning achievement in the idea of minimalism.
Yeezus doesn't sound like anything else in Kanye's entire canon. The closest corollary is 808s & Heartbreak, but where that record came from a place of trauma, Yeezus is an album fueled by rage and indignation. It's hard to even find another touchstone for it in the rap music sphere. Death Grips comes closest, and at the time, many were quick to make that comparison, but more than anything Yeezus shares a lot of DNA with the earliest, angstiest work of Nine Inch Nails, albums like Pretty Hate Machine and The Downward Spiral.
On Yeezus, Kanye adopted the role of the underdog. He railed at full fury against an industry that refused to give him a shot. All Kanye wanted to do was make clothes, and the tastemakers and the elites in the fashion world refused him entrée. They refused him resources. They refused him opportunities. So, he did what anyone else in his position might do; he publicly and viciously dragged them.
He turned militant, like on the song "Black Skinhead," where he owned up to being a menace, but promised "I aint finished / I'm devoted / And you know it / And you know it!" He shined a light on the built-in racism of the boujee fashion industry on "New Slaves," where pointed out the "Broke n****a racism / That's that 'Don't touch anything in the store' / And it's that rich n****a racism / Like, 'Come in please buy more.'" Then he really pissed people off by declaring that he was a God. "Soon as they like you, make them unlike you," Kanye decreed. The kicker is the Nina Simone-sampling song "Blood On The Leaves," which might be the most bracing passage of music he's ever assembled. Then there's its brooding counterpart, "Hold My Liquor."
Of course, you know how this story turned out. Kanye inked a deal with Adidas a short while after this album hit and quickly became one of the most influential tastemakers in the entire fashion industry, whose Yeezy brand shoes sell out almost the minute they hit the open market. In that light, Yeezus is an exhilarating temper tantrum that actually worked. He demanded attention in the loudest, angriest way possible and he got it. Maybe some unimagined force could drive Kanye to these levels of rage sometime again in the future, but it doesn't seem likely. For that reason, Yeezus remains a singular entry in his canon. His greatest achievement.–Corbin Reiff
The Life Of Pablo, (2016)
In February 2016, when Kanye West ran around the Saturday Night Live manically screaming ""Kanye West dot com right now, Tidal streaming right now," no one could have guessed what they would find: A record instantly gripping and really good, but also completely unfinished. In an essay posted to Tidal's blog, it was written that "In the traditional way of thinking, the album is regarded as the finished, definitive work, with the leftovers and in-progress iterations discarded like loose scraps, or stashed away for inclusion on a deluxe version or rarities compilation (if the album proves successful)." With The Life Of Pablo, it was as if Kanye had shared what might be defined as demos instead of a fully realized album.
Thus, audiences were given a glimpse into West's sometimes senseless, and always provocative creative process; the coming weeks and months after the initial release would bring countless revisions within certain songs, as well as two added tracks — taking the length of Pablo from 18 to 20 songs — before West would cease the constant updates, rendering many to believe the record was finally, in fact, "complete" in the traditional sense of the word.
From the very moment that West revealed an album was coming back in November 2014, the declarations of an ever-changing title (from the original working title of So Help Me God to SWISH to WAVES to the eventual The Life Of Pablo) should have been an indication to fans of the incredibly fun, wild ride that was also on the horizon. The original release of Pablo brought with it a version of "Wolves" that featured two conflicting beats overlapping one another, prompting West's now-infamous tweet in the days after the release claiming that he would be revisiting the track.
And boy, did he fix "Wolves." After several weeks and three or four revisions, the final(?) version of "Wolves" that remains on Spotify today sees the inclusion of a new verse from Sia, and the Frank Ocean section that appeared on the original cut being removed from the end of the track and given its own, fittingly titled "Frank's Song." But the constant revision didn't — and doesn't — matter: Pablo is still one of the most-streamed records of all time and broke records within mere weeks of its release.
Pablo is not the best Kanye album because of the music it contains (remember that line about the model with a bleached a**hole? How about that one about how he stole Kim Kardashian from Ray J because "I'm rich?"). Instead, Pablo is a legendary Kanye album, and one of the most important records to be released in recent memory, because of the way he was able to redefine what it means for an album to be "released," allowing the music to transcend the boundaries of the traditional formats. For all we know, the version of this record that exists on streaming platforms in two years could be called SWISH again, span only 16 tracks, and Chance The Rapper's influence could be erased entirely. West's understanding that he doesn't have to work within the traditional boundaries of music has allowed Pablo to become so much more than just an album, but also a "living breathing changing creative expression."–Zac Gelfand