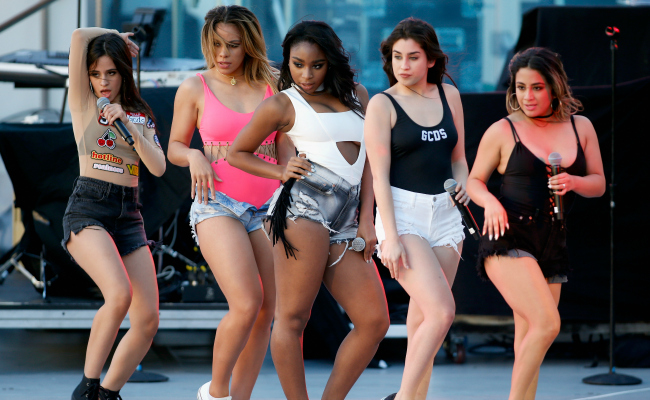 The sudden dissolution of Fifth Harmony has been as strange as it was unexpected. What started with the group behind "Work From Home" releasing what seemed like a fairly standard "X Member is leaving the group" note has devolved into a back-and-forth he-said, she-said with a healthy dose of terrible management drama thrown in for good measure.
As it stands now, the group still has four members. But with one caught comparing being in the band to slavery and another making shady Instagram moves, who knows how long that will hold? But before we get to that, let's take this whole mess back to where it started: a tweet from the remaining band members.
The statement — signed by every member of the group except the departing Camila Cabello — made it sound as if the news of her exit was a shock. Cabello countered that with a statement of her own, where she said that she had talked about her decision to leave the band throughout their most-recent tour.
"The girls were aware of my feelings through the long, much-needed conversations about the future that we had during tour," she wrote. "Saying that they were just informed through my representatives that I was 'leaving the group' is simply not true."
Cabello's response garnered a follow-up response from Fourth Harmony/H4rmony. The remaining members painted Cabello as a person who wasn't open to talking to or working with the group, claiming that she repeatedly dodged attempts to talk about the group's future.
"Over the past several months, we have consistently made every effort to sit down and discuss the future of Fifth Harmony with Camila," they wrote. "We have spent the past year and a half (since her initial solo endeavor) trying to communicate to her and her team all of the reasons why we felt Fifth Harmony deserved at least one more album of her time, given the success of this past year that we've all worked so hard for."
Fifth Harmony claimed that Cabello refused meetings and failed to show for "group counseling" sessions. They added that the conversations which Cabello referenced "never happened."
At the same time, signs of fractures between the remaining members are starting to appear. Audio of Lauren Jauregui comparing working in the group to slavery leaked on to the internet.
https://www.instagram.com/p/BONbtZ5B58U/
And snooping Harmonizers found that Ally Hernandez had unfollowed the group's official account on Instagram, bringing the pettiness level of the whole storyline to a full 10/10 Drakes.
While it's no announcement that they're leaving the band, the number of Fifth Harmony members who are all in on the idea of 5H's future still stands a paltry two. Two people can harmonize, of course, but it just wouldn't be the same.