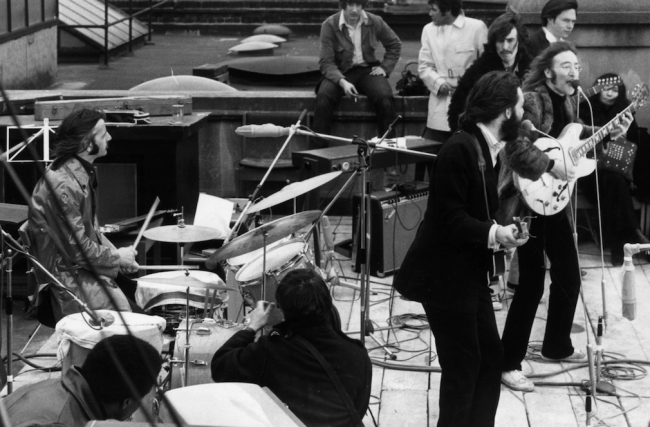 Over the weekend, the Grateful Dead played their final show. MAYBE.
It seems like Bill Walton's favorite band has had as many last concerts as The Eagles (who froze over Hell) and Cher, combined, but they — "they" being the current iteration, which doesn't include Jerry Garcia, so I'm not sure if it really counts as the Dead — say this is it because, once you've played in front of Bill Murray AND Katy Perry, what's left to accomplish?
With the Dead in mind, here's how eight other bands and artists wrapped up their legendary runs. Some went out on top, others stopped because a member died. Oh, and if you're wondering, I didn't include The Band because they continued hitting the road with a shuffled lineup until the late 1990s, although you should still see The Last Waltz. Minus Neil Diamond's song. Skip that.
Amy Winehouse
Asif Kapadia's haunting, must-see documentary is a stunning reminder of just how talented Amy Winehouse was. Her career should have lasted decades, but only five years after the release of the instant-classic Back to Black, Winehouse died from alcohol poisoning. Although Amy danced on stage with her goddaughter Dionne Bromfield in London three days before her death on July 23, 2011, the "Tears Dry on Their Own" singer's final scheduled show was June 18. It was a "staggering flop," with Winehouse "apparently too drunk to perform."
She was booed by the 20,000 strong crowd, and Moby, who was on the same bill, told the Hollywood Reporter, "The moment I got out of the car, I knew something was wrong. From backstage, I could hear the audience booing louder than the music." He continued, "Amy was just standing there, swaying back and forth and mumbling occasionally… I was horrified."
The Beatles
The Fab Four played their final official concert on August 29, 1966, in San Francisco's Candlestick Park. They ripped through 11 songs, beginning with "Rock and Roll Music" and ending the show with "Long Tall Sally." The venue seated 42,500, but only 25,000 tickets were sold, which is unimaginable in retrospect. The Beatles knew it was going to be their last gig before they ran on stage, with George Harrison later saying, "Before one of the last numbers, we actually set up this camera… We set it up on the amplifier and Ringo came off the drums, and we stood with our backs to the audience and posed for a photograph, because we knew that was the last show." John, Paul, George, and Ringo (and Billy Preston!) would, however, play one more live show, on the roof of Apple's headquarters on January 30, 1969. They only performed five songs, footage of which you can see in the otherwise uninspired documentary Let It Be. The Be Sharps would try to reclaim The Beatles' magic, but eh, it's been done.
The Clash
By the end of The Clash's influential run, they were gassed and feuding. "Should I Stay or Should I Go" and "Rock the Casbah" were massive hits, the biggest of the band's career, but Nicky "Topper" Headon was kicked out of the group, and by the time they agreed to headline the US Festival in 1983, Mick Jones and Joe Strummer barely spoke to each other. Plus, before the show, they held a press release, refusing to perform unless Apple donated $100,000 to charity because they had been told tickets for the show would be capped at $17; they were $25.
The Only Band That Matters eventually agreed to play their scheduled set, under a banner that read "The Clash Not for Sale," but it was a mess, and Jones was also booted shortly after. The zombie Clash kept going for another two years, and even released a terrible album (Cut the Crap), but for all intents and purposes, the US Festival was an unworthy bow out.
David Bowie/Ziggy Stardust
Will David Bowie ever tour again? Maybe…? It's been over a decade since the "A Reality Tour" came to an ignominious conclusion, and give or take a guest spot with Arcade Fire and Alicia Keys, the former-Thin White Duke hasn't been seen in public much since. But there's always a chance Bowie will return in a live capacity, unlike his alter ego Ziggy Stardust, who was retired after a show at London's Hammersmith Odeon Theatre on July 3, 1973. He told the crowd that night, "Of all the shows on the tour this particular show will remain with us the longest, because not only is it the last show of the tour, it's the last show we'll ever do." Ziggy and his Spiders from Mars played 18 songs, including selections from the already-released Aladdin Sane, which goes to show how long Bowie had been on the road dressed as the "Starman." It felt like five years.
Jimi Hendrix
Jimi Hendrix died on Sept. 18, 1970. Less than two weeks prior, on September 6, the iconic guitarist played his final concert. Hendrix, drummer Mitch Mitchell, and bassist Billy Cox treated attendees of the Open Air Love & Peace Festival in Fehmarn, Germany, with an electrifying set, including a cover of Howlin' Wolf's "Killing Floor" and an inspired rendition of "Red House." Hendrix joined a public jam session at Ronnie Scott's Jazz Club with Eric Burdon four days before he passed away, but Open Air closed the book on the Jimi Hendrix Experience.
Nirvana
Nirvana's titanic run came to an end on March 1, 1994, a few short months after their fabled MTV Unplugged set, when Kurt Cobain, Dave Grohl, and Krist Novoselic traveled to Germany to play at Munich-Riem Airport (it's exactly what it sounds like). According to Rolling Stone, "It was obvious to everyone in the crowd that Cobain was experiencing severe vocal issues," which you can hear in the audio of "Heart-Shaped Box" above. His shredded voice is painful. After Kurt died in April 1994, Grohl and Novoselic didn't perform another Nirvana song together in public until being inducted into the Rock and Roll Hall of Fame 20 years later.
The Ramones
Between 1974 and 1996, The Ramones played 2,280 concerts, all of which are contained on a single Wikipedia page (and We're Outta Here!). I do not envy the person who had to keep track of Joey singing "Judy Is a Punk" (probably) in Albany, N.Y. in 1988. The legendary punk band's final show occurred on Aug. 6, 1996, at the Palace in Los Angeles. The band tore through 32 songs, from "Durango 95" to "Anyway You Want It," featuring guest vocals from Pearl Jam's Eddie Vedder. Joey's final words before moving on from The Ramones: "Thank you."
The Supremes
The Supremes carried on without Diana Ross for many years, but let's pretend they didn't, and that their "Farewell" was on Jan. 14, 1970 (it's also the name of a live album).
That's when Ross ditched Mary Wilson and Cindy Birdsong for a solo career, a prudent move that resulted in 10 top-20 albums. But at that final Las Vegas concert, held in the New Frontier Hotel and Casino, the Supremes dipped into their massive catalogue, as well as covers and Broadway standards, including "Aquarius/Let the Sunshine In" from Hair. At the end of the show, a new Supreme was announced: Jean Terrell. They never had another top-five single.