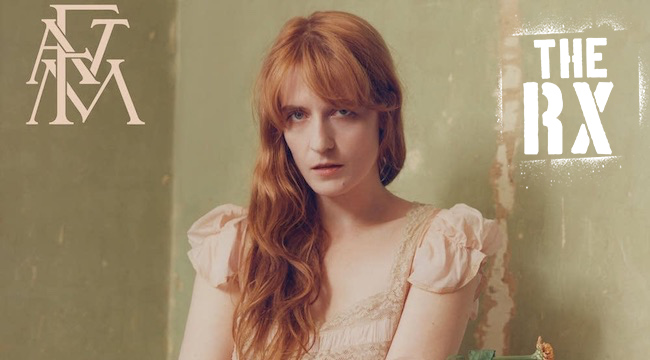 The RX is Uproxx Music's stamp of approval for the best albums, songs, and music stories throughout the year. Inclusion in this category is the highest distinction we can bestow, and signals the most important music being released throughout the year. The RX is the music you need, right now.
"You know it's a good concert when you leave with blood on your Gucci dress," Florence Welch told the crowd in Houston on Sunday night. She'd nicked her knee at some point during the show, probably when she was running around The Cynthia Woods Mitchell Pavilion — yes, around the whole pavilion, and she leapt off the stage and danced through the aisles where I'd walked with my $10 personal pizza just minutes earlier. Off the stage, Welch's dancing was even more uninhibited. She twirled around the pillars holding the pavilion tent up, serenaded audience members 60-something rows back from the stage, and moved like a bolt of lightning down the aisles that cleared for her. She gave us everything. When she climbed back onstage with blood on her pastel chiffon, it was the kind of perfect visual you can't make up.
When Florence And The Machine's most recent album, High As Hope, was released this past June, I wasn't as excited about the album as I should have been. After the electricity of 2015's How Big, How Blue, How Beautiful and the singles she'd released from the album, I was expecting something bigger and more dramatic. I fell in love with Florence's music as a high schooler, breathing in the shaggy, gothic drama of Lungs and the witchy Ceremonials, howling along to their songs like curses that could summon the dead (or, at least, the boys I had crushes on).
High As Hope is quieter. It's about hope, of course, and healing, and pulling yourself out of the dark, and seeing the light but still fearing where you came from. The fire-starters on High As Hope don't burn as wild as, say, "Delilah" — a song that makes you want to kick your shoes off and swing from a chandelier and smash a guitar and scream in a politician's face. The sadness and anger on High As Hope are more muted. Welch wrote "100 Years" with lyrics inspired by (or, more accurately, discouraged by) the political climate of the past few years. It's Florence's first song to feature a harp since Ceremonials, but Welch buries its twinkling in layered instrumentation and heavy lyrics: "And how does it feel now you've scratched that itch / How does it feel? / And pulled out all your stitches / Hubris is a bitch."
With every listen, the themes of the album become clearer. I'm not glad that the political landscape has only grown more infuriating, and even more of our former heroes have been revealed as narcissists, pigs, or monsters. But I'm glad that High As Hope has been a balm through it, matching an exhausted anger and resigned sadness. I've found myself returning to High As Hope more than other albums I claimed to "like" more earlier this summer, and every time I listen, her words seem to resonate more.
Some of my favorite Florence And The Machine songs are the ones where she spits at awful men. From the codependent, co-combative relationship of "Kiss With a First" to the "holy fool" who keeps her dangling on "What Kind Of Man," when Welch is wronged, she curses the man who did it to her with a harp and guitar. On High As Hope, the men's crimes are more diffuse. Introducing "Patricia" in Houston, Welch said that the majority of the song is dedicated to her "North Star," Patti Smith — with the exception of the "angry bits" in the middle, which are "directed at toxic masculinity." Welch laughed her tinkling laugh, then burned the pavilion down — "Well, you're a 'real man' and you do what you can / You only take as much as you can grab with two hands / With your big heart, you praise God above / But how's that working out for you, honey? / Do you feel loved?"
For how much they grew on me this summer, the songs seemed to become even bigger performed live. Florence puts on an incredible live show — her voice is wild and piercing, and her band is incredible. Kamasi Washington, who is opening for Florence on this tour, played saxophone during "Big God." In album promotion, Welch joked that the song is about "someone not replying to [her] text," but accompanied by Washington and his entire band, and her own "And The Machine," the power of a dozen-plus musicians lamenting the men and systems that have failed them is amplified.
High As Hope, for me, is one of those albums that builds up in you. After enough times turning to it, you begin to recognize the songs that give you comfort or validation when you're seeking them. She's justifiably angry on "Big God," nostalgic on "South London Forever," hopeful and wise on "Hunger." These songs are about as familiar as the feelings by now. And I'd suspect it's the same for many of her fans, and many of the people in the audience that night. A man in the pit proposed to his partner before Florence performed "Cosmic Love," and the sweetness of that moment held the weight of all the memories and feelings attached to that song. High As Hope reaches out, jumps off the stage, and dances with us on the lawn. And you know it's a good concert when you leave with blood on your Gucci dress.
High As Hope is out now. Get it here.