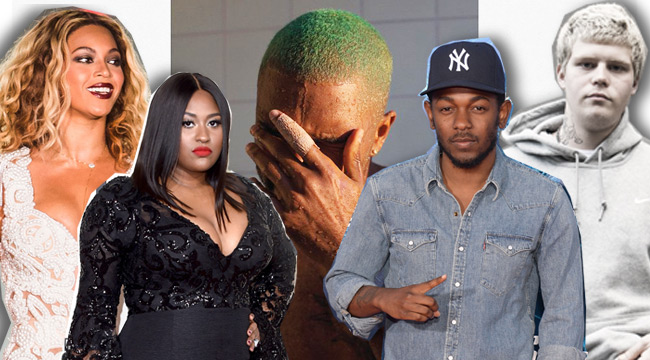 After a whirlwind weekend the dust is beginning to settle on Frank Ocean's new album Blonde. Taken together with his new visual album Endless, and the physical magazine Boys Don't Cry, there's a lot of unpacking for Frank stans to do in the coming weeks. Obviously, some of that has already begun to happen, and even more obviously, some of these credits will remain a mystery for quite some time. But here is our attempt to gather as much information about who worked alongside Frank on these two albums and the magazine. All credits via Genius unless otherwise noted.
Endless, Broken Down Song By Song
Since Endless is presented as a single stream, delineating the song tracklist is a somewhat arduous task. Below I've outlined the demarcations as they seemed clear to me, based off listening to it on my iPhone.
1. "Device Control" (0:30-0:51, 38:48-48:50)
This is actually a snippet of an unreleased track of the same name from German art photographer and musician Wolfgang Tillmans. The sample opens and closes the album. His voice says "With this Apple appliance, you can capture live videos," perhaps in a tongue-in-cheek gesture to the exclusive release of Frank's new music. The intro is just a short bit of the song, whereas the full version of the track appears at the end of Endless. Personnel for the song include Kyle Combs and Tim Knapp on drum programming and Rosie Slater of New Myths on drums. It's also worth noting here, at the beginning, that the entire record was mastered by Mike Dean.
2. "At Your Best (You Are Love)" (0:51-5:40)
Since this song was originally an Isley Brothers song–"At Your Best You Are Love (Part 1 & 2)," which was also popularized by a cover version done by Aaliyah–the track technically includes all the original writers as collaborators: Ronald Isley, O'Kelly Isley, Rudolph Isley, Chris Jasper, Marvin Isley & Ernie Isley. It also features James Blake on synthesizer, Om'Mas Keith on piano, Jonny Greenwood of Radiohead and the London Contemporary Orchestra. It was recorded at Abbey Road Studio in London and East West Studios in Los Angeles.
3. "Alabama" (6:16-7:40)
Featuring British singer-songwriter Sampha–who broke out working with SBTRKT in 2011–this song is mostly Frank and piano, with additional vocals from Sampha on the outro.
4. "Mine" (7:41-8:07)
Basically an extended outro of "Alabama," this song features Arca credited with programming, and presents a jumbled juxtaposition of the line "How come the ecstasy always depresses me so?" Great question. Brief though it may be, the song was also recorded at Abbey Road Studio.
5. "U.N.I.T.Y" (8:08-11:05)
This is the first example of Frank rapping on the new record, and features piano by Christophe Chassol.
6. "Ambience 001 — "In A Certain Way" (11:06-11:18)
Another snippet song, the shortest one yet, this track features a sample of Crystal LeBeija, an icon in the LGBT ballroom culture and the founder of House Of LeBeija. She says: "Cause you're beautiful and young, you deserve to have the best in life." The music behind the sample is Wee's "I Think I'm in Love With You," specifically the phrase "in a certain way" bookends LeBeija's quote.
7. "Comme Des Garcons" (11:19-12:46)
More of a traditional song, this track features Joe Thornalley & Troy NōKA on drum programming, Ben Reed on bass, Buddy Ross on synthesizer, and additional vocals from Rita Zebdi.
8. "Ambience 002 — Honeybaby" (12:47-12:56)
As the name suggests, this one is another tiny snippet and samples "Vapor Barato" by Gal Costa.
9. "Wither" (12:57-15:29)
This is the one that broke the brains of indie rock fans a bit, when they saw that cult hero Alex G was credited with guitar. Jazmine Sullivan also sings on it, Frank himself plays piano and Ben Reed shows up again on bass. It was recorded at the Mercer Hotel in Soho.
10. "Hublots" (15:30-16:58)
Returning to the duo of Frank on piano and vocals and Jazmine Sullivan on vocals, "Hublots" also samples "We Ride Tonight" by The Sherbs and "Contact" by Daft Punk. It was also recorded partially at Mercer Hotel, and partially at Conway.
11. "In Here Somewhere" (16:59-19:02)
Written by Troy NōKA, Joe Thornalley & Frank Ocean, this instrumental track–with buried, wordless vocals–also features Troy NōKA on drum programming and synthesizer and additional drum programming by Joe Thornalley.
12. "Slide On Me" (19:03-22:10)
This might be my favorite track on Endless. It's got more Alex G guitars, Joe Thornalley on drum programming and bass, additional programming is credited to the mononym French DJ SebastiAn, synthesizers credited to Buddy Ross.
13. "Sideways" (22:11-25:16)
"Sideways" features Noh Life & Joe Thornalley on drum programming, Ben Reed on bass and Buddy Ross on synthesizers.
14. "Florida" (25:17-25:56)
Built on a brief repetition of the phrase "Are you with me?" aside from Frank this song only features Buddy Ross on synthesizers and bass.
15. "Deathwish (ASR)" (25:57-27:14)
Frank on vocals and additional programming, with Joe Thornalley & Troy NōKA once again on programming and Buddy Ross on keyboard.
16. "Rushes" (27:15-32:52)
One of the longest songs on the album, "Rushes" clocks in over six minutes, and again highlights Jazmine Sullivan on backing vocals, Sebastian Akchoté-Bozovic on programming (a different from the one credited on "Slide On Me"), Ben Reed on bass and Alex G on guitar, this time for a considerable solo.
17. "Rushes To" (32:53-36:12)
Alex G is joined on guitar for this track by Austin Hollows with SebastiAn on programming and Frank, as ever, on vocals.
18. "Higgs" (36:13-38:18)
After all those tiny snippets, "Higgs" closes things off in extravagant fashion with Frank rapping over a beat by everyone's favorite French mononym, SebastiAn. A reworked version of this song is "Mitsubishi Sony" (below) on the versions of Blonde included in the physical magazine Boys Don't Cry, but not in the Apple Music digital only version.
The final seven minutes or so of the album is the complete version of Tillman's track "Device Control."
Blonde (Digital Version) Broken Down Song By Song
1. "Nikes"
Songwriters: Frank Ocean, Om'Mas Keith, Carl Palmer, Harry Palmer, Jeff Palmer
Released first as a video precursor to the rest of Blonde, the Tyrone Lebon-directed visuals have a cameo from A$AP Rocky, but the non-magazine version of the song doesn't credit anyone besides Frank. It does, however, include a sample of "The Champ" by Mohawk (written by the Palmer Brothers), which in turn sampled "Tramp" by Carla Thomas & Otis Redding. There's a version of the song in the Boys Don't Cry magazine that is a remix and features a verse by the rapper KOHH.
2. "Ivy"
Songwriters: Frank Ocean, Rostam Batmanglij, Om'Mas Keith, Jamie xx
The credits on this track include former Vampire Weekend member Rostam Batmanglij and Jamie xx. Frank previously performed it back in 2013.
3. "Pink + White"
Songwriters: Frank Ocean, Om'Mas Keith, Tyler, the Creator, Pharrell Williams
Even a cursory listen of "Pink + White" should have most fans recognizing a signature voice — Beyonce on backing vocals. This song also has production by Pharrell and Tyler, The Creator.
4. "Be Yourself"
Songwriters: Frank Ocean, Om'Mas Keith
This song features none other than Katonya Breaux Riley, Frank Ocean/Lonny Breaux's mother. She's anti-drug. Production is by Buddy Ross.
5. "Solo"
Songwriters: Frank Ocean, Mikey Alfred, Dave Allen, Hugo Burnham, Sage Elsesser, Om'Mas Keith, Jon King, 88-Keys, Todd Rundgren, Rho Spearman
One of the early frontrunners as one of Twitter's favorite songs off the album, the track samples '70s rocker Todd Rundgren's "Flamingo" and Gang of Four (King, Allen, Burnham).
6. "Skyline To"
Songwriters: Frank Ocean, Om'Mas Keith, Kendrick Lamar, Tyler, the Creator
Kendrick Lamar helped write this song and sings background vocals and Tyler, The Creator helped produce it. If that isn't a holy west coast trifecta, I don't know what is.
7. "Self Control"
20-year-old #SadBoy Swedish rapper Yung Lean and Austin Feinstein of the Slow Hollows helped Ocean write this one, and both add vocals on choruses as well. Buddy Ross is featured as well.
8. "Good Guy"
No collaborators are listed for this one, but it is one of the tracks on the album that most specifically addresses Ocean's relationships with men, a topic that some people apparently need a bit of an education on.
9. "Nights"
Songwriters: Frank Ocean, Om'Mas Keith, Buddy Ross, Michael Uzowuru, Vegyn
There's been some discussion about whether or not it is Frank rapping on this song, but given the personal tone of the narrative–and how it matches up with some corresponding biographical details–it seems likely that it is him with his voice pitch-shifted. Buddy Ross is featured on bass.
10. "Solo (Reprise)"
Ah yes, the Andre 3000 verse heard round the world that shames ghostwriters. *Waits for Drake to drop a Soundcloud loosie in response*
11. "Pretty Sweet"
Songwriters: Frank Ocean, Om'Mas Keith
Buddy Ross has a bass credit.
12. "Facebook Story"
Production by Buddy Ross. French DJ/producer SebastiAn tells a story about refusing to friend his girlfriend on Facebook, and how that refusal led to their relationship's dissolution. I think the goal is that technology is ruining our lives but also like, just accept the Facebook request it's not that deep.
13. "Close to You"
This song is a remix of Stevie Wonder's version of "Close To You" which is called "Talkbox Medley (Close To You / Never Can Say)," but the song was originally written by Burt Bacharach and Hal David and made most popular by The Carpenters. It also features an vocal modification effect popularized by Francis And The Lights called "prismizer." According to another tweet, Francis And The Lights are involved with several other new Ocean tracks as well. Production by Buddy Ross.
14. "White Ferrari"
Songwriters: Frank Ocean, James Blake, Om'Mas Keith, John Lennon, Paul McCartney
James Blake and Bon Iver are both credited on this song, along with Paul McCartney and John Lennon, because of the way the line "Spending each day of the year" echoes the line "Here, making each day of the year" in "Here, There and Everywhere" from The Beatles' Revolver.
15. "Seigfried"
Songwriters: Frank Ocean, George Harrison, Om'Mas Keith, John Lennon, Paul McCartney, Elliott Smith, Ringo Starr
Another song that fans unearthed as something Ocean played years ago — instead of "Seigfried" it was called "Brave" then — this song interpolates some lyrics ("This is not my life / It's just a fond farewell to a friend") from Elliott Smith's "A Fond Farewell." It also samples "Flying" by The Beatles from Magical Mystery Tour.
16. "Godspeed"
Songwriters: Frank Ocean, Kim Burrell, Om'Mas Keith, Elliott Smith
Kim Burrell has a co-writing credit on the track, and Frank also wrote a longer explanation of what it is about that is included in Boys Don't Cry: "I wrote a story in the middle – it's called 'Godspeed'. It's basically a reimagined part of my boyhood. Boys do cry, but I don't think I shed a tear for a good chunk of my teenage years. It's surprisingly my favourite part of my life so far. Surprising, to me, because the current phase is what I was asking the cosmos for when I was a kid. Maybe that part had it's rough stretches too, but in my rearview mirror it's getting small enough to convince myself it was all good. And really though… It's still all good."
17. "Futura Free"
Songwriters: Frank Ocean, Mikey Alfred, Dave Allen, Hugo Burnham, Sage Elsesser, Andy Gill, Om'Mas Keith, Jon King
Additional "vocals" are credited to Sage Elsesser on this track, who is also interviewed, but the real story here is the interview with Frank's younger brother, Ryan Breaux, who tweeted his surprise and a bit of dismay that he was so young when the interview took place that his voices sounds high. Cute.
A Breakdown Of Songs That Appear Only On The Magazine Version Of Blonde
1. "Pretty Sweet"
This appears only on the magazine version of Blonde, but there's currently no collaborator info.
2. "Mitsubishi Sony"
This is essentially a version of "Higgs" off Endless, so it features SebastiAn but no other collaborator info is currently available.
6. "Easy"
No collaborator info.
Here's a list of collaborators that Frank thanked in Boys Don't Cry whose contributions are currently unaccounted for, though we will be updating as their respective efforts are revealed:
Amber Coffman
Anthony Phillips
Benjamin Wright
Bob Ludwig
Brian Eno
Caleb Levan
David Bowie (Reps confirm that no samples or collaborating occured, so this was likely just an influence/homage credit)
Fish
Gang of Four
Jamie XX
Jason Lader
Jeff Ellis
Joe Visciano
Kanye West (This could just be referring to the McDonalds poem Kanye wrote for Boys Don't Cry, or it's possible he might've had some musically input, too.)
Loota
Malay
Matt Mysko
Michael Uzowuru
Rick Rubin
Rostam Batmanglij
Sam Petts-Davies
Sean Oakley
SebastiAn
Space Man
Tom Elmhurst
88 Keys