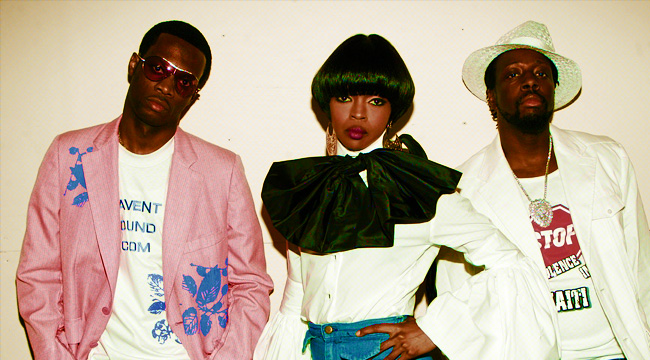 Twelve copies. The Fugees' debut album, Blunted On Reality, moved a dozen measly units in its first weeks in 1994, based on the legend anyway. It was the type of belly flop that could bury a career. Which is why the runaway success of the group's sophomore LP The Score just two years later was so improbable. Nevermind improbable. Blair Witch improbable. "Gangnam Style" improbable.
The Score spent four weeks at the No. 1 spot on the Billboard 200, eclipsing releases by Alanis, Hootie, and Soundgarden. In under two years it went platinum six times, and won a Grammy for Best Rap Album along the way. "Killing Me Softly" and "Ready Or Not" didn't make a dent in the Hot 100 at the time, but anyone who lived through that era knows they were as ubiquitous and loved as any of the hits that did. Coming at the tail end of the gangsta years, but before shiny suits and the South's gold-plated armies took over, The Score filled the void by balancing consciousness and street cred, hip-hop realness and radio readiness. The formula was so successful, its appeal so obvious, that a group like City High could land a hit with a facsimile of it and The Black Eyed Peas would eventually achieve nearly equivalent success by bastardizing it.
Just as improbable was the transformation of Wyclef Jean, Lauryn Hill, and Pras Michel from the hollering emcees of Blunted to the genre-blending craftsmen of The Score. They'd carry this critical and commercial momentum into hugely successful solo endeavors, and subsequently dominate the final half of the '90s. As pop stars, they were seemingly conjured out of the ether.
And after a handful of years of cultural hegemony, they dissipated back into that mist. A third album never came, nor did a formal breakup. There was no spectacular conflagration or catastrophic implosion. Instead, it was erosion, the elements pounding away over time to reveal little cracks until The Fugees buckled under their own weight, leaving the landscape forever altered.
This is how the colossus turned to rubble — and how it might be rebuilt again.

Did Love Take Out The Fugees?
Only Lauryn Hill and Wyclef Jean know exactly when the affair began. It's impossible to "blame" someone or reverse butterfly effect the story to suss out a defining moment of the band's disintegration, but the affair between its two strongest personalities certainly catalyzed the process. Before The Score was even done, when the trio was still holed up in the Booga Basement working on it, the married Haitian multi-instrumentalist and the prodigious 20-year-old multi-hyphenate had already racked up enough romantic drama to compel Hill to quit the band.
"The group had disbanded. [Hill] had left the group at this point and we didn't know what we were going to do," Pras recounted in a 2014 Billboard interview. "She calls me and says, 'Listen, I'm going to come down to the studio and I'm going to lay down a reference for you guys, a hook. I give you permission to use my hook, my voice, but I don't want to be a part of this group anymore…Make sure certain people are not around when I'm there.' I said, 'No problem.' She's laying the reference for 'Ready Or Not' and then she goes into the bridge and she's crying. I see her crying. She stops and says, 'I can't do this anymore,' and leaves."