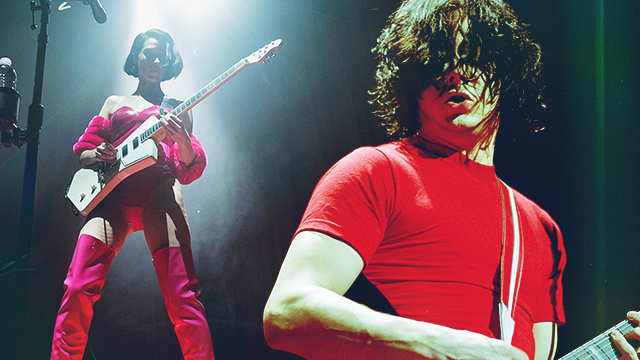 When the Recording Academy launched the Best Alternative Music Performance Grammys category in 1991, it was a case of perfect timing. Not only was Nevermind on deck to detonate existing rock trends — and drag underground sounds into the mainstream — but the vast and varied college rock system (and its descendent, "modern rock") were on the precipice of a breakthrough. Billboard had launched its modern rock singles chart in late 1988, in response to the genre's burgeoning popularity, and bands such as R.E.M., Depeche Mode, and The Cure had been drawing increasingly larger crowds in the US as the '80s progressed.
The first alternative Grammy nomination class was suitably, well, alternative: Kate Bush, Laurie Anderson, World Party, The Replacements, and eventual winner Sinead O'Connor. In the ensuing years, however, the category — which eventually settled into the name "Best Alternative Music Album" — has reinforced music's patriarchal hegemony. More than that, it's clear that both the #GrammySoWhite and #GrammySoMale hashtags apply: White men — whether as solo artists or part of a band — have overwhelmingly dominated the win column. Only Alabama Shakes vocalist Brittany Howard, who is biracial, and Gnarls Barkley co-collaborator CeeLo Green break this trend.
On the gender parity front, only two female solo artists, St. Vincent and O'Connor, have ever won the category. Count award-winning women from bands, and that list includes only Howard and The White Stripes' Meg White. The losing landscape is just as dismal from a diversity perspective: Although women have received nods over the years, the number of non-white musicians simply even nominated is close to nil.
It's not necessarily surprising to see the mainstream-leaning Grammys fumble coverage of non-mainstream music. However, it's disappointing and unacceptable to see how little has been done over time to make the category more inclusive. The idea of "alternative" might be fuzzy today, but the descriptor sprang up originally as a catch-all genre to provide a real substitute to narrow-minded musical views and genres. Taken as-is, the category simply reinforced mainstream biases in the alternative realm.
In the spirit of trying to give a more complete (and varied) view of modern rock's last three decades, we looked at the Best Alternative Music Album winners since 1991, and determined whether the Recording Academy chose right — or whether another artist deserved to win.
Year: 1991
Nominees: Laurie Anderson, Strange Angels; Kate Bush, The Sensual World; The Replacements, All Shook Down; World Party, Goodbye Jumbo; Sinéad O'Connor, I Do Not Want What I Haven't Got
Winner: Sinéad O'Connor
Who Should've Won: Sinéad O'Connor
Why? I Do Not Want What I Haven't Got is O'Connor's masterpiece, and not just because of her emotionally wrenching cover of "Nothing Compares 2 U" and the raucous, rocked-out vulnerability of "The Emperor's New Clothes." A trip-hop take on the traditional song "I Am Stretched On Your Grave" and a somber "Last Day Of Our Acquaintance" reveal O'Connor's evocative range.
Year: 1992
Nominees: Elvis Costello, Mighty Like A Rose; Jesus Jones, Doubt; Nirvana, Nevermind; R.E.M., Out Of Time; Richard Thompson, Rumor And Sigh
Winner: R.E.M.
Who Should've Won: R.E.M.
Why? With its orchestral embellishments and unique instrumentation — pop songs with a mandolin, anyone? — Out Of Time is one of R.E.M.'s creative high water marks. The album's closest competition in this category is Nevermind — which was finally setting the charts ablaze at the time of the 1992 Grammys, but perhaps not quite established enough (yet) to be seen as a landmark album.
Year: 1993
Nominees: The B-52s, Good Stuff; The Cure, Wish; Morrissey, Your Arsenal; Tom Waits, Bone Machine; XTC, Nonsuch
Winner: Tom Waits
Who Should've Won: Morrissey
Why? Produced by glam icon Mick Ronson, Your Arsenal was Morrissey's most focused solo album to date, between its compact songwriting, exuberant pop hooks, and abundance of glittery guitar crunch. Best of all, the sonic self-indulgence that sinks many of his other solo albums is kept (mostly) at bay.
Year: 1994
Nominees: Belly, Star; Nirvana, In Utero; R.E.M., Automatic For The People; Smashing Pumpkins, Siamese Dream; U2, Zooropa
Winner: U2
Who Should've Won: Smashing Pumpkins
Why? Zooropa remains one of U2's most esoteric albums, a delightfully strange detour through day-glo electronics and lush, somber balladry. However, Smashing Pumpkins' second album, Siamese Dream, was an alt-rock revelation. In fact, its singed, dynamic combinations of tranquility and noise — and seamless mix of shoegaze and psychedelic textures — has had an enormous impact on modern music. In fact, Zooropa winning this category feels like the Grammys throwing U2 a bone because Achtung Baby didn't win Album of the Year in 1992.
Year: 1995
Nominees: Tori Amos, Under The Pink; Crash Test Dummies, God Shuffled His Feet; Green Day, Dookie; Sarah McLachlan, Fumbling Towards Ecstasy; Nine Inch Nails, The Downward Spiral
Winner: Green Day
Who Should've Won: Green Day
Why? Pop-punk is such an ingrained part of today's pop culture, it's easy to forget now how revolutionary Dookie sounded when it crash-landed onto radio and MTV in the mid-'90s. The album is a study in contradictions — bratty but self-aware; slick but rough-hewn — and full of energetic ennui. In other words, Dookie is the sound of bored adolescent energy looking for an outlet.
Year: 1996
Nominees: Björk, Post; Foo Fighters, Foo Fighters; PJ Harvey, To Bring You My Love; Nirvana, MTV Unplugged In New York; The Presidents Of The United States Of America, The Presidents Of The United States Of America
Winner: Nirvana
Who Should've Won: PJ Harvey
Why? MTV Unplugged In New York nabbing this Grammy feels like a consolation prize, since both Nevermind and In Utero lost in this category. The album that should have won in 1996, however, is PJ Harvey's To Bring You My Love, which pairs the bruised blues-rock of her earlier efforts with intoxicating gothic-folk adornment and cathartic lyrics that alternately ache and rage.
Year: 1997
Nominees: Tori Amos, Boys For Pele; Beck, Odelay; Tracy Bonham, The Burdens Of Being Upright; R.E.M., New Adventures In Hi-Fi; The Smashing Pumpkins, Mellon Collie And The Infinite Sadness
Winner: Beck
Who Should've Won: Tori Amos
Why? From a sonic perspective, Tori Amos has never made the same album twice. As a result, Boys For Pele built on the sparse piano compositions of her previous two albums, in the form of additional keyboards (including harpsichord and organ), orchestral touches, and elliptical lyrics.
Year: 1998
Nominees: Björk, Homogenic; David Bowie, Earthling; The Chemical Brothers, Dig Your Own Hole; The Prodigy, The Fat Of The Land; Radiohead, OK Computer
Winner: Radiohead
Who Should've Won: Radiohead
Why? One of the few times where it's easy to agree with the consensus of voters — even if Björk's Homogenic, in hindsight, might be even more forward-thinking.
Year: 1999
Nominees: Tori Amos, From The Choirgirl Hotel; Beastie Boys, Hello Nasty; PJ Harvey, Is This Desire?; Radiohead, Airbag/How Am I Driving?; The Smashing Pumpkins, Adore
Winner: Beastie Boys
Who Should've Won: Beastie Boys
Why? Beastie Boys always effortlessly balanced reverence for hip-hop history with urgent forward momentum. Hello Nasty is no different: The album hews toward synth-grounded, futuristic hip-hop with time-tested cleverness and well-placed samples.
Year: 2000
Nominees: Tori Amos, To Venus And Back; Beck, Mutations; Fatboy Slim, You've Come A Long Way, Baby; Moby, Play; Nine Inch Nails, The Fragile
Winner: Beck
Who Should've Won: Moby
Why? Play's extended ubiquity in TV commercials and other media may have dulled its impact, which is unfortunate: The juxtaposition of blues, folk, and gospel field recordings with dark-hued electronic textures and Moby's grim vocals was ahead of its time.
Year: 2001
Nominees: Fiona Apple, When The Pawn…; Beck, Midnite Vultures; The Cure, Bloodflowers; Paul McCartney, Liverpool Sound Collage; Radiohead, Kid A
Winner: Radiohead
Who Should've Won: Radiohead
Why? Alternative music was certainly in a dire place circa Y2K thanks to nu-metal, which is perhaps why Paul McCartney's experimental electronic album with collaborators such as Super Furry Animals made the Best Alternative Music Album shortlist. But voters made the right call with Kid A, whose icy electronic posturing and apocalyptic lyrics have aged even better than the clawing disaffection of OK Computer.
Year: 2002
Nominees: Tori Amos, Strange Little Girls; Björk, Vespertine; Coldplay, Parachutes; Fatboy Slim, Halfway Between The Gutter And The Stars; Radiohead, Amnesiac
Winner: Coldplay
Who Should've Won: Björk
Why? After her '90s albums, we didn't need more evidence that Björk was an electronic music visionary. The ornate landscapes she created on Vespertine — a gorgeous, icy album with glitching beats and crystal-delicate instrumentation — simply magnified her genius attention to detail.
Year: 2003
Nominees: Beck, Sea Change; Coldplay, A Rush Of Blood To The Head; Clinic, Walking With Thee; Elvis Costello And The Imposters, Cruel Smile; The Soundtrack Of Our Lives, Behind The Music
Winner: Coldplay
Who Should've Won: Beck
Why? Sea Change is still one of the best albums of the '00s, a subdued and somber record capturing the post-breakup emotional hellscape — regret and anguish, with a side of self-pity and self-recrimination — with dead-on accuracy.
Year: 2004
Nominees: The Flaming Lips, Fight Test; Radiohead, Hail To The Thief; Sigur Rós, ( ); The White Stripes, Elephant; Yeah Yeah Yeahs, Fever To Tell
Winner: The White Stripes
Who Should've Won: The White Stripes
Why? Elephant remains the White Stripes' finest moment, an album where the duo's jukebox-style approach to music — which encompasses thumping rock, shuddering blues-punk, and skeletal folk — fired on all cylinders.
Year: 2005
Nominees: Björk, Medúlla; Franz Ferdinand, Franz Ferdinand; PJ Harvey, Uh Huh Her; Modest Mouse, Good News For People Who Love Bad News; Wilco, A Ghost Is Born
Winner: Wilco
Who Should've Won: Wilco
Why? In an uncommonly strong year for nominees, this category could have gone to Franz Ferdinand for launching a mid-'00s post-punk revival, or Modest Mouse for dragging indie-rock into the mainstream, or even Björk for her latest boundary-busting masterpiece. In the end, however, Wilco's weirdest and noisiest album was the right choice.
Year: 2006
Nominees: Arcade Fire, Funeral; Beck, Guero; Death Cab For Cutie, Plans; Franz Ferdinand, You Could Have It So Much Better; The White Stripes, Get Behind Me Satan
Winner: The White Stripes
Who Should've Won: Arcade Fire
Why? The Grammy Awards tend to get in a rut with their nominations (and, as a result, winners). This explains the White Stripes' victory over Arcade Fire's far-superior Funeral — a spry, haunted album that boosted the reputation of Canadian indie-pop and spawned an entire movement of chamber-rock projects.
Year: 2007
Nominees: Arctic Monkeys, Whatever People Say I Am, That's What I'm Not; The Flaming Lips, At War With The Mystics; Gnarls Barkley, St. Elsewhere; Yeah Yeah Yeahs, Show Your Bones; Thom Yorke, The Eraser
Winner: Gnarls Barkley
Who Should've Won: Gnarls Barkley
Why? This win today looks prescient, as it's easy to draw a line from St. Elsewhere's amalgamations of hip-hop, soul and synth-work to modern indie's sleek production and collapsed-genre approach.
Year: 2008
Nominees: Lily Allen, Alright, Still; Arcade Fire, Neon Bible; Björk, Volta; The Shins, Wincing The Night Away; The White Stripes, Icky Thump
Winner: The White Stripes
Who Should've Won: The Shins
Why? Although Wincing The Night Away is more polished (and sophisticated) than previous Shins efforts, the album boasts the same melancholic soul-searching that made their first two albums so irresistible.
Year: 2009
Nominees: Beck, Modern Guilt; Death Cab For Cutie, Narrow Stairs; Gnarls Barkley, The Odd Couple; My Morning Jacket, Evil Urges; Radiohead, In Rainbows
Winner: Radiohead
Who Should've Won: Radiohead
Why? Not only did the band's pay-what-you-want promotion spark industry-wide financial discussions that still resonate today — but In Rainbows was also a sonic inflection point that found Radiohead veering away from pop traditions and embracing more challenging electronic compositions.
Year: 2010
Nominees: David Byrne and Brian Eno, Everything That Happens Will Happen Today; Death Cab For Cutie, The Open Door EP; Depeche Mode, Sounds Of The Universe; Phoenix, Wolfgang Amadeus Phoenix; Yeah Yeah Yeahs, It's Blitz!
Winner: Phoenix
Who Should've Won: Phoenix
Why? Phoenix generated heaps of joy on their retro-fantastic synth-rock album, which ushered in the modern indie-pop era with nimble grooves. Start with the effervescent "1901"; next crank up the Alexandria Ocasio-Cortez fave "Lisztomania."
Year: 2011
Nominees: Arcade Fire, The Suburbs; Band of Horses, Infinite Arms; The Black Keys, Brothers; Broken Bells, Broken Bells; Vampire Weekend, Contra
Winner: The Black Keys
Who Should've Won: The Black Keys
Why? In a Grammy year where The Suburbs inexplicably lost this category but took home Album Of The Year honors, what better album to honor than The Black Keys' long-awaited mainstream bow?
Year: 2012
Nominees: Bon Iver, Bon Iver; Death Cab For Cutie, Codes And Keys; Foster the People, Torches; My Morning Jacket, Circuital; Radiohead, The King Of Limbs
Winner: Bon Iver
Who Should've Won: Bon Iver
Why? Another case where the Recording Academy got things right, since this self-titled effort is a slightly more hi-fi version of For Emma, Forever Ago, but no less magical.
Year: 2013
Nominees: Fiona Apple, The Idler Wheel…; Björk, Biophilia; Gotye, Making Mirrors; M83, Hurry Up, We're Dreaming; Tom Waits, Bad As Me
Winner: Gotye
Who Should've Won: Fiona Apple
Why? Musically ambitious and emotionally searing, The Idler Wheel… deserved a chance in the winner's circle — if only to avenge all of Apple's previous losses in this category.
Year: 2014
Nominees: Neko Case, The Worse Things Get, The Harder I Fight, The Harder I Fight, The More I Love You; The National, Trouble Will Find Me; Nine Inch Nails, Hesitation Marks; Tame Impala, Lonerism; Vampire Weekend, Modern Vampires Of The City
Winner: Vampire Weekend
Who Should've Won: Neko Case
Why? Case proved once again she's not to be pigeonholed, as she mined memory fragments and various styles—country torch songs, fragile folk, gorgeous indie-pop — to create a deeply affecting album.
Year: 2015
Nominees: Alt-J, This Is All Yours; Arcade Fire, Reflektor; Cage The Elephant, Melophobia; St. Vincent, St. Vincent; Jack White, Lazaretto
Winner: St. Vincent
Who Should've Won: St. Vincent
Why? In a year where the nominated albums rely on familiar rock and electro tropes, the erudite art-rock unleashed by Annie Clark was a revelation. Highlights include jittery electro perforations of "Rattlesnake," paranoid funk propagated by "Digital Witness," and the fuzzed-out guitar heroics scattered everywhere else.
Year: 2016
Nominees: Alabama Shakes, Sound And Color; Björk, Vulnicura; My Morning Jacket, The Waterfall; Tame Impala, Currents; Wilco, Star Wars
Winner: Alabama Shakes
Who Should've Won: Alabama Shakes
Why? Alabama Shakes didn't channel discrete influences on Sound And Color. Instead, the album defies eras — and emerges as something distinctive and unique — by amplifying moody textures and the kind of genre-hopscotching found from idly scanning the radio dial.
Year: 2017
Nominees: Bon Iver, 22, A Million; David Bowie, Blackstar; PJ Harvey, The Hope Six Demolition Project; Iggy Pop, Post Pop Depression; Radiohead, A Moon Shaped Pool
Winner: David Bowie
Who Should've Won: David Bowie
Why? This win was part of a posthumous blitz that found Blackstar nabbing five Grammy Awards, Bowie's first-ever victories in musical categories. It's far from a pity award, however: The album's moody, jazz-inspired meditations on mortality were a moving parting gift from the legend.
Year: 2018
Nominees: Arcade Fire, Everything Now; Gorillaz, Humanz; LCD Soundsystem, American Dream; Father John Misty, Pure Comedy; The National, Sleep Well Beast
Winner: The National
Who Should've Won: Father John Misty
Why? Last year's class was dominated by decent-to-middling albums released by indie titans — save for the stellar Pure Comedy, a modern spin on '70s singer-songwriter LPs that elevated Father John Misty from elaborate shtick-talker to granola-folk soothsayer.
Some artists covered here are Warner Music artists. Uproxx is an independent subsidiary of Warner Music Group.