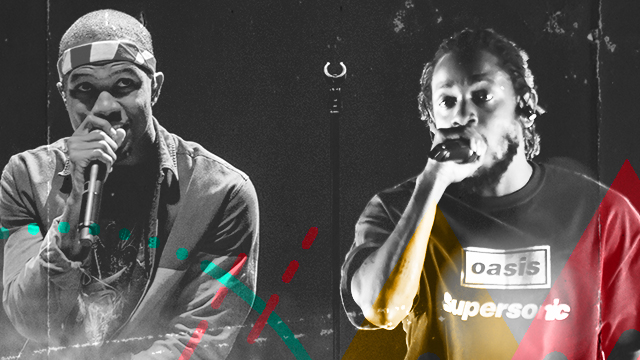 Few Grammy Awards categories spur on more conversation than Best New Artist. Ideally, this award's annual winner should be a burgeoning young star with a bright future who's poised to have a profound influence on music. And while that's occasionally happened — The Beatles were the Grammys' Best New Artist in 1965; Mariah Carey won in 1991; Adele triumphed in 2009; and Chance the Rapper grabbed the brass ring in 2017 — the Best New Artist winners list is also littered with an abundance of acts that never lived up to their potential or faded away soon after.
Perhaps the most tragic example of the latter is Milli Vanilli, who had their 1990 Best New Artist trophy rescinded after a lip-syncing scandal. However, the Recording Academy's attempts to grasp the zeitgeist have led to plenty of other head-scratchers. For example, the category used to honor comedians rather than musicians: Bob Newhart won the category in 1961 thanks to a well-received live comedy album, The Button-Down Mind Of Bob Newhart, while the late Robin Williams lost in 1980 to Rickie Lee Jones. And the category's definition of "new" is also quite slippery. For example, Luther Vandross spent the 1970s as a busy backup singer and vocalist for several groups, but was only nominated for Best New Artist in 1982 after going solo.
This vagueness appears to be by design, however. According to the current category definition, nominees "will be considered for Best New Artist if their eligibility year release/s achieved a breakthrough into the public consciousness and notably impacted the musical landscape." That's not a far cry from the Grammys' previously cited description of a "new artist" — someone "who releases, during the eligibility year, the first recording which establishes the public identity of that artist" — although the current description also incorporates additional parameters to narrow the field slightly.
Yet these guidelines also illustrate how difficult it is to both predict music's next big thing and maintain music industry success. Just look at the case of cult country artist Bobbie Gentry, who won the category in 1968 in the wake of the smash "Ode To Billie Joe," but retreated from the public eye and only recently received a critical resurgence thanks to a 33 1/3 book and some well-curated reissues. Looking at the Best New Artist with a long lens reveals how fickle musical trends always have been, meaning perhaps instead of using the award as a barometer of future success, it should instead be seen as a time capsule for contemporary trends.
Still, it's instructive (and entertaining) to look back and see who the Grammys didn't deem worthy of a win. The competition in some years was fierce: In 1970, Crosby, Stills, Nash & Young beat out Led Zeppelin and Chicago, while Amy Winehouse nabbed the honor over Taylor Swift and Paramore in 2008 and The Carpenters won instead of Elton John in 1971. Other years were, to be kindly, fallow.
In either case, the Grammy Awards did miss the boat on a few major musicians. Here are the Top 10 Best New Artist misses.
1963: Robert Goulet over The Four Seasons and Peter, Paul and Mary
The early years of the Best New Artist category reflected both how slowly the Grammys embraced rock 'n' roll and how different the pop music landscape was pre-Beatles. Take 1963, when the newcomer award was given to Robert Goulet. A beloved actor who first found fame starring in Broadway's Camelot (whose soundtrack album hit No. 1 on the pop charts), he won the award despite having no chart hits; in fact, his highest-charting LP, Sincerely Yours, peaked at No. 35.
Goulet had mild success on the adult contemporary charts in the 1960s, but went on to have on a longer, more fruitful career as a stage, film and TV actor. For several other 1963 nominees, however, music was their bread and butter. Soul-pop troupe The Four Seasons — whose 1963 single "Walk Like A Man" hit No. 1 several months before the Grammys — racked up hits well into the '70s and provided creative fodder for the hit musical Jersey Boys. Peter, Paul and Mary, meanwhile, grew into folk icons who embraced the '60s activist movement and frequently covered Bob Dylan.
1973: America beats out the Eagles and John Prine
America are no slouches in the musical department, what with their No. 1 hits ("Horse With No Name," "Sister Golden Hair"), gorgeous harmonies, and influence on power-pop, AM Gold, and '70s folk-rock. However, these accomplishments pale in comparison to what the Eagles achieved in the '70s — crystallizing the Laurel Canyon country-folk sound and selling a staggering amount of records — and the enduring legacy of John Prine, a beloved songwriter who remains a country icon and genre influence today.
1977: Starland Vocal Band beats out Boston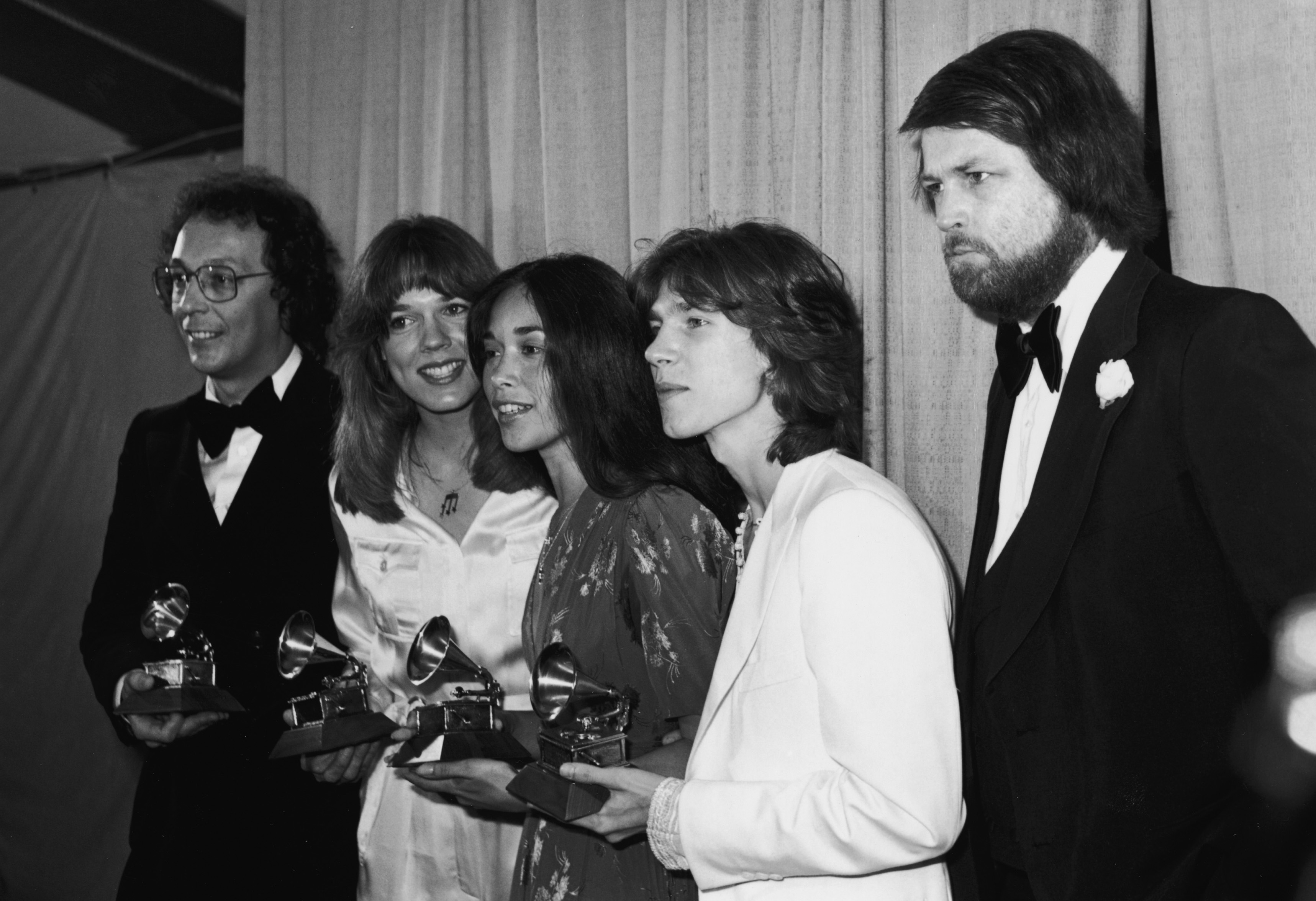 Starland Vocal Band winning this award wasn't that far-fetched at the time. After all, two of its members co-wrote John Denver's monster hit "Take Me Home, Country Roads," and the band's own "Afternoon Delight" — about a quickie daytime romp — was a hit. However, a failed TV show and several additional forgotten albums meant the band went kaput in the early '80s. "We got two of the five Grammys – one was Best New Artist," band member Taffy Danoff told VH1 in 2002. "So that was basically the kiss of death and I feel sorry for everyone who's gotten it since." A fellow nominee — Boston — is notoriously perfectionist, meaning they've only released a couple of LPs over the decades. However, they remain a viable touring entity with several classic rock staples (including "More Than A Feeling" and its guitar pyrotechnics) that ensure infamy.
1979: A Taste of Honey beats Toto, Elvis Costello, and The Cars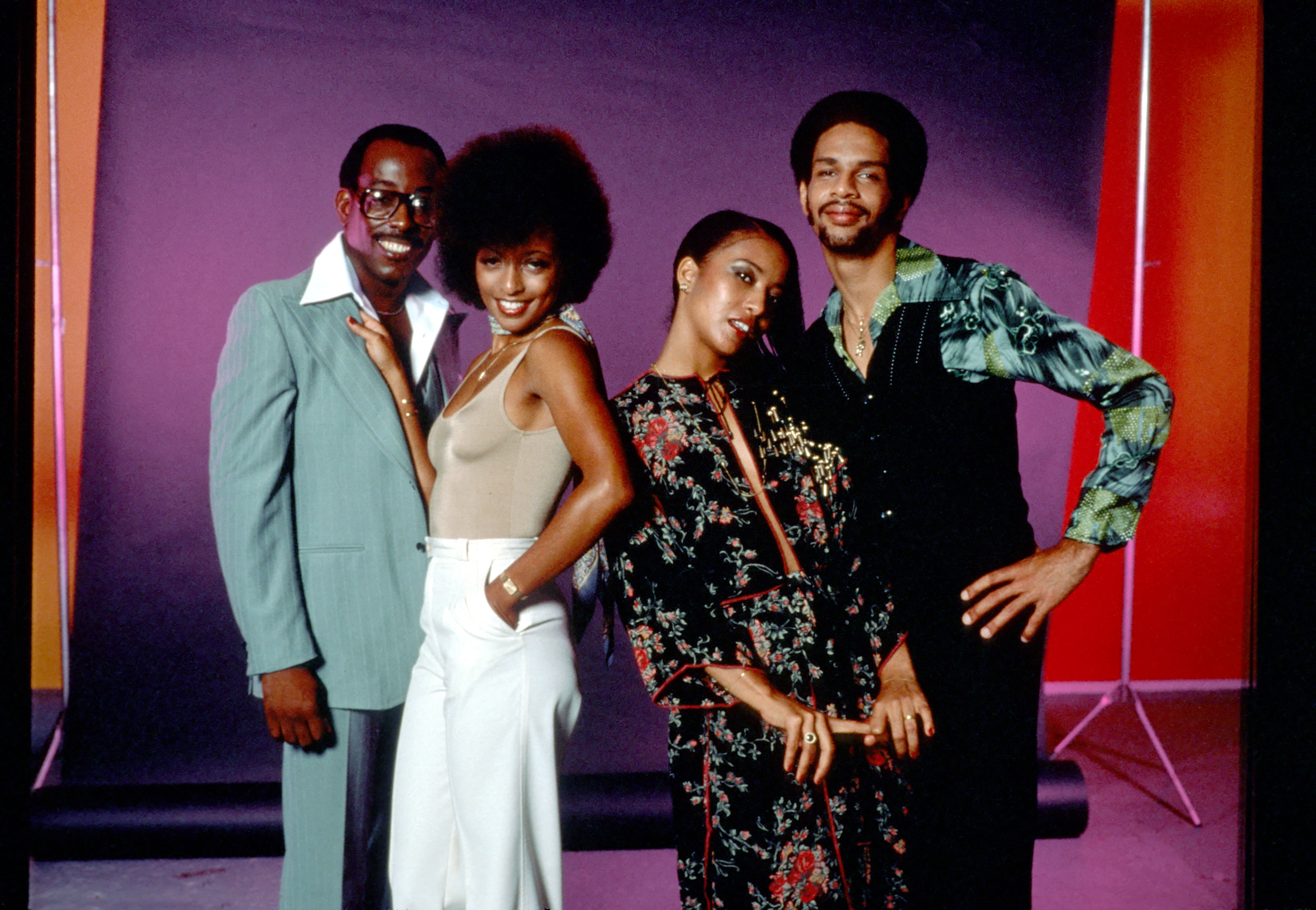 The Grammy Awards have often been slow to react to contemporary music trends — which is why the disco backlash was already looming by the time the Grammy Awards came around to honoring some of the genre's talent. In 1979, the Saturday Night Fever soundtrack won Album of the Year, and A Taste of Honey nabbed Best New Artist. At the time, the latter pick seemed promising: The ferociously talented LA troupe went double-platinum the previous year with "Boogie Oogie Oogie," a genre-blending single gleefully weaving together disco, funk, rock, and soul.
Unfortunately, save for a 1981 cover of "Sukiyaki" that landed at No. 3 on the Billboard Hot 100, A Taste of Honey never again reached the commercial heights of their disco heyday. Success came easier to a trio of 1979 Best New Artist runner-ups. The class features two future Rock & Roll Hall of Fame inductees, in Elvis Costello and The Cars. As for Toto: The band's members directed music's sound and future with session work (notably on Michael Jackson's Thriller) and the pop culture totem "Africa" — and later won a heap of Grammys in 1983, including Album of the Year (Toto IV) and Record of the Year ("Rosanna").
1981: Christopher Cross wins over The Pretenders
There's a very good reason one of Christopher Cross' Wikipedia categories is "the curse of the MTV generation." The Texas native ascended to soft rock royalty thanks to tunes such as the Michael McDonald-featuring "Ride Like The Wind" and "Sailing;" the latter song nabbed him two Grammys and contributed to his Best New Artist win. However, while Cross scored another major hit with 1981's "Arthur's Theme (Best That You Can Do)," his commercial fortunes faded as the decade progressed. Best New Artist losers The Pretenders, meanwhile, remain a vibrant, rock 'n' roll entity thanks to tough-as-nails leader Chrissie Hynde, whose ragged snarl hasn't lost an ounce of grit over time — as evidenced when the band toured arenas with Stevie Nicks in recent years.
1998: Paula Cole beats Fiona Apple, Hanson, and Erykah Badu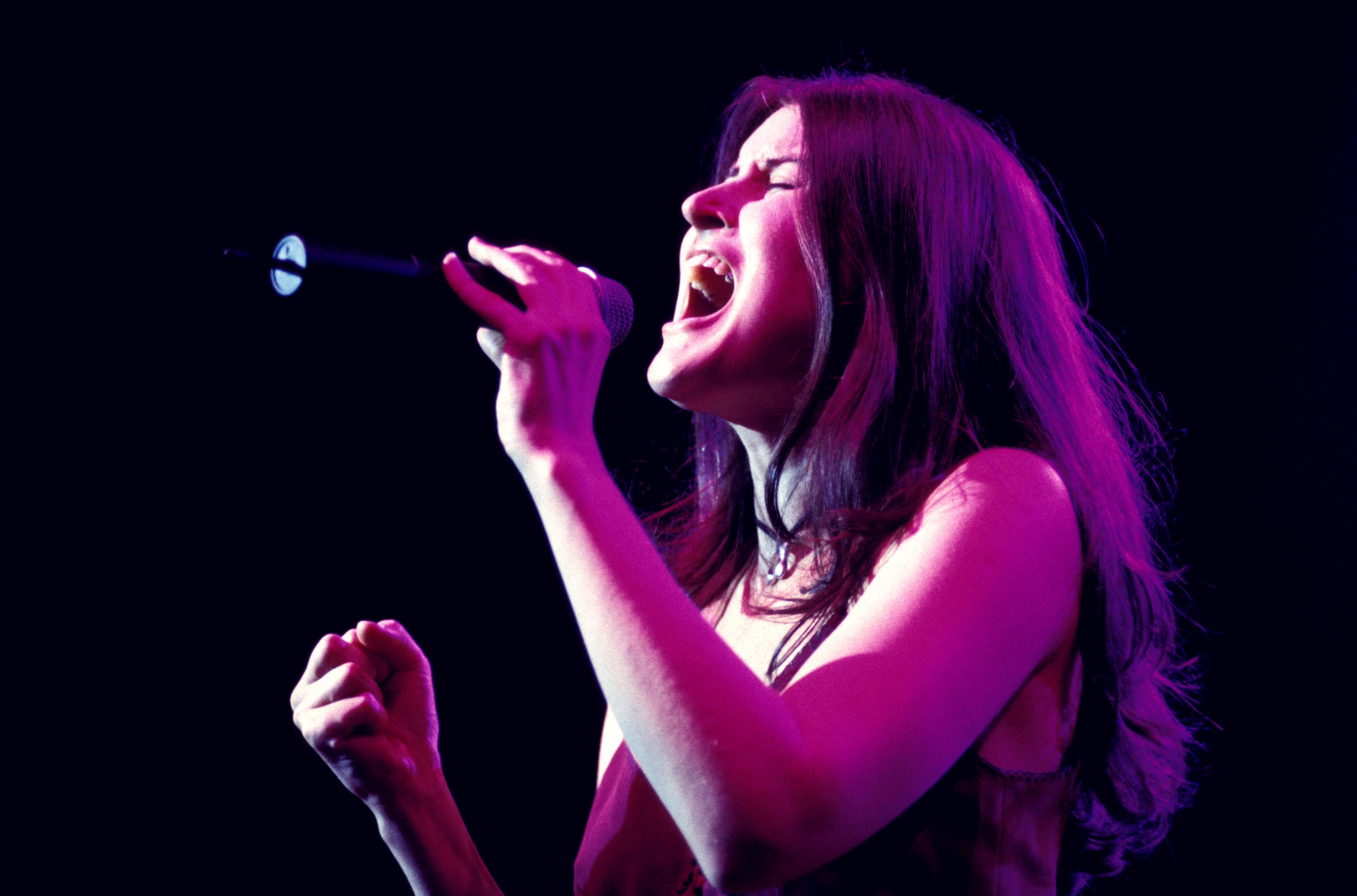 Paula Cole had experience singing backup for Peter Gabriel before hitting it big with her self-produced album This Fire, which launched the wistful "Where Have All the Cowboys Gone?" and Dawson's Creek theme "I Don't Want To Wait." Cole's work earned her a prestigious nomination for Producer of the Year in 1998 — but she lost to Babyface there, and instead won Best New Artist as a consolation prize. In the process, Cole beat out a trio of future stars. Teen-poppers Hanson grew up to be respected soul-rockers who still sell out concerts and have their own beer line; Fiona Apple's confessional lyrics and instrumental prowess have cemented her status as a songwriting icon; and Erykah Badu has spent years upending soul/R&B with her creativity.
2005: Maroon 5 beats Kanye West
By 2005, pop chameleons Maroon 5 were four singles deep into a debut, Songs About Jane, that first saw the light of day in 2002. Since then, the Super Bowl halftime show performers have remained perennial (if critically despised) hitmakers thanks to a steady stream of inoffensive, trend-aligning tunes. Kanye West is also polarizing, for a variety of deeply valid reasons. But from a musical standpoint, the rapper's history of sonic risk-taking and penchant for reinvention leaves Maroon 5 in the dust. Throw in the rich talent farm he founded, GOOD Music — and his influence on modern fashion as well as hip-hop — and West emerges as the clear should-have-been winner.
2012: Bon Iver wins over Nicki Minaj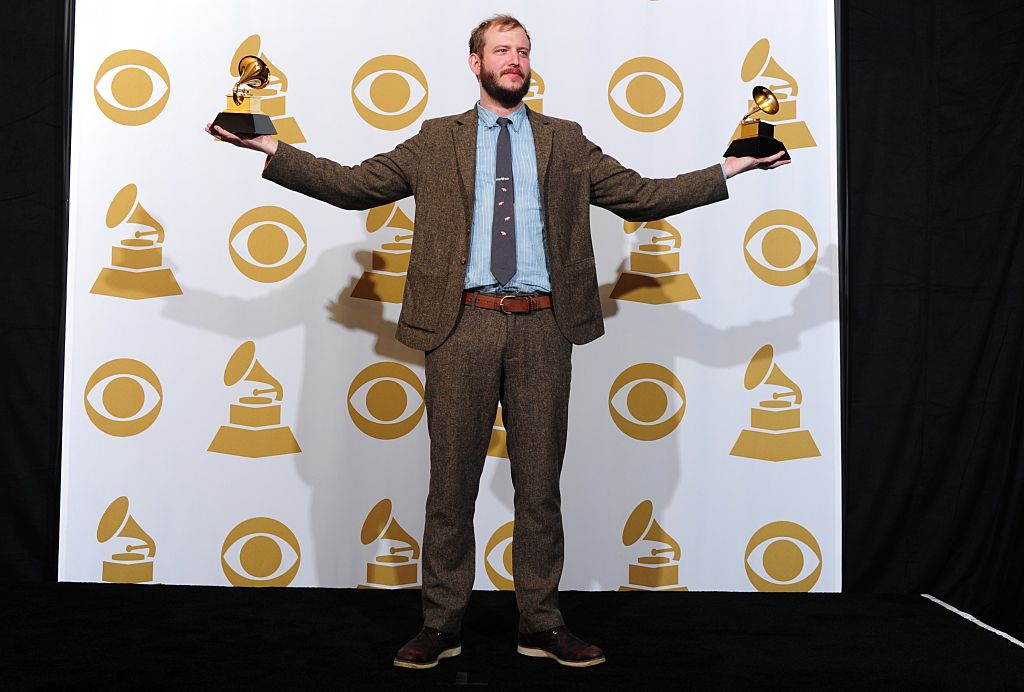 That Bon Iver was even nominated for Best New Artist in 2012 was a head-scratcher. After all, Justin Vernon had released the debut Bon Iver album — the skeletal indie-folk masterpiece For Emma, Forever Ago — a whopping five years before, and the low-key musical polymath was already firmly established in indie circles. However, Vernon ostensibly qualified for the category due to the fact he had more recently ascended to collaborating-with-Kanye levels — which was apparently enough for him to eke out a win over deserved honoree Nicki Minaj. At the time, she was riding high on her debut, 2010's Pink Friday, and a Britney Spears arena tour opening slot; today, Minaj is a massively influential rapper who has infiltrated hip-hop's boys' club while selling millions of albums and setting Billboard Hot 100 chart records. Vernon is still moving the musical needle — see 2015's 22, A Million and his Eaux Claires festival — but it's on a much smaller scale.
2013: fun. beats out Frank Ocean
For a few years in the mid-'10s, fun. — a gloss-pop group comprising indie-emo survivors Nate Ruess, Jack Antonoff, and Andrew Dost — were inescapable due to meticulous earworms such as "We Are Young." Somewhat shockingly, fun. never followed up their debut, 2012's Some Nights, and are currently on hiatus, although Antonoff has continued to mold the sound of pop music with St. Vincent, Lorde, and Taylor Swift collaborations. Making an even bigger name for himself as an innovator? Best New Artist runner-up Frank Ocean, whose bold artistic statements (such as 2016's Blonde) and outspoken nature have kept him at the forefront of hip-hop's cutting-edge for years.
2014: Macklemore & Ryan Lewis beats out James Blake, Kendrick Lamar, Ed Sheeran, and Kacey Musgraves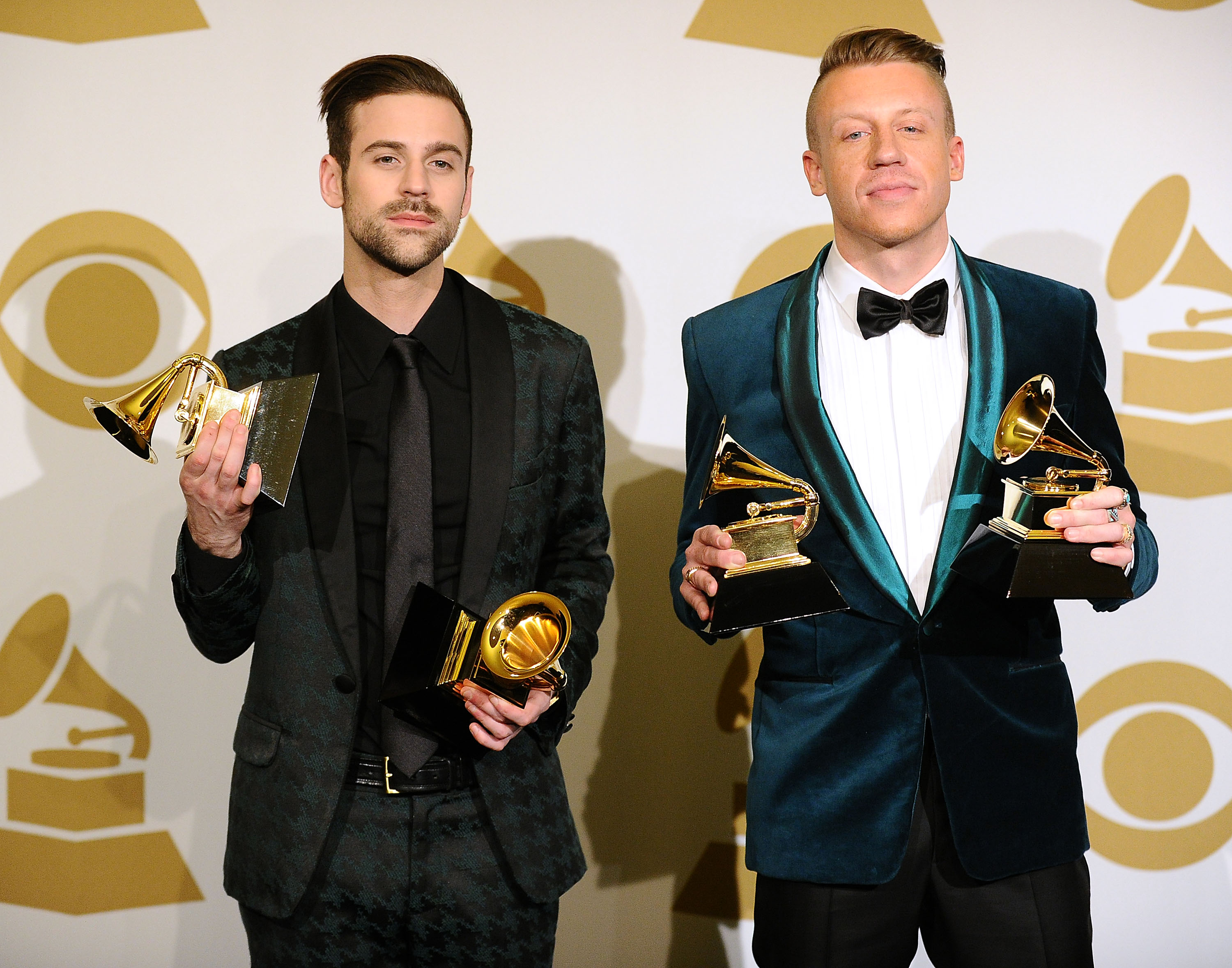 Talk about hindsight being 20/20. Five years ago, Seattle hip-hop duo Macklemore & Ryan Lewis were on top of the world thanks to an independent album (The Heist), two No. 1 singles ("Thrift Shop," "Can't Hold Us") and an anthem for same-sex marriage ("Same Love," which also launched Mary Lambert's career). Today, the pair are by far the weakest nominee here; in fact, in the wake of a tepid 2016 album, Macklemore and Lewis are actually taking a creative break from each other. Meanwhile, the rest of the 2014 Best New Artist nominees are earning Oscar nods (Kendrick Lamar), collaborating with Beyonce and Travis Scott (James Blake), dominating the global pop charts (Ed Sheeran), and redefining the shape of modern country (Kacey Musgraves).
In the history of big misses for Best New Artist, this one stands without peers.
Some artists covered here are Warner Music artists. Uproxx is an independent subsidiary of Warner Music Group.