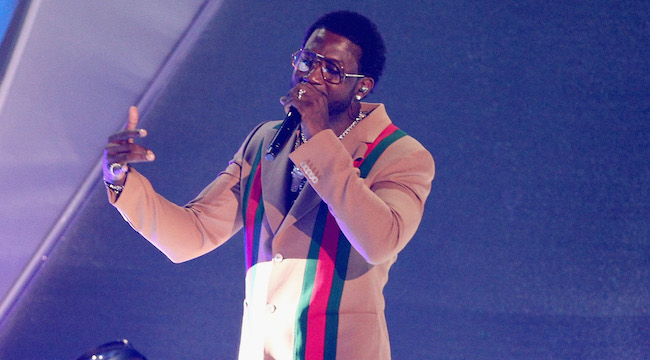 Gucci Mane is a man of many nicknames and affiliations. He and his soon-to-be wife, Keyshia Kaior are dubbed "The Wopsters." He's often gone by Guwop, Wop or simply Gucci. Now the 37-year-old rapper can add one more prestigious title to his list: New York Times best-selling author.
Gucci's memoir, The Autobiography Of Gucci Mane, which was released on September 19th, has landed at No. 4 on the New York Times hardcover non-fiction list and No. 4 on the combined print and e-book nonfiction list. The promotion for the book has not gone without its fair share of outrageous moments. In September, a group of animal rights activists decided to protest a book signing where Gucci seemed unfazed. The day before, during an interview with Trevor Noah on The Daily Show, Gucci revealed that if he had not become a rapper, he still would have been a kingpin or a great leader of men.
Having read through some of it, it's an honest, revealing moment for the East Atlanta rapper who mentions his Zone 6 roots, growing up in small-town Bessemer, Alabama and the ebbs and flows of mental illness. Inspired by the likes of Mike Tyson, Johnny Cash and Jimi Hendrix, Gucci decided to tell his story and open fans up to a world that is blunt, outrageous, and in some ways, revelatory.
Gucci's busy October is set to continue in the coming weeks. His Mr. Davis album hits shelves next Friday with guest appearances from The Weeknd, Nicki Minaj, Migos, ASAP Rocky, Big Sean, ScHoolboy Q, Chris Brown, Monica, Rae Sremmurd's Slim Jxmmi, and others. But the biggest news in Gucci's world is his televised marriage to his longtime girlfriend. The wedding has been dubbed The Mane Event and will air on BET on October 17th.