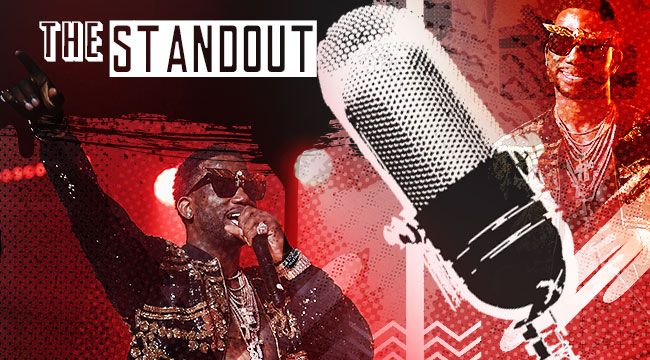 Listening to albums is a full time job. Every day, new bodies of work flood iTunes and your favorite mixtape sites. I love the process of giving an album a spin from start to finish. It's like test driving a car: wavering back and forth between committing and seeking alternatives with every turn. After a few listens, I tend to pick out favorites I religiously quote, place on playlists and recommend to friends.
The Standout is here to highlight one record from a particular album that fits the criteria above.
Album: Gucci Mane's Woptober
Song: "Out the Zoo"
There have been two defining musical moments for Gucci Mane in 2016. The first is when he released "First Day out tha Feds." It was impossible to deny his lyrical focus, and that's when I realized what I want most out of Gucci. He's able to weave story-telling with his paranoia and braggadocio. The other moment comes from "Out the Zoo." For the same reasons as "First Day…," this cut on Woptober is detailed in similar fashion. When Gucci tries, he succeeds.
Instead of a series of "burr" ad-libs and metaphors about how his diamonds are pulling a Dancing with the Stars, "Out the Zoo" finds Gucci zeroing in on his words. It seems weird to say with his quantity over quality approach to music, but he didn't waste a single bar this time. Painting pictures of a 100 bricks being the equivalent to heaven is straight out of a movie scene. Scarface, perhaps. The story isn't all about others, though. Gucci, who has improved a lot as a person since getting out, remembers where he's from and the type of life he's experienced that leads to problems:
"I progress then regress and this shit is getting depressing
But I count my stash 'fore I count my blessings
And I load my weapon 'fore I eat my breakfast
The skreets keep talking and the snitches keep telling
Your whole life can change in a motherf***ing second"
Gucci Mane continues to dive deeper into his mental health. With all the conversation happening online after Kid Cudi's recent admission, it's a good time for the Atlanta MC to share his feelings. In the beginning of the second verse, Gucci says he "sees red" inferring the same effects it has on a bull, and admits he's off his meds. There are voices in his head that simulate a devil vs. angel scenario with an interesting twist. "This lil devil on my left shoulder say "shoot him in the dreads," he raps. "While an angel on the right whisper "just shoot him in the leg." Usually an angel is supposed to persuade you not to do anything bad, but Gucci's angel opting for a less violent situation shows how far gone he is in his life.
All of Gucci's words on "Out the Zoo" feel past tense. This isn't a man buying "80 pints to drink 'em by myself" anymore. This is reflection, and also a piece of therapy. It's for the fans as much as it is Gucci. He's leaving behind the cage of his younger years, but that doesn't mean it's the end of Gucci Mane's street poems. It just symbolizes that he'll be tackling things from a much wiser and more vivid perspective.
Check out previous installments of 'The Standout' right here.