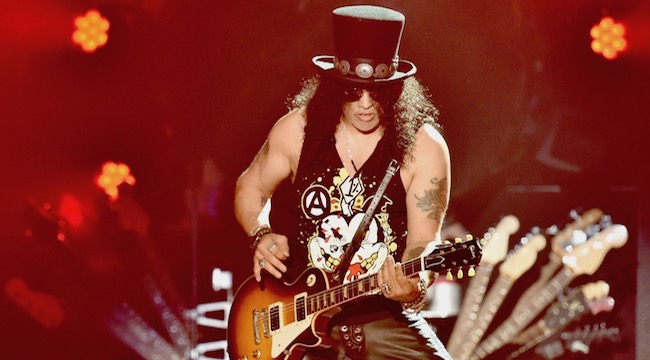 When Guns 'N' Roses decided to re-issue their classic debut album Appetite For Destruction earlier this year, they notably left one song off the running order, "One In A Million." Let's just say that the use of racist and homophobic language certainly didn't hold up well over time, and the band wisely decided to leave that one in the vaults.
That being said, there's a large group of people who still believe a lot of the band's canonical work remains more than a little sexist — the group actually left a recording of lead singer Axl Rose having intercourse with drummer Steven Adler's girlfriend on the song "Rocket Queen" — and surprisingly, lead guitarist Slash agrees with them.
"I've never thought of that. It's never crossed my mind," the Cat In The Hat said when asked in an interview recently by Yahoo Music.
"I mean, I think when the #MeToo thing really blew up, the thought crossed my mind of a bunch of musicians, not particular ones, but just musicians [who might be implicated]. But for the most part, as far as all the ones I know, it wasn't like that. We didn't have that particular [predatory] relationship with girls. It was a lot more the other way around, in some cases! Anyway, so some of the songs and all that were sort of sexist in their own way, but not to be taken that seriously. I don't think they were malicious or anything."
What do you think? Is a song like "Used To Love Her" over the line violent or all in poetic good fun?