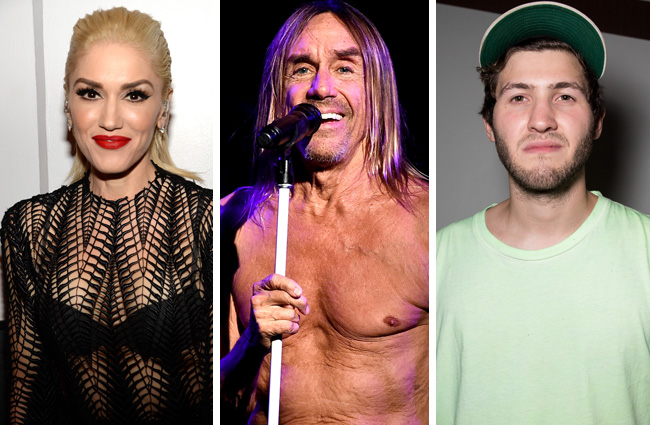 Gwen Stefani, Iggy Pop, and Baauer all have something odd in common. Aside from the three all dropping albums this week, it seems that they all aim to escape something with their new music. Gwen is moving into a new stage in her life and she's revealing it, flaws and all. Iggy Pop is questioning where he should go next, caught between his past and the grim future. And Baauer wants nothing more than to stand on his own and leave behind his memeable past. In addition to that, we've got new music from Cullen Omori from Smith Westerns, ILoveMakonnen, Lust for Youth, and many more. Here are the albums you need to hear this week.
Gwen Stefani – This Is What the Truth Feels Like
For her first solo album in a decade, Gwen Stefani is in a far different place than she was 10 years ago. Her marriage fell apart due to her husband's infidelity, and she's sort of spiraled creatively, only releasing the lukewarm-received Push and Shove with No Doubt in 2012. Now a mom of three and a little older, she's in an entirely different place in her life, but she can still be the same funky pop queen we've come to know for two decades now. "Used to Love You" is the mournful breakup ballad you would expect going in, but its lo-fi oscillating bump and synth organs will stay with you. And it's not all a sad affair; "Make Me Like You" is a sweet, upbeat roller-skating jam. There's a lot to process on Truth, Gwen is putting everything on the table, but thankfully, sorting through all of the nasty bits has more than paid off for her here.
This Is What the Truth Feels Like is available on Apple Music, TIDAL, Google Play and more. The album will appear on Spotify at a later date.
Iggy Pop – Post Pop Depression
The Godfather of Punk has been through more than you can imagine over his 68 years on this planet. His body is a beat-up road of the cuts, bruises, and abuse you get when you live your life with no limits. Post Pop Depression, his first project in three years, was a collaborative effort with one of his many musical children in Queens of the Stone Age's Josh Homme. The two recorded the record in secret out in the desert, and the album has those same sparse and cracked textures. Eerily enough, there are moments on tracks like "American Valhalla" and "German Days," Iggy sounds like his most famous collaborator and late rock legend, David Bowie. The two each released albums this year, both dealing with the end, but in different ways. Blackstar was about a man giving himself to the ether, while Post Pop Depression is about a man who yearns to pecked and picked apart by vultures. Two different paths to the same destination.
Baauer – Aa
Memes live forever; there's no outrunning the internet. The only way to change how people remember you is to reinvent yourself. Baauer has been making music all across the dance spectrum for many years, but for most people, he's known for creating the song "Harlem Shake," which was a spastically fun trap track that was loved at first, then it was memed into death with accompanying videos shared all across your relatives' Facebook. So, here we are today with Aa, Baauer's studio debut, and it's a wide array of what the young producer can do. There's splashes of UK Garage, grime, house, Bmore, and bass music here featuring big names like Pusha T, Future, M.I.A., G-Dragon, and Rustie. This diverse effort should be more than enough to prove to those who don't know, that Baauer is much more than a viral hit.
Here are the rest of the week's new releases:
Cullen Omori [formerly of Smith Westerns] – New Misery
ILoveMakonnen – Drink More Water 6
Jaheim – Struggle Love
Lust For Youth – Compassion
Primal Scream – Chaosmosis
Underworld – Barbara Barbara, we face a shining future
Boris with Merzbow – Gensho
Redfoo – Party Rock Mansion
The Body – No One Deserves Happiness
Damien Jurado – Visions of Us on the Land
Daddy [James Franco] – Let Me Get What I Want
Junkie XL and Hans Zimmer – Batman V Superman Original Motion Picture Soundtrack
Niykee Heaton – The Bedroom Tour Playlist
Soul Asylum – Change of Fortune
Jordan Smith – Something Beautiful
The Falcon [members of Lawrence Arms, Alkaline Trio] – Gather Up the Chaps
James – Girl at the End of the World