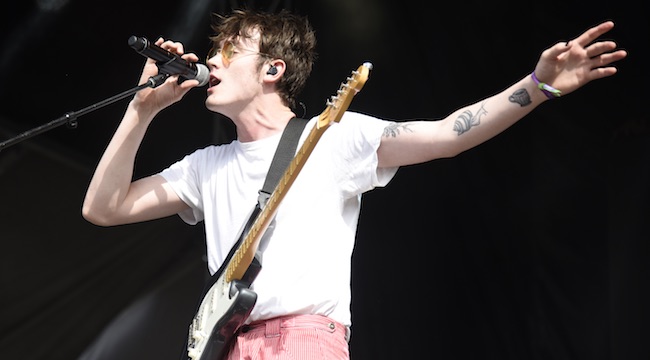 "I know you see the light upon my face, a warning from the gods to stay away," sings Jake Luppen to open Hippo Campus' sophomore record, Bambi. Second albums have a reputation for being intimidating for artists, with the balancing act between recreating previous success and starting in a new direction often portrayed as a Herculean task. Maybe that's why Hippo Campus chose to start things off with biblical references. That image of divine light from "Mistakes" recalls their first album Landmark's opening track, "Sun Veins," which begins, "Say my name, with your sunlight veins." Time is a focus on both of these albums, but Bambi abandons Landmark's glowing nostalgia in favor of a meditation on the present.
Shared lyrical themes aside, "Mistakes" and "Sun Veins" are both weird, ethereal ambient-esque songs, and while Landmark generally veers in the direction of Hippo's guitar-based, high-energy style of indie rock after it's opener, Bambi just gets weirder and better. Making a sophomore album this "weird" could easily feel like a rebellion, but Hippo Campus make it incredibly natural. The parallel between the two opening tracks is a really poignant, maybe unintentional, metaphor for this second album. While Landmark was an excellent debut, Bambi will be more honest, more unafraid.
For all its boldness, the album is not lacking in narratives on fear. "Mistakes" transitions quite beautifully (something the band is known for) into "Anxious," an early fan-favorite. On it, Luppen laments, "This head won't quiet down for a single thought," and "I see those friendly faces but they only make me anxious." In interviews and in a statement they tweeted, Hippo Campus have made it clear that they made a conscious choice to be more vulnerable on this record. Bassist Zach Sutton, who wrote the track, recently said, "That song came from something I'd written a while ago, kind of a scribbling of all my social anxieties. For a long time I was living with these indefinable worries that I couldn't comprehend, and I was never really sure if it was just a part of a growing up or something more than that."
Hippo Campus are a Minnesota-based four-piece (sometimes five-piece) that began playing together the summer after they graduated high school. Since then, they've released three EPs and their full-length debut, headlined several tours, and played slots at major festivals like Lollapalooza and Bonnaroo. During this time they quickly gained a passionate fan base that feels connected to the band, not only because they have a pretty active social media presence, but because of that conscious choice to be vulnerable.
In a recent Billboard interview, the band discussed the sexist cliches about their majority-female fanbase and their own reflections on toxic masculinity. In response to the interview, Luppen tweeted, "our fan base is full of intelligent strong young women whose lives we have the honor of being a part of in some way or another. That is a responsibility we will never take lightly. We are here to be an ally to all of you despite the misogynistic industry that we exist in."
The band was born out of a transitional time, and their songs have always in some way reflected that. Hippo Campus capture being young and anxious in ways that very few artists can, with a kind of delicacy that doesn't subtract from the blunt truth of it. Hippo Campus' lyrics have always focused on growing pains, but "Anxious" and other songs on Bambi are more introspective; the "something more than that" Sutton talks about. The results are lyrics that are often deeper and darker than what we're used to from the band. Before this, their talk of anxiety was usually delicately wrapped in metaphors and imagery, but now the descriptions are more blunt. Exhaustion is discussed a lot in lines like, "I swear to God I wasn't born to fight, maybe just a little bit, enough to make me sick of it," on "Bambi," or "It's all cyclical so why even try to change," on "Why Even Try."
This new tone is maybe best exemplified by the album's title track. "Bambi" is a mix of glittery production and lamentations about the struggles of mental illness. "I haven't been much myself," Luppen sings in a falsetto. "And I feel like my friends are being put through this hell." Luppen's voice is so tender he could sing an IKEA instruction manual and it would carry emotional weight, but on this record, in particular, he warmly translates the emotional nuances of each lyric.
And even with all the talk about anxiety, this album's got some real pop bangers. "Doubt" is the most delightfully weird song on the record, featuring a twitchy synth line that precedes a dreamy, melodic chorus. "Honestly" provides a moment of levity, beginning with a false start: "I'm sorry I'm sorry I'm sorry, I suck," Luppen says after messing up the intro. "Yeah you do," replies drummer Whistler Allen. From that playful beginning, the track goes on to be what is probably the most danceable song on the album, with the kind of joyful riffs the band are known for.
Even though they're known for their guitars, Hippo Campus are often at their best when they place them on the sidelines. "Think It Over" sits at the center of the album, a quiet standout that sounds and feels like floating. This is just one track that strays from tradition; Bambi as a whole experiments with piano and synths. The experiment comes to fruition with "Passenger," the album's closer. The track was the first song off Bambi to be released before the record was announced and is altered in its album form featuring some beautiful horns supplied by their trumpeter, DeCarlo Jackson, and a surprise two-minute piano ending that Allen wrote when he was 15. With the new ending, the song is both a musical and lyrical triumph for the band. It's the perfect way to close out an album that has come to be defined by unexpectedness. In true Hippo Campus style, closer "Passenger" transitions seamlessly back into the album's lead track, "Mistakes." As they say on "Why Even Try": "It's all cyclical."
Bambi is out now via Grand Jury Music. Get it here.