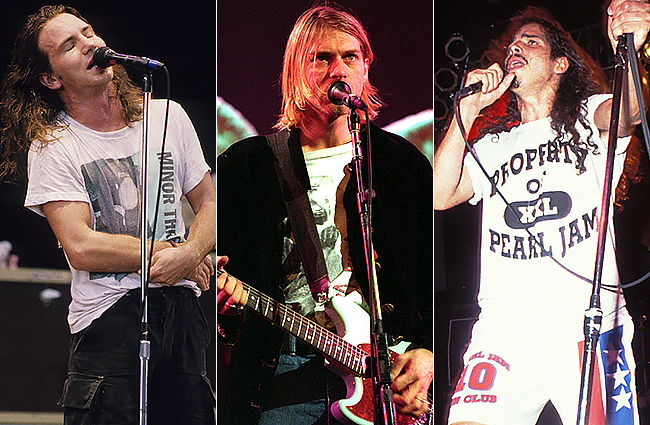 It's fall, also known as flannel season. And it's incredibly hard to think about flannel without thinking about grunge; the two are forever associated (sorry, lumberjacks). Fall is grunge weather, and with the heyday of the genre in our distant past, it's a good time to look back at the genre's early years, before bands like Bush and Stone Temple Pilots seized the reins. The beginnings of grunge were a time of collaboration, cooperation, and cohesion. Nirvana didn't just come from a broken home in Aberdeen, Washington, and Pearl Jam didn't come about solely because of five dudes' mutual love for a comically under-sized professional basketball player. They came from other bands and were inspired by other musicians in a tight-knit circle.
The history of grunge's formative years is a tangled mess of flexible band members, painful tragedy, and shared Rolodexes. Location, mutual admiration, and shared goals united them. Grunge didn't start with Nirvana's "Smells Like Teen Spirit." It began several years before.
Let's start with The Melvins. So much of what would become grunge starts with them.
The Melvins, with Buzz Osborne on vocals and guitar, Matt Lukin on bass, and Dale Crover on drums, came together in 1983 in Washington. They were influenced by classic rock bands like KISS and Black Sabbath, as well as Black Flag, a hardcore band from down the road in Los Angeles. Starting out, The Melvins went back and forth between Cheap Trick covers and lightning fast punk. Their music gradually slowed, though, the tones coming from Osborne's guitar growing muddier and murkier, seemingly filled with sludge. It was punk put through a grinder, emerging heavier, and with a plodding beat. It was a sound that drew the attention of impressionable younger musicians listening at home, at clubs, and at their dingy rehearsal spaces.
In 1984, two more bands formed amidst the overcast skies and towering trees of the Pacific Northwest – Green River and Soundgarden. Both existed around the edges of what would become grunge, albeit in their own ways.
Green River consisted of Mark Arm on vocals and guitar, Steve Turner and Stone Gossard on guitar, Jeff Ament on bass, and Alex Vincent on drums. Bruce Fairweather eventually replaced Turner. They had a big, classic rock sound with hints of punk, whereas Soundgarden – at the time a three-piece with Chris Cornell on vocals and drums, Kim Thayil on guitar, and Hiro Yamamoto on bass – could sound metal or like anthemic stadium rock at times. Green River's debut album, Come on Down, was released in May 1985 and has since been referred to as the first grunge record. Yes, The Melvins got the ball rolling, but as far as putting that sound on tape, points go to Green River.