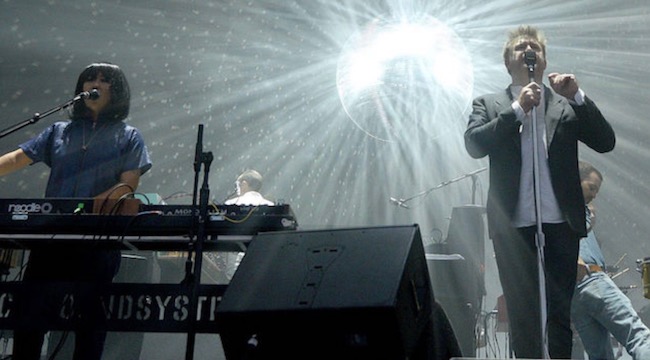 On September 1, LCD Soundsystem will pull the curtain off their first new album in over seven years, American Dream. As such, front man James Murphy has been making the media rounds as of late to promote the group's latest work, and recently sat down for an extended chat with Vulture where he opened up about the band's now-controversial decision to call it quits back in 2011, and what the future holds going forward.
"For the rest of my life, now matter what happens in this band, we'll never 'break up' again," he promised. "One day we'll just stop making music, but no one is going to say a f*cking word about it ahead of time."
And about calling it quits in the first place? Apparently it all stemmed from their difficulty selling tickets to Madison Square Garden, which they booked well ahead of their decision to call it a day. "We had booked this Madison Square Garden show, and then realized the show's promoters had no faith in us," Murphy said.
"They were trying to come up with big-name openers for us because they didn't think we could sell out the place by ourselves. One of the openers they suggested was Big Boi from Outkast. Why on earth would Big Boi open for us? Big Boi was in one of the biggest, most important hip-hop — no, one of the biggest and most important acts of all time. It didn't make any sense. But behind that idea was the promoters' belief that we just weren't going to sell any tickets unless there [was] some extra element. So I got mad on the phone with them about it. I was like, "Well, how about it's our last f*cking show?" And I hung up the phone. Then I was like, I guess that'll be our last show then."
After that gig however, Murphy apparently delight in turning down offers to reunite — "I've always had an impish joy about saying no to things that are very lucrative" — or to use LCD's music for commercial purposes.
"There was an ad, and I won't say who it was for — a corny clothing company — and they shot a whole video for us of people lip-syncing to one of our songs. I looked at it and almost threw up in my mouth. I said there's no way they can use this song. They're like, 'Okay. We'll double the offer.' 'Yeah, you're not hearing me. You can't use this f*cking song.' 'Okay. We hear you loud and clear …We'll double it again.' By breaking up my band, I'd left a lot more on the table than what they were offering. Did they think I was going to sacrifice all that for some shitty ad? So, yeah, it felt good to say no to that. It felt really good."
You can read the entire, illuminating interview over at Vulture.