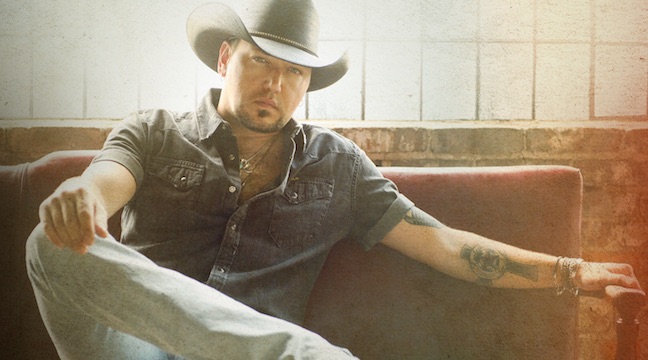 Country Grammar is a recurring monthly column about country music. The purpose of this column will be to analyze and demystify country releases, large or small, and help halt the notion that Country music is somehow less deserving of introspective analysis than rock, rap, or pop. It will highlight the great moments, and occasionally, dig deep into the bad ones, but the goal is always to bring more attention to a genre that is far too often swept under the rug due to class assumptions or music criticism's clear rockist past.
Though he was already a stalwart figure in Nashville's popular country scene, late last year Jason Aldean became a household name for a reason completely unrelated to his musical prowess — domestic terrorism. After a gunman's carefully planned assault on the Route 91 music festival in Las Vegas occurred during Aldean's headlining set, he and his team struggled to piece back together a plan for continuing in the public space following such a horrific tragedy. Not only was this massacre the biggest mass shooting in American history, but it comes at a particularly fraught time for artists trying to navigate divided factions of the country, where the relentless buzz of the news cycle is exhaustive and depressing, and saying the wrong thing can come with a tidal wave of critical attention.
In the spirit of "get back up on the horse," Aldean performed just a few days later on SNL, dedicating his performance to the victims and their families. "I want to say to them, we hurt for you, and we hurt with you," Aldean said. "but you can be sure we're going to walk through these tough times together, every step of the way. Because when America is at its best, our bond, and our spirit is unbreakable." Given the other tragedy of the week, the unexpectedly dramatic death of rock icon Tom Petty, Aldean covered "I Won't Back Down" a song that already fits perfectly into his defiant country-rock milieu. But it wasn't the title refrain from the song that rang as true as another line — "there ain't no easy way out."
Given country music's well-documented conservative deep pockets, it's not surprising that Aldean waffled when repeatedly asked to speak on the subject of gun control, even though himself, his crew, and his then-pregnant wife were all present at Route 91 and could very well have been killed that day due to America's incredibly lax gun laws. As recently as late March, Aldean's stance was to stay out of the debate altogether. In an interview with Entertainment Weekly he said since he's not a politician with an agenda, he doesn't feel equipped to speak out.
"If I say that I believe this, I'm gonna piss off half of the people, and if I say I believe that, I'm gonna piss off the other half," Aldean told EW. "I have my opinions, but what the hell do I know? I think everybody needs to sit down, stop pushing their own agendas, and figure out what will make it safer. When people can't go to a damn movie or a concert and not worry about somebody shooting the place up, there's a flaw in the system." His response felt strangely tepid, given the emotional immediate reaction from other factions, including another country musician who was caught in the crossfire at the fest and immediately issued a statement recanting his former stance and calling immediately for gun control.
As a gun owner himself though, and wary of pissing off either half of the country, as he noted above, Aldean was caught between a rock and a hard place. Finally, leading up to the release of this record, he seems to have found a middle ground. "It's too easy to get guns, first and foremost," he told the Associated Press earlier this week. "When you can walk in somewhere and get one in five minutes, do a background check in five minutes, how in-depth is that background check? Those are the issues I have. It's not necessarily the guns themselves, or that I don't think people should have them. I have a lot of them."
Out today, Aldean's excellent new record Rearview Town is his first new release since the incident, and on it, he makes no effort to get political or make any kind of larger statement. Instead, the record is full of the same swaggering, emotion-driven country rock that earned him a spot as one of the top live performers in the current country landscape. Instead of addressing the tragedy head-on, and processing it through his work, Aldean has opted to not back down, and continue working in the well-worn groove that he's occupied since 2005, when his self-titled debut album when platinum and spawned three hit singles.
According to an interview with Taste Of Country, the record was already mostly complete before the events last October, and while it has a couple songs that celebrate the force of a healthy, long-term relationship — Aldean is married to his second wife, Brittany Kerr, a former American Idol contestant — there's no overt reference to the birth of his first son, Memphis, either, which he's repeatedly cited as a balm in the wake of his traumatic experience, and the guilt he feels over fans who lost their lives.
Context aside, thirteen years into a career as a country star, Aldean has got this thing down pat. Rearview Town works to round out the now 41-year-old's discography with mature but bittersweet regretful tunes like "High Noon Neon" and the aforementioned celebratory, slow relationship songs like "You Make It Easy," co-written with Florida Georgia Line, or "Better At Being Who I Am." There are hints of his old party boy attitude on tracks like "Set It Off" and "Gettin' Warmed Up," but he really shines on the album's moodier moments; a duet with Miranda Lambert is a mournful strummer about aching with a grief that not even whiskey itself can erase, which is almost ambiguous enough to fit itself to the trauma from the massacre, and the emotion is certainly there, but it doesn't quite cross over.
On the title track, an angry, weary narrator leaves behind their small town roots, middle finger flipped to the sky, escape as an act of defiance imminent in the song's exhausted feel. Much has been made of the population who lives in the middle of the country, in "rearview towns" like the one in the song, in the flyover states, and how their experience informs their politics and position on issues like gun control. Aldean skillfully captures that ennui here, but like much of this expertly constructed country album, without a real sense of purpose the song falls strangely short of epiphany, and dwells in a strange no man's land.
What would've been much more powerful is if Aldean had used his superb songwriting skills and ability to speak the language of these plain, blue-collar folks to take a stand on the issues that, for him, have irrevocably crossed over from the political into the personal. By refusing to back down from the path he'd already set his course for prior to the tragedy in Las Vegas, Aldean's album reads as a missed opportunity to truly stand for something, to speak truth to power and potentially even enact change in the hearts of his fans. Sometimes, standing your ground ends up looking exactly like backing down. And baby, there still ain't no easy way out.
Rearview Town is out now via Macon Music/Broken Bow Records. Get it here.