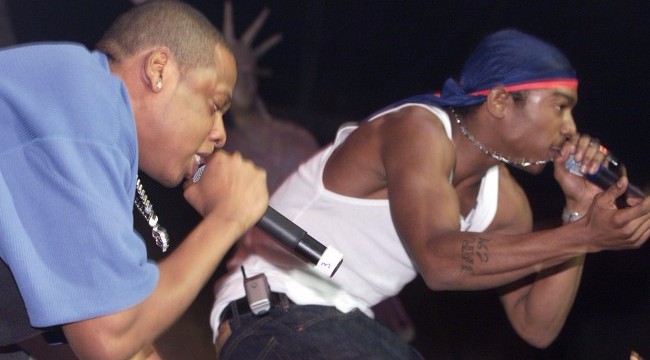 In a profile piece about Nas' short-lived, early-aughts run on now-defunct Murder Inc. Records, Noisey dug up an extremely juicy nugget from The Source's 2002 interview with Ja Rule explaining why Jay-Z chose to headline the Sprite Liquid Mix Tour that year instead of the planned Triple Threat Tour, featuring acts from the Murder Inc., Bad Boy, and Roc-A-Fella stables.
The interview, which was print-only aside from a Murder Inc. fan site's(!) transcription, revealed that Jay-Z wasn't messing with Ja or Murder Inc. after they began collaborating with Nas, which probably explains why the three had such divergent paths in the aftermath of the Jay-Z/Nas feud which dominated the earliest years of the new millennium.
Chilling with P. Diddy and discussing the missed opportunity, Ja two-wayed Jay to ask, "Why the backpack n*ggas and not me, your n*gga?" Ja found Hova's answer to be disturbing. "[Jay-Z] said, 'I'ma tell you this one time, 'cause I feel I f*cked up, but don't ever ask me my personal business again,"' Ja recounts in amazement.
For those who weren't around for two-way pagers and the Sprite Liquid Mix Tour era, once upon a time, now-household names like Talib Kweli, Nappy Roots, and N.E.R.D. (the other major acts on that tour) were at one point considered underground, alternative, "weirdo" hip-hop, and it was a huge coup for the tour to land the jiggiest of big-name rappers. In fact, it may be that was actually the beginning of Jay-Z's helping to bridge the gap between alternative and "mainstream" rap, leading indirectly to the modern era of singing rappers who talk social issues and strip clubs while headlining national tours. In a way, it seems we have Ja Rule and Irv Gotti to thank for indirectly helping to make hip-hop the diverse musical landscape it is today.