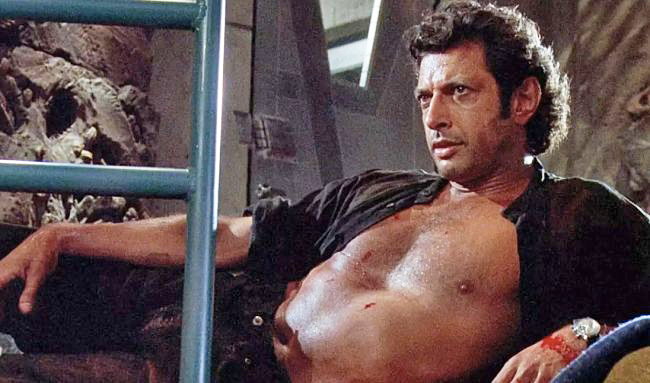 Jeff Goldblum: What will he do next? Whether it's his sing-songy line deliveries or his borderline alien hand gestures, one never knows what to expect moment by moment. So here's another leftfield shock: Goldblum can add "best-selling jazz musician" to a CV that already includes "acclaimed actor," "men's fashion guru," and "rare touchy-feely older man that all women who know him don't find in any way creepy." Because of course he can. Goldblum is so unpredictable that impossibly random news is in itself predictable.
Now, the world already knew he had a jazz album, entitled The Capitol Studios Sessions, attributed to Jeff Goldblum & The Mildred Snitzer Orchestra. But as per The Hollywood Reporter, the record, released on November 9, has just jumped to the top of the charts — the Traditional Jazz Albums Billboard charts, that is.
Granted, it's a bit of a Pyrrhic victory. Jazz in 2018 doesn't sell like it did in, say, 1964 — the year of Herbie Hancock's Empyrean Isles, which contains "Cantaloupe Island," the classic that kicks off Goldblum and his outfit's debut album. That is to say Sessions has so far moved a mere 3,000 units — nowhere near Lady Gaga's A Star is Born soundtrack, though also not something to sneeze at in an era when no one's buying music anyway. (Good time to note that the record lives on Spotify?)

Sessions is a live album, with the Thor: Ragnarok scene-stealer on piano, offering traditional, retro takes on jazz standards, like "Caravan" and "Come On-A-My House," and jazz standard-sounding covers of Nina Simone and Marvin Gaye. There's also a fair amount of Goldblum commentary and progressive banter (with guest singer Sarah Silverman!) about climate change and Jurassic Park references, though not enough to ruin the mood or upstage his fellow musicians.
Goldblum told Billboard in September that he wanted it to summon an era "when jazz was fun, social, sexy music, instead of something a little more esoteric."
You can watch video of the band playing the album's maiden track, with the actor — who unaccountably did not win an Oscar for his devastating (and vomit-inducingly gross) turn in David Cronenberg's loose 1986 remake of The Fly — largely turning things over to his lesser-known band members, all while making highly Goldblumian faces and gestures.
(Via THR)