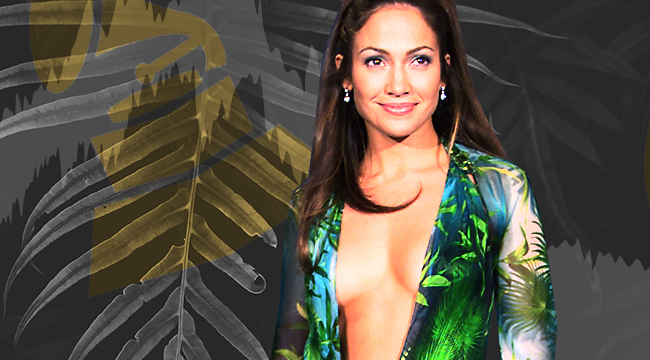 The Grammys, by their very nature, are iconic. The ceremonies are meant to honor to the biggest and the best, so important moments are bound to happen. The 42nd Grammy Awards, though — which were held on February 23, 2000 — were uncommonly special for multiple reasons. First, the Record Of The Year nominees are all still monumental songs (but cheesy… definitely cheesy): "I Want It That Way" by The Backstreet Boys, "Believe" by Cher, "Livin' La Vida Loca" by Ricky Martin, "No Scrubs" by TLC, and the winner, "Smooth" by Santana featuring Rob Thomas.
Second, Santana had a huge night: His eight wins tied Michael Jackson's record for the most Grammys in one year, a record that still stands.
Third, and most famously, there was the dress.
Accompanied by her then-boyfriend Diddy, Jennifer Lopez showed up at the Grammys wearing a green, leaf-and-bamboo-patterned, silk chiffon Versace dress with a "neckline" that went all the way down past her belly button, towards territory that sparked imaginative thoughts in anybody capable of physical desire.
It's hard to picture a time when Lopez wasn't widely known as a talented and alluring pop culture mainstay, but let's remember where she was in February 2000: Lopez released her debut single, "If You Had My Love," in May 1999, which topped the charts and, along with "Waiting For Tonight" later that year in October, established Lopez as a singer on the rise. At this point, it was clear that she was an attractive and engaging woman. It was the dress, however, that established her as a paradigm-shifting sex symbol, powerful enough to overshadow one of the most famous actors in the world.
The X-Files, in the midst of its seventh season at this point, was one of the most-watched and most-discussed programs on TV, especially since it was announced that star David Duchovny (aka FBI special agent Fox Mulder) would be leaving the show as a full-time cast member after that season. Duchovny was paired with Lopez to present the night's first award, for Best R&B Album, and after waiting for the cheers and construction worker catcall whistling of the audience to die down, he said what everybody was thinking: "Well Jennifer, this is the first time in five or six years that I am sure that nobody is looking at me."
Lopez later described the energy of that moment in a 2013 interview with W magazine, comparing the sound of the room as "a roar":
"When I came onstage with David Duchovny, who was the biggest star in the world then, he said to the audience, 'Nobody is looking at me.' This loud sound started from the back of the room — it was kind of like a roar, over me in the dress. When I went to my seat, I said, 'What's the big deal?!' Puffy and [manager Benny Medina] were waiting, and they said, 'You have to take pictures in that dress.'"
Pictures were definitely taken, and it was these photos that helped forge the path of the internet as we know it today.
Back in 2000, you couldn't measure online activity by retweets or hashtags because such quantifiers did not exist. There is one thing we know for sure, though: Going viral wasn't even a thing in the year 2000, but Jennifer Lopez did it. There's no denying that: A photo of Lopez and Duchovny was downloaded from the Grammys website 642,917 times over a 24-hour period. To put this in perspective, let's figure out how that number translates into a modern metric.
A photo with 642,917 retweets right now would be the 20th most popular tweet in Twitter history. Keep in mind, though, that in early 2000, there were only about 300 million internet users. Today, there are approximately 3.9 billion users, so about 13 times as many. Do the math, and based on the parameters I just set, the 642,917 downloads in 2000 is equal to about 8.3 million retweets in 2018. That easily surpasses Carter Wilkerson's Wendy's chicken nugget tweet from last year, which currently has over 3.6 million retweets, as the biggest tweet ever.
This methodology isn't necessarily scientific, but it's at least indicative of how culturally game-changing that moment was and gives an idea of what this sort of mania might look like today. Lopez and the dress didn't just generate defining content, but they also shaped how future internet stuff of its ilk would be found and consumed, since the photo was largely responsible for the existence of one of today's most-used online tools: Google Images.
In 2015, Google's Eric Schmidt wrote:
"When Google was launched, people were amazed that they were able to find out about almost anything by typing just a few words into a computer. The engineering behind it was technically complicated, but what you got was pretty rough: A page of text, broken up by ten blue links. It was better than anything else, but not great by today's standards.

So our co-founders Larry Page and Sergey Brin — like all other successful inventors — kept iterating. They started with images. After all, people wanted more than just text. This first became apparent after the 2000 Grammy Awards, where Jennifer Lopez wore a green dress that, well, caught the world's attention. At the time, it was the most popular search query we had ever seen. But we had no surefire way of getting users exactly what they wanted: J­-Lo wearing that dress. Google Image Search was born."
What would it take nowadays for a pop culture moment to change how a fundamental aspect of the internet works, to become the most overwhelmingly popular Google search ever? It may not be possible, because the dress' impact on the internet is the result of several factors that probably couldn't be replicated.
At the time, the world wide web was becoming a more visual medium, but it was still waiting for a catalyst to make people realize how important imagery was to their online experience. Lopez became that catalyst. The dress was also stunning, but really, it wasn't even the garment itself that was the main attraction. We know this because the same dress was worn publicly two times before without measurable seismic activity due to every jaw on earth hitting the floor at once: By Spice Girls' Geri Halliwell in January 2000, and by Donatella Versace, the dress' designer, at the Met Gala in 1999. Simply put, Jennifer Lopez blowing the world away at the 2000 Grammys was possible because it was the right dress worn by the right person at the right time in human history.
There are important differences between Kim Kardashian and Lopez's versions of "breaking the internet": Whereas Kardashian's web-destroying Paper magazine photos in 2014 felt forced (the phrase "break the internet" was literally on the cover), Lopez did it without even realizing it was possible. She didn't set out to make it happen: It just happened. Kardashian's stunt went down in an era where the internet was too well established to actually be fundamentally affected by a photo, but Lopez and her dress came along when the very foundation of the internet's functionality was looking to make a huge leap, and both were monumental enough to prompt significant honest-to-goodness change.
The Grammys are iconic, but has there ever been another moment in the history of the ceremonies that has impacted culture at large as much as J-Lo's dress? Not just music or entertainment, but culture? I say no. It doesn't take the investigational talent of agent Mulder to understand how paranormal of an effect that ever-descending neckline had and continues to have.