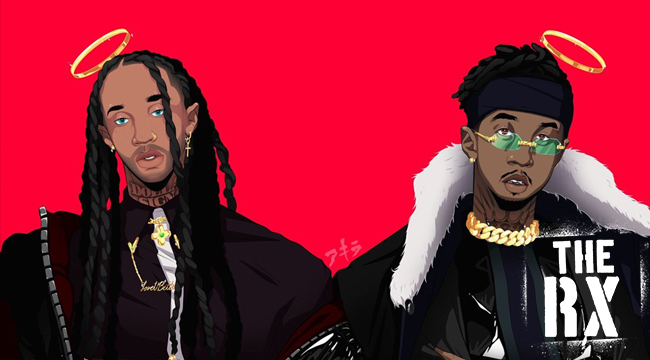 The RX is Uproxx Music's stamp of approval for the best albums, songs, and music stories throughout the year. Inclusion in this category is the highest distinction we can bestow, and signals the most important music being released throughout the year. The RX is the music you need, right now.
Jeremih and Ty Dolla Sign have collectively been featured on so many of hip-hop's hits over the past decade or so that it's legitimately astonishing they've found the time to connect for Mih-Ty, their own take on the collaborative album trend that's taken over rap in recent years, expanding from their own 2015 collab, "Impatient."
However, unlike with rap, the duet format lends itself almost effortlessly to the R&B approach, where uniquely suited voices can play off each other and create harmonies and chords that just can't naturally form in rap, unless you're looking at archaic (and criminally underused) group flows like those of early collectives like The Cold Crush Brothers, famously of Wild Style, and newer bands paying homage to them like Jurassic 5.
Where Mih-Ty stands out, though, is in its singular position grounded in each discipline. Say what you want about Jeremih and Ty Dolla Sign, those brothers can legitimately sing and both demonstrate the full range of their gifts here. Meanwhile, their traditionally-honed vocals are balanced by songwriting and delivery which is firmly rooted in the tenets of hip-hop. They can be blunt, straightforward, even crass, but leavened by smart wordplay and streetwise observational storytelling that makes Mih-Ty easily one of the better R&B or hip-hop albums of the year, joint or otherwise, to the point of blurring the line between the two genres until they form a seamless melange of styles, old, new, traditional, and progressive.
One of the first things that might jump out on initial listens is how familiar the music sounds, from the beats to the melodies on the relentlessly catchy choruses. This isn't an accident; the tracks interpolate well-known '90s jams like "Back In The Day" by Ahmad from the soundtrack of The Wood, to the obvious sample of The Notorious B.I.G. and R. Kelly's "F*ck You Tonight" on "FYT." By evoking the best combos of rap and soul from the most nostalgic decade of their generation, they highlight both their grounding in the history of Mih-Ty's musical DNA and draw on the soul-tugging power of those older hits, upgraded with more timely slang and references that modernize them even as they fire off flares of recognition. It's a perfect recipe for multi-generational appeal, hijacked right from the playbook of the original master of the form, Puff Daddy himself.
Of course, using the same formula would old result in a cold reception for an inferior product if they didn't have the sauce to pull it off — or depart from it, when necessary. Fortunately for MihTy (the group), they're both proven, well-established writers who've individually crafted a truly jaw-dropping number of chart fixtures between them, besides showing off their gifts for collaboration with many of hip-hop's most prominent performers, from Kendrick Lamar and J. Cole to Kanye, Drake, and Migos.
In fact, their chameleonic ability to adjust to the faculties of their collaborators is one of this tape's greatest strengths. Take the nostalgic "These Days," which plays to the trained ear like a Ty Dolla song, with its breezy west coast flair that Jeremih plugs into and elevates, while just two tracks later, on the chilly, Chi-town soul-soaked "Lie 2 Me," Jeremih plays lead, buttressed by Ty's warmer tones. A subtle thing they like to do is lend each other the first verses on the tracks that clearly reflect the personality of one or the other, which is slickly surprising each time. "Ride It" is an obvious Ty track, but Jeremih comes in first, letting the combination catch the listener off-guard before bringing in the song's clear lead.
It's these quirky juxtapositions and flips on expectations that make Mih-Ty work so well. With Ty's buttery tone and rougher lows layered under Jeremih's syrupy, bright delivery, their complementary vocals are like the toppings on the fluffy, comfortingly nostalgic beats and groovy, head-nodding production provided by the likes of Hitmaka (formerly Young Berg), CuBeatz, and Ayo & Keys. But the details, the way these accomplished studio sorcerers perform the behind-the-scenes alchemy of crafting songs with some of their fellow under-the-radar peers like songwriters Arin Ray and Eric Bellinger, are what truly help create such a well-rounded product. At only 11 tracks it's also one of the more listenable records of a year stacked with ultra-long projects with little replay value — again, they flip the expectation, putting the emphasis on replayability, songs that stick with you long after the initial listen, like comfort food. It's an extremely satisfying listen that you can't wait to take in again and again.
MihTy is out now via Def Jam and Atlantic. Get it here.
Ty Dolla Sign is a Warner Music artist. Uproxx is an independent subsidiary of Warner Music.