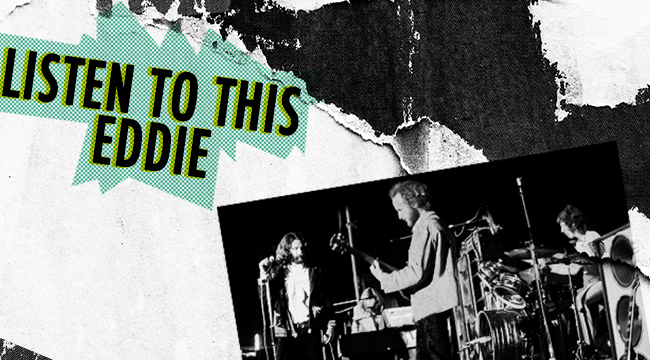 Listen To This Eddie is a weekly column that examines the important people and events in the classic rock canon and how they continue to impact the world of popular music.
600,000 people. That was the size of the crowd the Doors faced down at 2 AM on Saturday, August 29, 1970. The LA rockers were booked to perform in the middle of the last great rock festival of the Woodstock/Altamont/Monterey Pop-era, alongside the likes of the Who, Jimi Hendrix, Miles Davis, Sly And The Family Stone, and Leonard Cohen to name just a few. Though they played shrouded in a near-incomprehensible darkness, bathed in an ominous red hue, The Doors knocked it out of the park, putting together an hour-long set that serves as a dramatic final capstone to their touring career.
The summer of 1970 was a fraught time for the Doors. Jim Morrison was facing years in prison after being charged with flashing his penis during a show in Miami. During a break in the legal proceedings, the band came to the UK under the promise of a nice pay day, and hopefully a good time. The results, which have been locked away for years, will finally be on view thanks to a new DVD titled The Doors: Live At The Isle Of Wight 1970 that's set to drop next month on February 23.
Straying far from his reputation as one of rock's most unpredictable frontman, Morrison hardly moves a muscle while crooning his way through a truncated setlist of the band's most beloved songs like "Break On Through To The Other Side" and "When The Music's Over." The bearded frontman doesn't need to divert into antics to totally capture your attention. His vibe is almost shamanic. The musicians in the band are on their A-game as well. The group's biggest hit, "Light My Fire" gains new life as a stretched-out, psychedelic jam, while the set-ender "The End" is as mystic, and explosive as ever.
Recently, I had the chance to talk to the Doors' drummer John Densmore about the group's latest archival release, what it was like to perform at that iconic festival, and where the Doors might have gone had Jim Morrison not died prematurely the following year in Paris.

What was the state of the band like in August 1970 heading into the Isle Of Wight gig?
Well, Jim was obviously pre-occupied by the trial in Miami. They flew him over to the Isle Of Wight for the weekend. He still sang great, he just didn't jump around too much. Sometimes he was very theatrical. Sometimes he'd lay on the floor. Who knows? We were excited to be there. The lineup was incredible. The fans knocked the fences down because either it was too expensive or they didn't have enough toilets. I don't know what the hell. It was sorta like the end of the pop festival scene and it makes it kind of interesting.
Ray Manzarek has that great quote about Jim that night, that "Dionysus had been shackled," just because he really didn't seem to move much.
Yeah, well he sang really well, that's for sure.
It's kind of incredible to watch him smoke a cigarette while singing "The End."
[Laughs] Well, that was the end of his lungs.
Had you seen what had happened at Altamont a few months earlier and were you concerned that might happen at Isle Of Wight?
There weren't Hells Angels there, were there? We weren't really concerned about that. It was kinda sad to see Woodstock turn into Altamont, but I wanna say that in the greater overview, in the long run, the values of the '60s, civil rights, peace and the women's movement, didn't fail. They're big seeds that will maybe take 100 years to come to full fruition.

You mentioned Jim's case in Miami, did it feel like however that went down, it might bring about the end of the band?
No. Jim's defense was that it was freedom of speech, but he didn't expose himself. But, at the time, people did like in the play Hair. It was confronting mores and such. Artists always push the envelope. Ultimately, they convicted him of exposing himself, and they didn't convict him of public drunkenness which did happen.
Did you guys feel like you were being targeted by the authorities at large?
Yeah, most definitely. We reflected all the young, long-haired kids and the establishment wanted to stop that. After Miami, there was a Rally For Decent in the Orange Bowl and President Nixon sent a congratulatory note. Anita Bryant was there, a well-known homophobic. Jackie Gleason…God. It's kinda like now. Just like during the Vietnam War when the country was polarized, it's polarized now.
What was the vibe like backstage before you guys went on at the Isle Of Wight?
It was cold and dark, but [The Who's] Roger Daltrey offered us peppermint schnapps to warm up. Surprisingly Jim didn't partake. "Mr. Alcohol" took a pass. I guess Miami was weighing on his mind. Donovan was there. I remember watching The Who and really scrutinized Keith Moon's playing. He was terrific.
Yeah, as a drummer I can only imagine your impressions of Keith.
He conducted an orchestra of drums.
How did you guys come up with the setlist that night?
I was always in charge of the setlist. The only trouble was I couldn't get them to agree past three or four songs. Then we'd argue onstage or something. The setlists were fairly much the same. We'd choose from two or three different songs, then we'd close with two or three different songs and mix it up in the middle.
Could you see the crowd?
Yeah, but not all of them. The light was low. You can see how dark it was.
What does it feel like to play in front of 600,000 people?
The first time we had a big concert like at Madison Square Garden, it was very, very exciting. It's mass adulation. But you know, you do that a few times and it all becomes the same. For me, the most exciting time was [playing] small concert halls after the Whisky, after the club scene, after we graduated from the second bill. That feeling like we were actually going to make a living playing music. That the train was leaving the station and it was going to happen was incredibly exciting.
Why did it take so long for your full Isle Of Wight concert to finally emerge?
Murray Lerner, RIP, was a very difficult man. He directed it. There are some excerpts where Murray interviewed us, me and [Doors guitarist] Robby [Krieger] a year ago, and boy was he grouchy! We were reflecting on all these things. Jim is not with us, so it's special to have any footage of him.
What was your impression when you finally got to watch the full set back?
We all played well. I was pleased by that. It was contained; like boiling soup with the lid on it.

This was the third to last gig you played with Jim as part of the Doors. Can you talk about what happened at that final show in New Orleans on December 12, 1970.
You say it was third to last, what was the second?
Wasn't there a gig in Dallas?
You're right, that's correct! Dallas was kind of inspiring because we played "Riders On The Storm" for the first time live, and we thought, "Wow, maybe we could have sort of a jazzy, mid-line career?" Then the next night, Jim was just down. Maybe he was slightly drunk, but not that drunk. He seemed to have no energy. I had been begging Ray and Robby to get off the road, because Jim was, well, he was becoming an alcoholic, and at the time, we didn't have substance abuse facilities. We didn't know he had a disease, but I knew something was wrong. I knew there was an elephant in the room. It took about a year to get them to [agree]. You know, in the studio, if he's not doing well, you go home. But if you're in front of 10,000 people, whoa! It's a problem. We were so good live, and I hated seeing that get eroded. I wanted to get him off the road for a while. So, frankly, as much of a letdown as it was to the audience in New Orleans, I was relieved. Well, we went out for a drink after, just me Ray and Robby, and I was like, "Okay?" and they were like "Okay." So we stopped.
Did you think you guys could have continued on as a recording only entity?
I think we could've, yeah. And we were all interested in films. Maybe we would've gotten into that?
When was the last time you talked to Jim?
He called me from Paris. He was very curious as to how "L.A. Woman" was doing. "Great Jim, they want a second single."