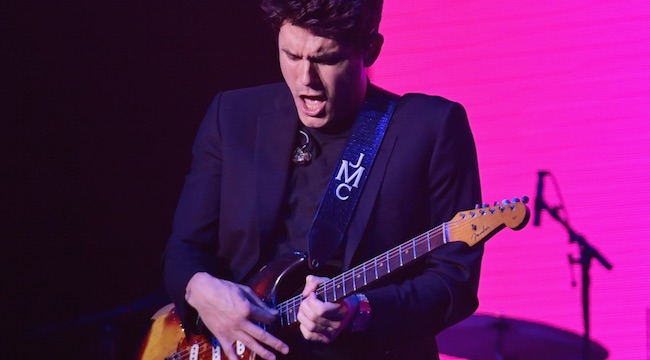 Bozeman is a small city in southwestern Montana, where about 43,000 people lay their heads at night. The quiet community is also home to a Gibson Guitar production facility, Montana State University, and as of 2012 or so, John Mayer, one of the world's most recognizable public figures. He moved there following a vocal cord surgery and subsequent hiatus in 2011, and to anybody who knew what John Mayer the pop culture mainstay was all about, it was a peculiar step.
Mayer became a tabloid staple and paparazzi target due to his high-profile relationships and Hollywood lifestyle. A lot of people knew that side of him better than they did his music. The infamous 2010 Playboy interview in which he came off as, to be frank, a real dick, was the culmination of it all, apparent proof that Mayer was the disillusioned pop star it seemed he was. Despite the backlash, however, he was a guy we heard from a lot and didn't seem to hate that much; He may have been a bit of a bro, sure, but ultimately, he was harmless.
In recent years, Mayer's been pretty quiet, in that he doesn't feel like a significant part of the pop culture landscape anymore. When he relocated to the 48th most densely populated state, it seems he left pop music behind along with the city. Singles like "Daughters," "Waiting On The World To Change," and "Say" kept his name on the brain in the mid-2000s. Even "Who Says" was a minor hit in 2009, and the Taylor Swift-featuring "Half Of My Heart" was getting plenty of airplay in 2010. Since that collaboration, he hasn't had a top-40 single.
But here's the thing: John Mayer never left pop music. Pop changes, but Mayer is still doing what he set out to do, even if that means he's not as radio-friendly as he once was. He was never a pop artist. Rather, the music he wanted to make happened to coincide with what was en vogue in the 2000s, when his popularity reached its apex. John Mayer never left pop — it left him.
There's real data to prove this, too. Rock-leaning songs accounted for 26 of the tracks on the year-end Billboard Hot 100 chart for 2002, the year he released his debut single "No Such Thing," according to The Boston Globe (Editor's note: that article was written by the author of this piece). By 2015, that number was down to 13, cut in half. Pop morphs over time, and that's just how it goes; people gravitate towards the new and exciting things that come along, and new artists fill new interests as they emerge.
As Mayer approaches 40 years old, though, he's content with playing the music he wants to play, even if it's not what the Spotify generation wants to hear. He's done some growing up and learned how to be more comfortable with himself. In 2012, he made his first public appearance since his hiatus on Ellen and said as much, that behaving how he did in his 20's made less sense as he grew older:
The plan that originally gets you out of your high school and your hometown and in front of people: That plan was over. I had done it. I sort of lost my head for a while. I did a couple dumb interviews, and it kind of woke me up.
Mayer later added that he realized he needed to "be 33 and 34 instead of 28 for the fourth year," and acting his age is something he's stuck to. He recently told Charlie Rose that he's more careful when talking about his former flames, and he didn't seem that bothered when he found out that his new album, The Search For Everything, shared its release date with Kendrick Lamar's majorly hyped record DAMN. He knows he can't compete with the young guns anymore, and while a younger Mayer may have been more dramatic about the conflict, a more mature Mayer made a lighthearted joke about it on Instagram and said how excited he was to hear Kendrick's new stuff.
A 2001 profile from Atlanta-based newspaper Creative Loafing begins by calling Mayer "the antithesis of your everyday average wannabe pop/rock star," which sounds ironic now in light of his wilder days, but musically, it feels right. Mayer has always been a fervent appreciator of traditional American music, and between the events of his sometimes controversial personal life, he's been playing it all along.
Room For Squares is about as poppy as Mayer ever got, which is fair, considering that at the time, he was in his early twenties and trying to have a successful debut album. But even on that record, he made room for the jazz-inspired "Neon" and the bluesy "City Love." His exploration of blues continued on Heavier Things and even more overtly on Continuum and John Mayer Trio's Try!, neither of which can really be described as anything but true blues records. Battle Studies, Born And Raised, and Paradise Valley saw Mayer go full Americana, enthusiastically diving into folk, country, and southern rock.
The Search For Everything is another feather in Mayer's Americana cap, proof that he's committed to doing exactly what he wants to do. He hasn't had a big single in a while, but being himself is still working just fine: We can't speak for The Search For Everything just yet, but all of his albums since Heavier Things have peaked at the first or second spot on the Billboard 200 chart.
The twenty-something Mayer who prided himself on abstaining from smoking, drinking, and using drugs never wanted to be a pop star all that much, and although he may have lost sight of that for a while, it was never evident in his creative output. He was a TMZ icon for a minute there, but after some time away from pop, he seems to have realized that it's fine he's not a part of it anymore. In a way, he never really was. John Mayer has always belonged in Bozeman, Montana, and now, he's there.