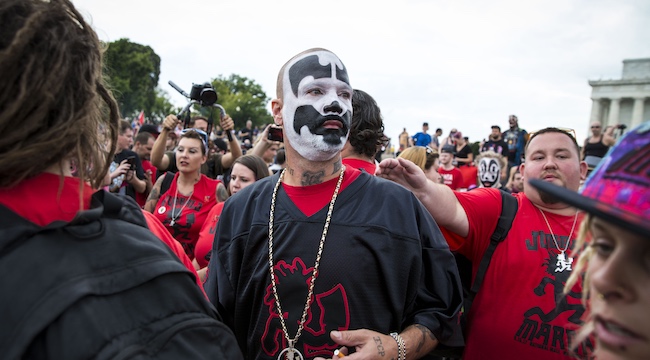 With the wide availability of streaming services, there's not much of a reason for most listeners to resort to torrenting (aka illegally downloading) their favorite albums anymore. That said, there are those who still do it, whether they want their own digital files because they haven't made the move to streaming yet, or because they're DJs and having direct access to those files is important for their work (but paying for those files isn't). If you're really committed to the torrenting life, there are ways to go about it that you won't get caught (…or so I've heard…), but there's at least one Insane Clown Posse fan in Lansing, Michigan who isn't aware of such methods.

The tweet above is from Scotty Bell, the talent buyer for Mac's Bar, and it shows that the establishment received 500 DMCA (Digital Millennium Copyright Act) notices because somebody downloaded Three 6 Mafia's discography over the bar's WiFi. Each notice (which is similar to a cease-and-desist letter) notes the time of the violation, and Bell figured out that they all took place during "a local juggalo Valentine's Day hip-hop show."
When asked by Noisey about the Juggalo Valentine's show, Bell responded:
"I mean… in Michigan, that's a big genre for us. Every act that played was like, juggalo or horrorcore rap. There's between eight or ten acts that played that night and the theme on the flyer was 'be my Valentine, battle of the sexes,' stuff like that. Someone must have gotten the WiFi password or the DJ got it from the bartender. Apparently they needed to download all of Three 6 Mafia's discography because every single piece of paper is a Three 6 Mafia song, without exception. From there they also downloaded Young Buck's Straight Outta Cashville, which is also a classic."
Bell doesn't seem too upset with the offending ICP fan: When asked about his next steps, he said, "I think we might frame a couple of [the notices]. We might frame the 'Slob On My Knob' one." The FBI still isn't cool with juggalos, though, since they still consider them to be gang members.