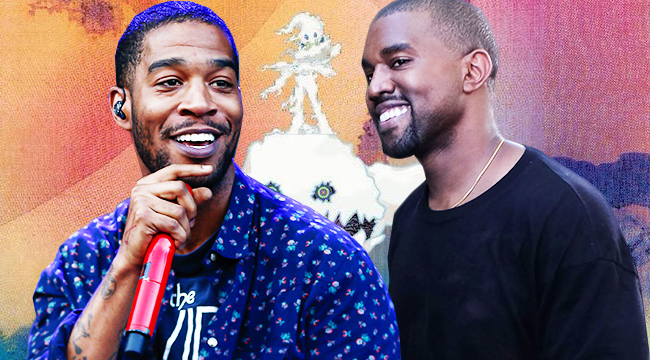 Though it took a full decade before they finally, formally named their creative partnership, Kanye West and Kid Cudi have reigned over that same length of time as one of the most compelling duos in all of hip-hop. Kids See Ghosts, the name they chose for their pairing, which is also the name of their latest, seven track album, is just the latest step forward in an alliance that has shaped the sound of the entire genre going back to the release of Kanye's polarizing, but hugely influential fourth album 808s & Heartbreak, advanced with Cudi's Man On The Moon series, and kept alive through a smattering of different creative hook-ups through pretty much all of Kanye's releases since then. It's no wonder that of the three albums that Yeezy has unveiled from his Wyoming sessions that Kids See Ghosts is the most cohesive and well-executed.
Cudi and Ye met for the first time inside of a Virgin Megastore — for those born after 1995, this is an extinct brick and mortar record retailer — back in 2006 while the former was still looking to break out into the music field and the latter was riding high on the success of his multi-platinum album Late Registration. "I was looking at CDs, saw the gleam of a Jesus piece in the right side of my eye, looked up, and it was Kanye West," he recalled to Spin. Cudi introduced himself and offered to share some of his music with Kanye, but he wasn't interested at the time. For whatever reason, despite the rejection, he remained fixed about working with Yeezy. "I said, 'We'll be working together one day soon.'"
Cudi's premonition came true in 2008 shortly after dropping his career-making single, the syrupy "Day 'N' Nite." Kanye took notice, and ultimately signed him as one of the first acts to his label GOOD Music, then invited him out to Hawaii to help him assemble the music for Jay-Z's upcoming album The Blueprint 3. It was evident from the jump that the two men had an undeniable chemistry in the studio, to the point that Kanye decided to keep some of the material that was meant for Jay's record for his own upcoming project.
"When we did 'Heartless,' [Kanye] just stopped and said, 'No," Cudi said recalled back in 2014. "I was like, 'No what?' He was like, 'No way. This is my record.' I was like, 'Come on man. Can we just finish the guy's album man?' He was like, 'Nope. I'm doing an album.'"
After the maximalist "throw everything including the kitchen sink" aesthetic of his last record Graduation, and with the devastating loss of his mother still fresh on his mind, Kanye was ready for a sonic swerve into darker and more contemplative vibe, and Cudi, with his minor-key hums was the perfect avatar to help him see that vision through. Two of the most soul-sucking tracks on the album "Welcome To Heartbreak," and "Heartless" came from their shared creativity, with Kanye pouring out all of his pain and loneliness, especially on the former song — "chased the good life my whole life long / Look back on my life and my life gone / Where did I go wrong?" — over a simple drum and bass pattern while Cudi crooned the dizzying chorus.
It took quite a long time for the public and the critical elite to catch onto to the direction the two men were pursuing, but after a few years, and especially in the wake of the success Drake enjoyed by leaning into that ponder-your-entire-existence-while-wiped-out-at-three-in-the-morning aesthetic, 808s has emerged as one of the most influential albums of the 21st century. It was only the beginning.
On his first two albums, Man On The Moon: The End Of Day and Man on the Moon II: The Legend Of Mr. Rager, Cudi doubled-down on the template that he and Yeezy crafted with their earlier work, with the latter's presence felt more deeply on the first project, for which he served as the executive producer. It's no coincident that Man On The Moon: The End Of Day also happens to be the creative peak of Cudi's career thus far, propelled as it is by the psychedelic-tinged bangers like "Sky Might Fall" and "Pursuit Of Happiness."
In 2010, Cudi departed for Kanye's acclaimed rap camp back in Hawaii to help him assemble his magnum opus My Beautiful Dark Twisted Fantasy, contributing an eviscerating verse of the album's second track "Gorgeous." He also showed up on the GOOD Friday loosies "Christian Dior Denim Flow" and "The Joy." Shortly thereafter, Cudi decided to take his career in new directions, dipping his toe into the world of alt-rock with Dot Da Genius for a new band called WZRD and releasing a self-titled record in 2012. Perhaps not coincidentally, Kanye also decided to explore more sonically aggressive sounds around this time with his Cruel Summer compilation album and sixth solo album Yeezus. Cudi added some uncredited guest vocals to the song "Guilt Trip" from that record.
In 2013, Cudi announced he had formally left GOOD Music after the release of Indicud, and over the next few years he and his mentor enjoyed a generally pleasant public relationship, while Cudi dropped new projects to increasing amounts of critical scorn and public indifference. Kanye went out of his way to praise Cudi's otherwise lambasted Speeding Bullet 2 Heaven, while Cudi popped back up in the studio to help out his mentor on two of the best tracks from his sprawling 2016 album The Life Of Pablo, adding his signature, miasmic warble to "Father Stretch My Hands Pt. 1," and "Waves." Then, things took a turn.
In September 2016, Cudi took to Twitter to call out Kanye as well as Drake, blasting them because they, "think they're soooo great. Talkin top 5 and be having 30 people write songs for them." Despite Cudi's on-the-record battles with depression which he almost certainly knew about, Yeezy decided not to turn the other cheek and hit back at his mentee, writing "I birthed you. We all dealing with that emo shit all the time… don't try to say who I can do songs with. You mad 'cause I'm doing songs with Drake? Can't nobody tell 'Ye who to do songs with. Respect the God!" Drake took things a step further, rolling out a diss track titled "Two Birds, One Stone."
Perhaps Kanye got word that all wasn't well with Cudi, because a few days later he wrote, "I just want to take this time and say Kid Cudi is my brother and I hope he's doing well tonight." Shortly after that, Cudi checked into rehab after battling against suicidal urges, explaining in a statement on Facebook that, "I guess I give so much of myself to others I forgot that I need to show myself some love too. I think I never really knew how. I'm scared, I'm sad, I feel like I let a lot of people down and again, I'm sorry. It's time I fix me."
While on the mend, Cudi eventually showed up during Kanye's now infamous breakdown at his Saint Pablo concert in Sacramento, California where he lashed out at Jay-Z, praised Donald Trump, and seemed to go generally off the rails. Poignantly, through all the incomprehensible thoughts and dark ideas, he also took a moment to praise Cudi. "You know who the greatest of all of us?" Kanye asked the increasingly agitated crowd. "Kid motherf*cking Cudi!" A few days later Ye was forcibly hospitalized and later revealed that during this time he was battling an addiction to opioids after undergoing plastic surgery.
All of that brings us to Kids See Ghosts. Far more than Ye, Kanye's undercooked eighth solo album that came out the week before, this is an album that explores the different facets of mental illness with a knowing depth that demands repeat listening. One has to assume that much of the depth and clear-eyed reflection stems from Cudi, who has been ruminating on this topic for years. Together, the pair created a record that's a world unto itself, commiserating in their joint struggles, while offering doses of empathy that only come from experience. Freed from the single spotlight, Kanye ditches some of the braggadocios ferocity that runs through Ye, and cuts to the very core of his outlook and behavior that's defined this last year, especially on the album's standout track "Reborn."
"I was, off the chain, I was often drained / I was off the meds, I was called insane / What an awesome thing, engulfed in shame / I want all the rain, I want all the pain / I want all the smoke, I want all the blame
As has been true throughout his career, Kanye also forces Cudi to elevate his game as well. His hooks are as tight as they are engaging. More often than not he represents the good angel on Yeezy's shoulder trying to bring him back from a brink that remains all-too-familiar to both of them. "I can still feel the love!" he defiantly proclaims on the albums opening track. "Keep moving forward," he implores on "Reborn." "Stay strong!" he commands on the final song "Cudi Montage." If the sounds here are generally dark and at times caustic, the message hovering above it all is clear. It gets better.
While Cudi and Kanye will always have their detractors — the former's critics tagging him for being overly monochromatic and surface-level in his music, while the latter's sins are almost too numerous to count at this point — you can't deny the fact that they have consistently gotten the best out of one another for an impressively lengthy amount of time, shifting the paradigm in hip-hop this way and that with seemingly each new release. While Kids See Ghosts might mark their first foray as a formal duo, it's merely the next chapter in one of the most fruitful collaborations in hip-hop history.