"He always said he didn't want to release an album until he knew it was going to sell a million copies," Dreka Gates remembers. "And then it did, which is f*cking amazing."
The above quote is, in essence, the story of Baton Rouge rapper Kevin Gates' debut studio album Islah, which was quietly and unquestionably the biggest underdog success story in music last year. Dreka is Kevin's wife, yes, but she is also his manager, advisor, partner, the co-founder of their label Bread Winners Association, and the liaison who is a part of "literally every single process that is involved with Kevin Gates." And when she says her husband's path to a million records sold is "f*cking amazing" she's not just being a proud wife, or even a proud business partner — she's one hundred percent correct.
An underground rapper selling a million copies of his debut album? That alone would've made Islah one of the best stories of 2016, but the way he garnered that platinum plaque just might make Islah the most important album of the past year. (A measly twenty albums went platinum in 2016 — nine of those were part of a Garth Brooks box set, but that's a story for another day.)
Yes, there were more culturally impactful albums, like Beyonce's Lemonade, or bigger albums like Drake's large-enough-to-have-its-own-orbit LP Views. And sure, Chance The Rapper saw a "mixtape" hit the Billboard chart on streams alone, all while he successfully spearheaded a movement to get the Grammys to recognize streaming-only albums. But Chance was already a media darling, championed by superstars and a network of other celebrities eager to lap up some of the online buzz that propels him ever forward.
On the other hand, Gates and his team function independently from a crew of other celebrities and industry players. Kevin was the ying to Chance's yang. He'd long been cast aside, a pariah who was once hailed, but social media snafus and an incident with a concertgoer put him in legal trouble and saw him become an internet personality — for all the wrong reasons — rather than a budding star. But his major label debut changed all that.
Islah came out a year ago this week, on January 29, 2016, and in hindsight, it's clear that Gates' debut signified a true shift in industry economics, and the way music is sold and consumed in a new era of streaming. It established Gates' fortitude, his ability to overcome legal setbacks, his staying power with a devoted underground fanbase while going fully mainstream, and offered proof that labels can adapt to help unique artists succeed without catering to the radio or other fads. Kevin Gates may have changed the rap game, but to start unpacking just how he did we have to go back ten years, to his hometown of Baton Rouge, Louisiana.
Doing It The Right Way
Gates cut his teeth on the underground mixtape circuit for nearly a decade before he surfaced in the mainstream, dropping his first project, Pick Of Da Litter, back in 2007. The Baton Rouge MC's beginnings are as humble as they come, he long played third fiddle to fellow Louisiana natives Boosie and Webbie, before gradually forging his own lane and cultivating a rabid fan base organically. After a few jail stints, he finally broke through in 2012, signing a management deal with YMCMB after gaining the attention of Lil Wayne.
In 2013, his mixtape, The Luca Brasi Story, truly began his ascent. Over the next three years, Gates became known for a gritty, almost outlandish brutality that was presented alongside tender honesty and personal fragility on his songs. He would spout out gory tales of street life and drug-dealing just seconds before painfully delving into his own substance abuse, bruised psyche, regrets, doubts, and grueling experiences with depression. He was developing, still-flawed, and brutally honest — fans gravitated towards the rawness in droves.
The mentality that Gates brings to Islah signals a new kind of maturity for him. Yes, he's as grimy and as rambunctious as ever, but the songs are cohesive in their melodic qualities. While he banters about all his promiscuity, he also finds time to rub his girl's feet and agonize over his insecurities: "I'm commitment-shy, so when feelings get involved, I tend to run." On "Pride" he speaks matter-of-factly about not only a break-up but the self-destructive cycle he fell into as a result of it. "I got back on drugs bad" he admits. "My heart was broke, soft and stressin' battlin' with my depression." It's all so painfully honest that listeners can't help but relate and sympathize.
Gates' versatility and his ability to combine his many talents separates him, and Islah, from other rap contemporaries and their latest offerings. He'll launch into a hard-hitting verse full of varied flows and deliveries one moment, then he might move softly into a soothing, harmonic, sung chorus the next. Plus, the album and accompanying videos come with the polish and focus you'd expect from an artist making his leap from the mixtape circuit to his major label debut.
"His approach as far as him making the music wasn't different," said Dreka about the inception of the album. "It was just that there was a little more pressure, so he second-guessed himself a lot because he wanted it to be amazing."
Gates chose to name the record after his daughter, which helps explain his mindset about the importance and value of this record. Ensuring the record lived up to the pressure meant analyzing every detail over and over, a process that led to a tough decision — delaying it. Gates and his team decided to push the album's release back a few months from late 2015 into the first quarter of 2016. While some speculated that the delay was due to a regrettable kicking incident with a fan, for which Gates is currently serving 180 days in jail, legal troubles weren't behind the decision. Actually, it was about timing and letting his early singles build momentum.

Using Radio, Not Relying On It
Internally, the team behind Islah felt they needed to allow the album's two early singles "2 Phones" and "Really Really" time to breathe. In the end, that decision might have made all the difference, because the eventual commercial triumph of Islah was buoyed by the overwhelming success those two singles, which both went double platinum. While detractors may feel the rampant success of one or two songs can inflate sales of an album in our current climate, others feel that with streams now factored into Billboard and Nielsen Soundscan's calculations, it's only now that we're getting an accurate account of what consumers are actually listening to.
Those new calculations also allow artists to reach new heights of success without radio, allowing them to create without radio in mind. This, in turn, gives the artist more freedom while ending the single chase game that has plagued artists like Wale and J. Cole, who looked for label approval as a means to jumpstart their careers.
"I think the radio does a lot for an artist, but you can do a lot without it," Jeff Vaughn, Vice-President of A&R with Artist Publishing Group told Uproxx. "The best artists manage to do that, but radio is still an extremely important part of any promotion process because you're catching a lot of casual and new fans that way. You don't compromise creativity just to get on the radio, though, because that's when it's going to erode your fan base."
With Gates, it's a sticky proposition, as his raunchy, vivid and sometimes downright unpleasant material is what his core fans gravitate towards. So his camp searched for a happy medium, a fine line between the authenticity that makes Gates so appealing while still finding space within that aesthetic where he could succeed on a commercial level.
"For an artist like Kevin, who has a very specific vision musically, and their fan base has a demonstrated appetite for content, emotional content that doesn't necessarily fit on radio, you don't run away from that just to get on the radio," Vaughn advised. "You let the radio come to you, because it's undeniable when fans are requesting your tracks."
Both singles began climbing Billboard charts, with "2 Phones" eventually peaking higher at No. 17 on Billboard's Hot 100 chart. As accessible as both singles were, they were still unorthodox. The chorus to "Really Really" is melodic and exciting, and while "2 Phones" is a bubbly and vibrant production, at its most basic, it's a song about needing multiple cell phones to sell drugs. It's also the rare rap single that features three full verses. The tracks were infectious, but they were able to be so while also being as boisterous, unruly and diverse as any of the other tracks on the album.
The way these two songs took off took Gates and company by surprise, but they quickly recognized the impact the music was having and built off that momentum.
"[The singles] were actually surprises," said Dreka. "They were the result of a really good balance between purposefully looking for singles and ending up with songs that work, a great combination of both."
Often, artists will seek trendy, radio-friendly sounds or big name features to make headway on radio. Gates did neither, turning in Islah with no guest appearances. The phrase "platinum with no features" may have become a trope and an internet meme that playfully ribs J. Cole's similar success with that route, but don't let that undermine just how rare a feat it is, and one that Gates can now tout himself.
"We've included features on the mixtapes, there's no ego about it," Vaughn said of that decision. "But the records that people gravitated towards were the ones where Kevin was by himself."
Vaughn believes the success of the singles was the result of a current industry trend where artists are using multiple, contrasting singles, to cast as wide a net as possible. "If you look at other successful artists of this year — like 21 Savage or Bryson Tiller — many times it was two singles that appealed to two different audiences or complemented one another," he said. "Or they introduced one audience to another audience and the two combined to become something more."
"I think the thing that worked was we always stayed true to Kevin, with anything and everything that we do," Dreka said of Gates' longstanding appeal to listeners. "He has his hardcore fans that have been loving his music since day one. They love the way that he's grown and the music that he's making now."

More Than Just Streaming Numbers
In many ways, Gates' success harkens back to past eras, where singles could carry an album, and gather listeners in large numbers. While fans flocked to the two singles, and online streams helped push Gates towards his platinum status, what pushed him over the top was that the fans then opted to actually buy the music after streaming them.
"If you look at pure sales of Islah, physical and digital versus equivalent, it's actually 50/50," Vaughn revealed. "So if you're at 1.6 million sales, you're still at 800,000 pure sales, physical and digital — that's a significant number. This music is real heart-on-my-sleeve stuff, and I think people always respond to that, whether it's Adele, Ed Sheeran or Kevin Gates."
And mentioning his name amongst giants like Adele is no longer a stretch. In its first week, Islah outsold Adele's mammoth album 25, and along with the No. 1 album that week, Rihanna's Anti, finally knocked it from the top spot on Billboard's Hot 200 albums chart.
In Nielsen's mid-year report in June, Islah was the year's tenth highest-selling album with 690,000 units, coming in behind only industry titans like Drake, Adele, Rihanna, Beyonce, The Weeknd, Justin Bieber and the late Prince. The chart compiled all total album sales, including standard sales, as well as track equivalent albums, and on-demand audio streaming equivalent albums. Gates' total included an impressive 307,000 true album sales, meaning both hard copies and complete digital purchases, but he also touted over 380,000,000 on-demand audio streams, a number higher than Beyonce and Adele. By year's end, that number would jump to nearly 1.2 billion, placing him at number 10 on Nielsen's list of artists ranked by on-demand streaming list, just behind Beyonce and J. Cole.
And while fans came hard for the bigger singles, they also helped prop up not just the album as a whole, but more singles on the album that the label didn't even have plans for. "There's another gold single," Vaughn said, speaking of "Time For That," which received a Salvador Dali-inspired video just before Gates went to jail last October. "We didn't even send that to radio, fans just liked it."
What makes the numbers even more amazing is neither single reached the top 10 of Billboard's Hot 100 chart, or even topped the hip-hop or R&B charts. While it may sound like a slight, that means the popularity of the songs and album was more sustained, and Gates' massive sales and streaming numbers weren't the result of one surge in popularity, but instead a result of continuous, constant listening from fans over a long period of time.
A True Partnership
Gates' massive singles didn't chase current trends or sacrifice any of the grittiness that makes him Kevin Gates, but they did come as a result of contributions from all parties involved. Atlantic may have been notoriously hands-on or overbearing with their major rap releases in the past, but for Kevin Gates and Dreka, the label respected their vision, and always let it take precedence.
"We always make sure that we're still staying true to Kevin, even as we grow and continue to get better," Dreka said of the creative process and working with the label. "We're partners with Atlantic, so we actually work together. They're the machine and we both have the ideas. We work very, very well together, and we make sure that we keep the fans that we've had since day one happy while we also work on gaining new fans."
Embracing the new partnership with Atlantic meant artistic collaboration, and an open mind to suggestions they brought to the table.
"[The label contributes] production and ideas," she said. "They definitely bring a lot of production to the table and ideas for the songs, especially the 'mainstream' songs. But at the end of the day Kevin is Kevin, he's going to switch it up to make it really, really feel true to himself, make it his own."
Dreka especially appreciated the label's emphasis on maintaining her husband's identity while using their resources to build off his fanbase in order to achieve radio and commercial success.
Part of maintaining that identity meant a continual investment in sustaining that steady, organic fanbase through constant touring. Without a doubt, touring is part of what contributed to Gates' ability to supersede radio, and let radio come to him later rather than cater to industry trends. That was a privilege afforded to him after years of groundwork cultivating his fan base on an intimate level.
"To his credit, he invested in his touring and he's invested in his live show," Vaugh said. "We made sure he was on the road. He avoided the nightclub scene and focused on hard ticket touring, so by the time album came out he was already selling out 2,000 capacity rooms across the country, in all markets, without radio. So one of the reason we didn't chase radio was because we didn't have to — he had already put in the work building a really solid fan base. When the music caught up to it the momentum became something even bigger than we expected."
Looking To The Future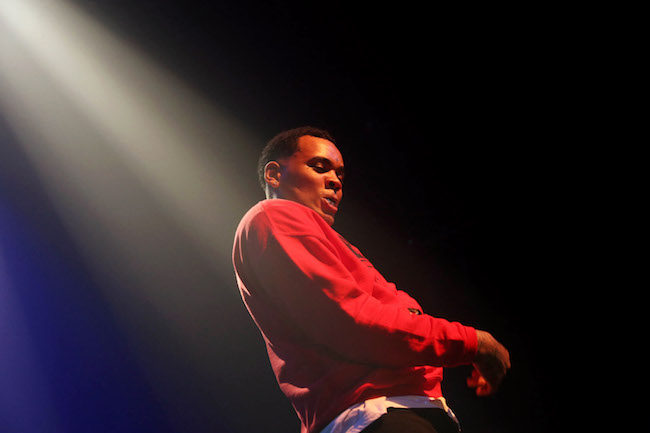 Despite the fact that he's currently in the middle of that 180-day jail sentence for the fan-kicking incident in 2015, Kevin Gates' future is bright. As the only artist to sell a million copies of their debut album in 2016, it's as bright as any "rookie" in the industry.
And despite Gates' incarceration, Vaughn and Dreka are already considering the next major release of his career, with the same thought process that was so successful last time.
Could the days of single-chasing and bending to the whims of radio officially be over? The music industry is a copy-cat industry, and as trends emerge, labels, artists and all the powers that be flock like moths to a light bulb. So maybe Kevin Gates and Islah are the beacon, showing artists that they can succeed without sacrificing their identities or compromising the integrity of their artistry. Streaming is the way of the future and an outlet that can allow artists to be successful without radio and conforming to someone else's standards. So successful, that they eventually force their way onto radio, pushing that boundary out of the way in the future and earning a metric they can point to when it's time to prove their relevance within the industry.
For Gates, the potential flag bearer of a new era in music, it'll be more of the same. "It's been a long ass journey" said Dreka. "A long journey of us doing a lot by ourselves with no help, so we know what has worked for us and we're going to continue to do it."