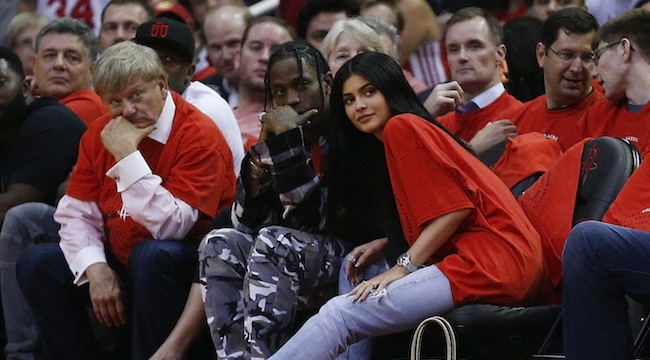 Kylie Jenner is reportedly expecting her first child. That's according to sources close to the socialite who recently divulged the bombshell to TMZ. The news site has said that Jenner began telling her friends about her bundle of joy earlier this month at the Day N Night Festival in Anaheim. Her current boyfriend Travis Scott is said to be the father, and has similarly been telling his close associates about the revelation, adding that they are anticipating a girl.
Now of course, given that this is heresy at this point, it could be that the couple is playing around with their close friends, but as TMZ noted, Jenner has recently been posting a majority of throwback pictures to social media, and current shots from the chest and up almost exclusively. Evidence by omission as they say.
Kylie and Trav have been dating, at least publicly, since April of this year. The two were spotted around that time holding hands while at Coachella and then later took in a game Houston Rockets and Oklahoma City Thunder game courtside. Since then, Jenner and Scott's relationship has only deepened. In June, they got matching butterfly tattoos just above their ankles, then in August La Flame dropped $60,000 on a 28 karat diamond necklace.