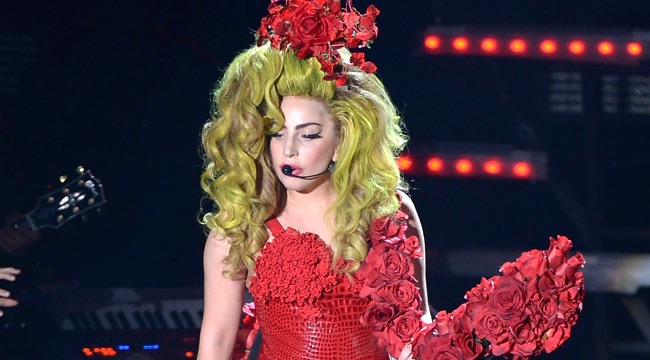 It's good to see that the NFL might not fall into another cautious Super Bowl Halftime Show slump like the one that came post-Janet Jackson. Even though Beyoncé stirred up her fair share of controversy with her performance of "Formation" at Super Bowl 50, the latest rumors have the NFL eyeing an artist that's no stranger to bold statements. According to Billboard, Lady Gaga is talking to the league to potentially star in this year's halftime show.
According to the mag's unnamed sources, the NFL is scoping out Mother Monster after her performance of The Star-Spangled Banner at last year's championship game. But the NFL isn't saying whether or not the rumors are true.
"We have had conversations with several fantastic artists about the Pepsi Super Bowl Halftime Show. However, at this point we do not have a final decision," an NFL rep told the mag. "We're happy there is so much excitement about the show."
There's no telling what a Gaga show on the biggest stage imaginable would look like, but we know that the former theater kid and outspoken advocate behind "Perfect Illusion" likes to use her platform to proclaim her politics. I'll place good money on her coming out in a dress made entirely of brain scans of people suffering from CTE. Okay, she probably won't go that far.