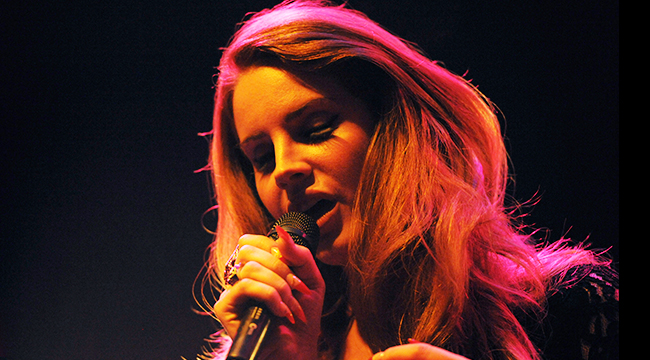 It's almost hard to believe at this point, but when she burst on the scene in the early 2010s, Lana Del Rey was a controversial figure. After the success of her viral single "Video Games" in late 2011, and a much-blogged-about Brooklyn "secret show" at the now-defunct indie venue Glasslands, the scramble for information about her sudden rise led to a lot of speculation about backstory — and most of it was bad.
By the time Born To Die came out in 2012, she faced criticism for crimes like changing her name, getting plastic surgery, and signing a deal with Interscope Records. After word of her major label deal got out, accusations that she was an "industry plant" along with a botched SNL performance didn't help the young star any, either. In the end, despite the ire of certain critics, her debut album fared well commercially, notching a No. 2 debut on the Billboard charts and becoming the fifth-best-selling album of the year. A quick-following EP, Paradise, came out later that year and also did fine, debuting at No. 10 and picking up a Grammy nod.
But even with these accolades, Del Rey was still miles from the unstoppable melancholy pop force she is today. These days, the most controversial thing she does is call out Kanye on Instagram for supporting Trump, or covering Long Beach stoner-punks Sublime, which at first came as a surprising move. Once it was revealed that her cover was scheduled to be featured on a doc about the band, the move was much less surprising. Arguably, it was Lana Del Rey's relationship to film and her contributions to major film soundtracks that reconstructed her role in mainstream culture as much as her discography itself did.
Her strides in that realm began in earnest in 2013, a year after her debut, when she wrote and starred in the short film Tropico. In the clip, she's still a singer, but the longform narrative shifts the medium from musical to cinematic in a way that was still fairly unusual for a pop star; this was pre-Lemonade by a few years, and the same year Vine and other video sharing apps were just beginning to pick up steam. Incorporating high-brow references like Walt Whitman and Alan Ginsburg, and contextualizing itself in a Biblical allegory, Tropico further painted Lana as an artist, not just another pop star, and doubled down on her indie darling status.
That same year Lana contributed her first original song to a soundtrack, co-writing "Young & Beautiful" with Baz Luhrmann for a star-studded remake of The Great Gatsby. The song was used at a peak moment of the buzz trailer for the film, and also released to radio as a standalone single. Considering she was described from the beginning as "Hollywood sadcore," who better to soundtrack the interpretations of old-world glamour and ever-lingering hubris, melancholy, and gloom than Lana? Leaning into her cinematic songwriting was the best move, for Hollywood, and for Del Rey herself.
In the end, it was the song, not the movie, became the standout cultural artifact from that project. The film itself garnered mixed reviews, but "Young & Beautiful" charted as high as No. 22 and giving Lana her first real hit — even though "Video Games" was well-known within the music industry, it barely cracked the Hot 100 at No. 91.
"Young & Beautiful" also snagged Lana another Grammy nomination, but more than that, it set her up for her biggest hit to date. Sensing an opening, Lana's label sent a Cedric Gervais EDM remix of Born To Die's "Summertime Sadness" to radio, and it shot up the charts, peaking at No. 6 and eventually winning the Grammy for Best Remixed Recording in 2014. This sudden burst of mainstream success forced detractors to take Lana more seriously, and set the table for her next phase: Ultraviolence. A month before announcing her second full-length album, though, Del Rey released a cover of "Once Upon A Dream" from the 1959 version of Sleeping Beauty. The song was an update for Maleficent, the hotly-tipped remake of the story starring Angelina Jolie, getting her back in the conversation early in the year and stoking anticipation for her album.
Later in the year, Lana wrote and recorded "Big Eyes," the theme for Tim Burton's movie of the same name, and another original song, "I Can Fly" which ran during the credits. The former was nominated for a Golden Globe and shortlisted for an Oscars nomination for Best Original Song. Released in June of that year, Ultraviolence became Del Rey's first No. 1 album, and the lead single "West Coast" charted as high as No. 17 during the promotion cycle for the record. And though it wasn't technically for a movie, in 2014 Lana Del Rey was the only musician invited to perform at Kanye West and Kim Kardashian's extravagant wedding at the Palace of Versailles in Paris. She performed three songs at the highly-publicized exclusive event, and given Kanye had previously played "Young & Beautiful" during his proposal to Kim, effectively became the soundtrack to one of the most enormous IRL love stories in modern pop culture.
So yes, surely Lana's next two albums, 2015's Honeymoon and 2017's Lust For Life doubled down on her star power, but it was movies that gave her music a universal, timeless presence, as her sound was slowly but surely incorporated into every timeline, era, and story imaginable. Over the next few years, Lana's contributions to numerous soundtracks and film projects get a little hard to keep track of; in 2015 she contributed the track "Life Is Beautiful" to the trailer for The Age Of Adaline, that same year she executive produced the short film Hi How Are You Daniel Johnston, a documentary about the life of the outsider folk artist Daniel Johnston, and covered his song "Some Things Last A Long Time"; just last year a previously unreleased song from Del Rey, "Elvis" was featured on the soundtrack for the Elvis Presley documentary The King.
Numerous other iterations of reworks and snippets of Lana Del Rey's songs have made their way to various film and TV projects, including "Tomorrow Never Came," a song off her album her Lust For Life that HBO included in their documentary, The Case Against Adnan Syed, spawned from the wildly popular podcast Serial.
Lana's involvement offers a newsy angle and another element for music-oriented audiences to get excited about. In turn, Del Rey earned a reputation for adding cachet to these projects; as she appeared on more and more soundtracks, her constant presence seemingly made her a go-to whenever film projects needed a sweeping, downtempo ballad. And if you think about the way Hollywood works, that need arises pretty often. Her inclusion added a layer of cutting edge coolness to even more buttoned-up projects, and every soundtrack boosts her status as an international star. Though she came up embodying an obsession with old-world Hollywood that many critics mocked, now Lana has remade the sound of modern Hollywood to suit her interpretation.
So when she does something like tease a cover of "Doin' Time," one of Sublime's most infamous hits, it's Lana who will come out on top. She's the First Lady of the West Coast, and even if a critical reevaluation of Sublime is still yet to come, as that wave crests, having Lana's co-sign is the beginning of another successful reinvention. Sung through her filter, everything becomes young and beautiful. And that's a reputation that will outlast any remake.