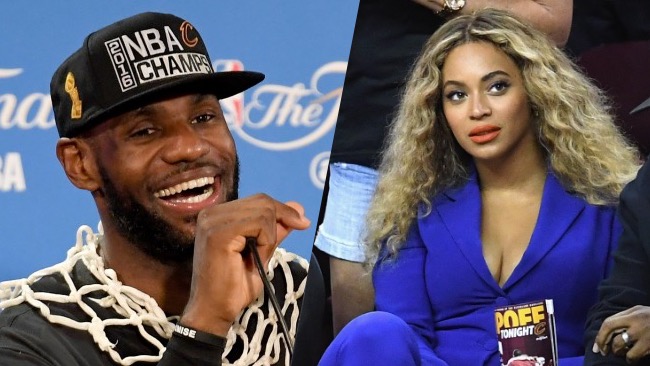 Beyonce is a queen, and nobody — and I mean nobody — is immune to her charms. Take LeBron James for instance, royalty in his own right, as even he was forced to pledge his allegiance to the #BeyHive after winning his third NBA Championship Sunday night in Oakland.
After claiming his third Finals MVP LeBron was subject to the various interviews a champion must sit through post game, and on NBA TV James and fellow living legend Isiah Thomas locked into a rather poignant conversation about the five best players of all time. While Zeke heaped praise upon James he was modest, laughing at the idea of being in the company of Michael Jordan, Kareem Abdul-Jabar, Bill Russell and Wilt Chamberlin.
James expressed that being in that theoretical room with those players would leave him at a loss for words. "I'm (gonna) be in awe, man," he said. It was there he pledged his allegiance to the Hive, saying "It's going to be like being at a Beyonce concert," before imitating the gleeful look he'd having staring at a Bey performance.
It's especially funny when you remember how close he and Beyonce's husband Jay Z are, and the fact that as friends he's probably gotten to know her as well. It clearly doesn't matter, because no matter the proximity or the relationship to her Beyonce is still, you know, Beyonce. Check out LeBron's interview below.
LeBron James stanning for Beyoncé after winning the basketball title https://t.co/0vfAr4b35D

— Beyoncé Australia (@BeyonceAUS) June 20, 2016